From Lake Placid, USA
(Nov. 9, 2017) Before this weekend, Lake Placid was certainly not Nico Walther's favorite track. After this weekend he may reconsider that.
Walther was strong down the Mt. Van Hoevenberg track in both of his runs, but faced an American armada that he had to fend off in his second trip down. American's Nick Cunningham and Codie Bascue had both put down great sets of runs to put the pressure on the German. Mid-run, Walther found himself falling behind Cunningham and Bascue, but managed to find speed through the final few corners to pull ahead and beat the Americans on their home track.
The race was the first of two two-man events in Lake Placid, after the IBSF moved the four-man event to be held on Friday to Park City. In its place will be a second two-man event to be held at the same time the four-man event was scheduled.
Nick Cunningham and Codie Bascue finished second and third, with Bascue coming back from sixth place on the strength of the second heat's fastest run.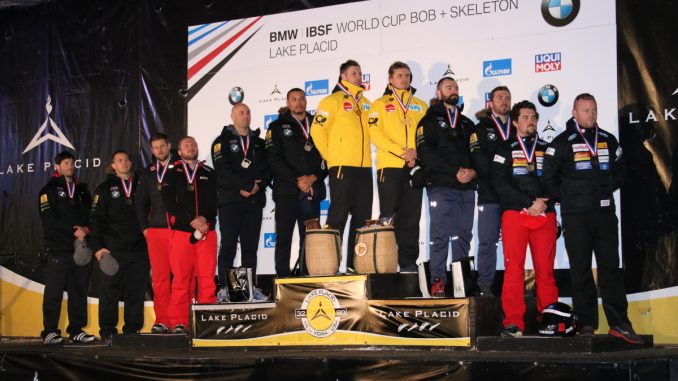 Justin Kripps missed a bronze medal by .02, with the Canadian finishing fourth. Swiss pilot Rico Peter struggled on the bottom half of his second run and plummeted from second to fifth, while American Justin Olsen rounded out a very solid USA effort with a sixth place finish.
Chris Spring finished just outside of the top six in seventh place, while Canadian teammate Nick Poloniato finished 13th.
British pilots Bradley Hall and Bruce Tasker finished 19th and 26th, respectively.
Results:
| | | | | | | | | |
| --- | --- | --- | --- | --- | --- | --- | --- | --- |
| Pos | Names | Nation | Bib | Start 1 | Start 2 | Run 1 | Run 2 | Total |
| 1 | Walther / Poser | GER | 17 | 5.12 | 5.14 | 55.71 | 56.21 | 1:51.92 |
| 2 | Cunningham / Bailey | USA | 24 | 5.01 | 5.04 | 55.80 | 56.23 | 1:52.03 |
| 3 | Bascue / Valdes | USA | 1 | 5.12 | 5.07 | 55.88 | 56.19 | 1:52.07 |
| 4 | Kripps / Lumsden | CAN | 12 | 5.09 | 5.07 | 55.81 | 56.28 | 1:52.09 |
| 5 | Peter / Friedli | SUI | 7 | 5.14 | 5.15 | 55.72 | 56.41 | 1:52.13 |
| 6 | Olsen / Langton | USA | 16 | 5.01 | 5.03 | 55.81 | 56.34 | 1:52.15 |
| 7 | Spring / Kopacz | CAN | 19 | 5.05 | 5.04 | 56.02 | 56.26 | 1:52.28 |
| 8 | Kibermanis / Miknis | LAT | 11 | 5.04 | 5.01 | 55.93 | 56.38 | 1:52.31 |
| 9 | Friedrich / Margis | GER | 9 | 5.05 | 5.00 | 56.14 | 56.30 | 1:52.44 |
| 10 | Won / Seo | KOR | 6 | 5.03 | 5.05 | 55.97 | 56.50 | 1:52.47 |
| 11 | Kasjanov / Pushkarev | RUS | 8 | 5.17 | 5.15 | 56.00 | 56.54 | 1:52.54 |
| 12 | Lochner / Rasp | GER | 14 | 5.06 | 5.05 | 56.20 | 56.41 | 1:52.61 |
| 13 | Poloniato / Wright | CAN | 20 | 5.07 | 5.07 | 56.18 | 56.48 | 1:52.66 |
| 14 | Melbardis / Dreiskens | LAT | 18 | 5.08 | 5.08 | 56.09 | 56.64 | 1:52.73 |
| 15 | Rinaldi / Vain | MON | 23 | 5.24 | 5.27 | 56.23 | 56.52 | 1:52.75 |
| 16 | Maier / Sammer | AUT | 10 | 5.08 | 5.10 | 56.14 | 56.64 | 1:52.78 |
| 17 | Zalims / Dambis | LAT | 13 | 5.15 | 5.17 | 56.20 | 56.60 | 1:52.80 |
| 18 | Stulnev / Malykh | RUS | 15 | 5.20 | 5.19 | 56.20 | 56.66 | 1:52.86 |
| 19 | Hall / Olubi | GBR | 2 | 5.05 | 5.07 | 56.22 | 56.68 | 1:52.90 |
| 20 | de Bruin / van der Zijde | NED | 4 | 5.20 | 5.20 | 56.23 | 56.81 | 1:53.04 |
| 21 | Andrianov / Mordasov | RUS | 25 | 5.17 | | 56.28 | | |
| 22 | Bertazzo / Bilotti | ITA | 3 | 5.24 | | 56.32 | | |
| 23 | Hefti / Tanner | SUI | 26 | 5.21 | | 56.42 | | |
| 24 | Kim / Kim | KOR | 21 | 5.19 | | 56.49 | | |
| 25 | Costerg / Castell | FRA | 27 | 5.20 | | 56.55 | | |
| 26 | Tasker / Fearon | GBR | 22 | 5.04 | | 56.64 | | |
| 27 | Baumgartner / Variola | ITA | 5 | 5.30 | | 57.15 | | |