From Lake Placid, USA
(Nov. 10, 2017) Martins Dukurs kicked off the 2017/2018 season where he finished the 2016/2017 season: On top of the men's skeleton podium.
Dukurs carried a tight .05 lead over defending Olympic champion Alexander Tretiakov and just a tenth of a second over Sungbin Yun going into the second run. Yun put the pressure on the Latvian with a spectacular second run, leapfrogging Tretiakov in the process. Dukurs answered the call, however, putting down a consistent second run to edge Yun and win yet another gold.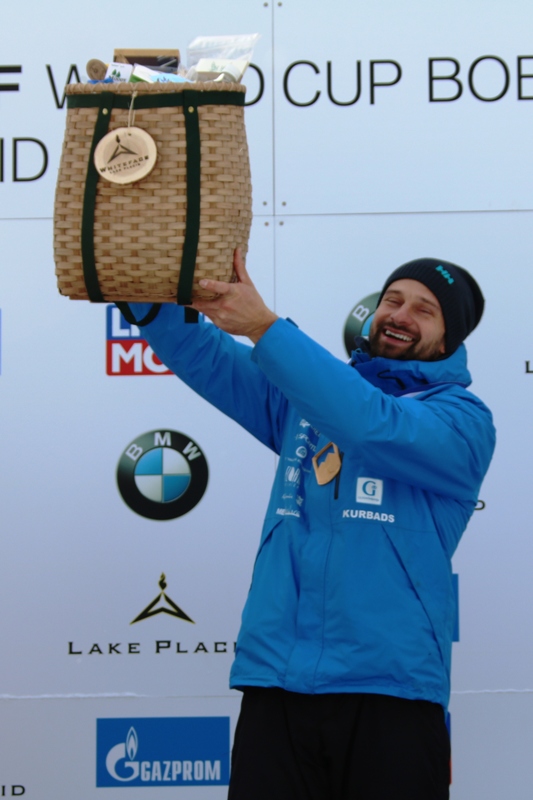 Tretiakov finished just behind Yun in third place, while Axel Jungk had the fourth quickest run in both heats to finish fourth. Nikita Tregubov of Russia moved up from sixth to fifth in his second run, leapfrogging Tomass Dukurs, who finished sixth.
It was a tough opening round for the American men, with Matt Antoine leading the way with an eighth place finish. John Daly finished 17th and Greg West 19th to round out the Team USA effort.
Dave Greszczyszyn led the way for the Canadian men with a 13th place finish. Greszczyszyn came into the second run in 20th, but had the 10th quickest run in the second heat to move up the leaderboard. Teammates Kevin Boyer and Barrett Martineau finished 14th and 16th.
The British men had a mixed day, with Dom Parsons finishing 12th to lead the way. Parsons had trouble at the start of his first run, stepping on his sled in the process of putting down a 27th fastest start. Jeremy Rice finished 15th, while Jack Thomas finished 28th.
Results:
| | | | | | | | | |
| --- | --- | --- | --- | --- | --- | --- | --- | --- |
| Pos | Name | Nation | Bib | Start 1 | Start 2 | Run 1 | Run 2 | Total |
| 1 | Martins Dukurs | LAT | 15 | 4.87 | 4.83 | 53.66 | 53.88 | 1:47.54 |
| 2 | Sungbin Yun | KOR | 7 | 4.81 | 4.82 | 53.76 | 53.89 | 1:47.65 |
| 3 | Alexander Tretiakov | RUS | 9 | 4.79 | 4.79 | 53.71 | 54.00 | 1:47.71 |
| 4 | Axel Jungk | GER | 11 | 4.89 | 4.83 | 54.03 | 54.09 | 1:48.12 |
| 5 | Nikita Tregubov | RUS | 8 | 4.95 | 4.88 | 54.08 | 54.15 | 1:48.23 |
| 6 | Tomass Dukurs | LAT | 10 | 5.03 | 4.99 | 54.07 | 54.27 | 1:48.34 |
| 7 | Wenqiang Geng | CHN | 25 | 5.02 | 5.00 | 54.45 | 54.27 | 1:48.72 |
| 8 | Matthew Antoine | USA | 6 | 5.05 | 5.03 | 54.34 | 54.43 | 1:48.77 |
| 9 | Matthias Guggenberger | AUT | 22 | 5.02 | 5.03 | 54.55 | 54.29 | 1:48.84 |
| 10 | Christopher Grotheer | GER | 14 | 4.99 | 5.01 | 54.37 | 54.81 | 1:49.18 |
| 11 | Vladislav Marchenkov | RUS | 24 | 5.01 | 5.00 | 54.62 | 54.61 | 1:49.23 |
| 12 | Dominic Parsons | GBR | 13 | 5.19 | 5.09 | 54.71 | 54.67 | 1:49.38 |
| 13 | Ddave Greszczyszyn | CAN | 19 | 5.06 | 5.04 | 54.94 | 54.49 | 1:49.43 |
| 14 | Kevin Boyer | CAN | 29 | 4.99 | 5.01 | 54.79 | 54.75 | 1:49.54 |
| 15 | Jeremy Rice | GBR | 20 | 5.03 | 5.04 | 54.93 | 54.92 | 1:49.85 |
| 16 | Barrett Martineau | CAN | 17 | 5.07 | 5.06 | 54.91 | 54.96 | 1:49.87 |
| 17 | John Daly | USA | 21 | 5.09 | 5.15 | 54.70 | 55.20 | 1:49.90 |
| 18 | Alexander Gassner | GER | 12 | 5.02 | 4.99 | 54.59 | 55.48 | 1:50.07 |
| 19 | Greg West | USA | 1 | 5.10 | 5.07 | 54.89 | 55.23 | 1:50.12 |
| 20 | John Farrow | AUS | 3 | 5.27 | 5.32 | 54.93 | 55.22 | 1:50.15 |
| 21 | Hiroatsu Takahashi | JPN | 26 | 5.10 | | 54.95 | | |
| 22 | Junhyeon Kim | KOR | 2 | 4.95 | | 54.99 | | |
| 23 | Rhys Thornbury | NZL | 16 | 5.05 | | 55.00 | | |
| 24 | Joeph Luke Cecchini | ITA | 27 | 5.00 | | 55.15 | | |
| 25 | Ander Mirambell | ESP | 18 | 5.29 | | 55.22 | | |
| 26 | Alex Hanssen | NOR | 28 | 4.92 | | 55.24 | | |
| 27 | Vladyslav Heraskevych | UKR | 40 | 5.26 | | 55.27 | | |
| 28 | Jack Thomas | GBR | 23 | 4.96 | | 55.35 | | |
| 29 | Nicholas Timmings | AUS | 5 | 5.07 | | 55.53 | | |
| 30 | Ronald Auderset | SUI | 31 | 4.90 | | 55.96 | | |
| 31 | Riet Graf | SUI | 4 | 5.23 | | 56.00 | | |