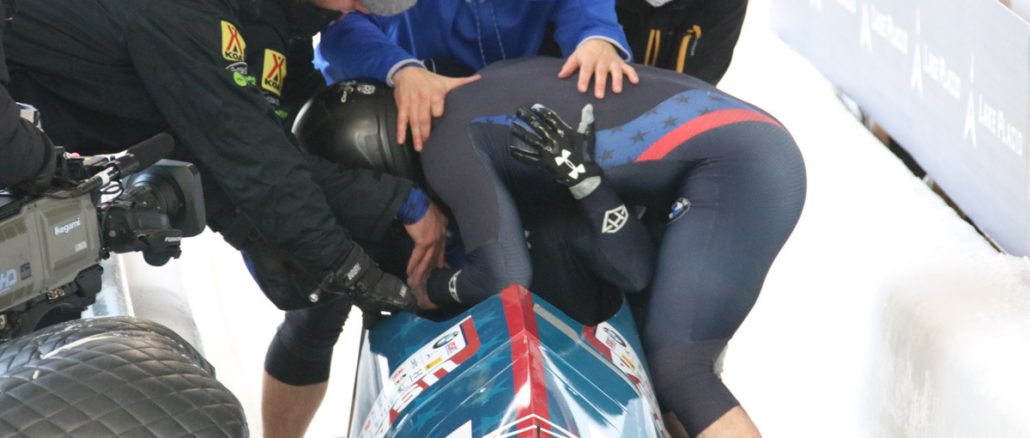 From Lake Placid, USA
(Nov. 10, 2017) After the passing of Steven Holcomb, you knew that the first bobsled win for the United States would be a special and emotional one. In the first day of the IBSF World Cup season the Americans were knocking on the door, with Elana Meyers Taylor earning silver for the women, and Nick Cunningham and Codie Bascue with silver and bronze respectively for the men.
The second two-man race of the season happened in Lake Placid, with the four-man event being moved to Park City due to ice conditions earlier in the week. On the strength of the Thursday two-man race, the Americans were ready to strike.
In the first heat it was clear both the United States and Canada were ready to flex their muscles, with home-ice pilot Bascue edging out Canada's Justin Kripps by just .05, and teammate Cunningham just .08 behind. Chris Spring and Justin Olsen also found themselves in the hunt, with Switzerland's Rico Peter and Germany's Johannes Lochner on the outside looking in.
Trouble befell Cunningham on his second run, tapping the wall at the start. Despite a solid start time (5.09, the second fastest of the heat) Cunningham fell behind Olsen into second with just two sleds to go.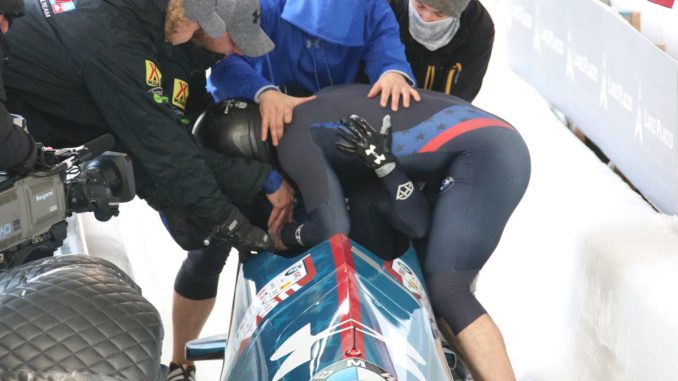 Justin Kripps put down a great second run, distancing himself from Olsen and putting the pressure on Bascue. The American answered the call, finishing the heat with the fastest time of the race and beating Kripps by .11.
Olsen finished third, Cunningham fourth, Spring fifth, and Lochner sixth.
Nick Poloniato finished 12th as the lone North American out of the top five.
Great Britain's two-man struggles continued, with Bruce Tasker leading the way in 25th. Teammate Bradley Hall came into the second heat in 15th place and looked to have a strong second run. Trouble struck in Turn 11, as Hall went over, dumping out brakeman Toby Olubi in the process, causing Hall tob e disqualified.
Results:
| | | | | | | | | |
| --- | --- | --- | --- | --- | --- | --- | --- | --- |
| Pos | Names | Nation | Bib | Start 1 | Start 2 | Run 1 | Run 2 | Total |
| 1 | Bascue / McGuffie | USA | 9 | 5.13 | 5.11 | 55.74 | 55.99 | 1:51.73 |
| 2 | Kripps / Kopacz | CAN | 8 | 5.14 | 5.10 | 55.79 | 56.05 | 1:51.84 |
| 3 | Olsen / Weinstock | USA | 15 | 5.09 | 5.04 | 55.96 | 56.17 | 1:52.13 |
| 4 | Cunningham / Bailey | USA | 7 | 5.09 | 5.09 | 55.82 | 56.43 | 1:52.25 |
| 5 | Spring / Lumsden | CAN | 12 | 5.19 | 5.15 | 55.93 | 56.34 | 1:52.27 |
| 6 | Lochner / Weber | GER | 17 | 5.13 | 5.12 | 56.02 | 56.26 | 1:52.28 |
| 7 | Peter / Amrhein | SUI | 6 | 5.21 | 5.20 | 55.99 | 56.48 | 1:52.47 |
| 8 | Kibermanis / Miknis | LAT | 14 | 5.13 | 5.13 | 56.10 | 56.40 | 1:52.50 |
| 9 | Friedrich / Grothkopp | GER | 11 | 5.14 | 5.14 | 56.07 | 56.47 | 1:42.54 |
| 9 | Walther / Kuske | GER | 14 | 5.19 | 5.22 | 56.28 | 56.26 | 1:52.54 |
| 11 | Melbardis / Zirups | LAT | 19 | 5.21 | 5.19 | 56.33 | 56.28 | 1:52.61 |
| 12 | Poloniato / Wright | CAN | 18 | 5.22 | 5.17 | 56.25 | 56.37 | 1:52.62 |
| 13 | Won / Seo | KOR | 10 | 5.12 | 5.12 | 56.25 | 56.42 | 1:52.67 |
| 14 | Rinaldi / Vain | MON | 20 | 5.33 | 5.26 | 56.21 | 56.50 | 1:52.71 |
| 15 | Zalims / Springis | LAT | 22 | 5.26 | 5.21 | 56.37 | 56.55 | 1:52.92 |
| 16 | Hefti / Ferrari | SUI | 2 | 5.29 | 5.29 | 56.21 | 56.75 | 1:52.96 |
| 17 | Andrianov / Mordasov | RUS | 5 | 5.33 | 5.28 | 56.48 | 56.59 | 1:53.07 |
| 18 | Kasjanov / Pushkarev | RUS | 16 | 5.30 | 5.31 | 56.45 | 56.67 | 1:53.12 |
| 19 | Kim / Kim | KOR | 26 | 5.28 | 5.28 | 56.54 | 56.60 | 1:53.14 |
| 20 | Stulnev / Zaitsev | RUS | 23 | 5.24 | | 56.58 | | |
| 21 | Maier / Sammer | AUT | 21 | 5.16 | | 56.75 | | |
| 22 | Costerg / Hauterville | FRA | 1 | 5.29 | | 56.77 | | |
| 23 | de Bruin / van der Zijde | NE | 25 | 5.28 | | 56.81 | | |
| 24 | Bertazzo / Comel | ITA | 4 | 5.39 | | 56.88 | | |
| 25 | Tasker / Fearon | GBR | 3 | 5.13 | | 56.93 | | |
| 26 | Baumgartner / Variola | ITA | 27 | 5.36 | | 57.17 | | |
| DSQ | Hall / Olubi | GBR | 24 | 5.12 | | 56.30 | DSQ | |