From Park City, USA
(Nov. 17, 2017) Much like in Lake Placid, the weather was warm and sunny for the better part of training in Park City, but come race day for women's program the cold showed up.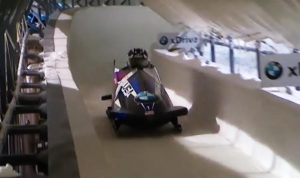 In a much colder track than anyone had trained in all week, Jamie Greubel Poser took a .1 advantage over two-time Olympic gold medalist Kaillie Humphries into their second run. On that second run Gruebel Poser were just about equal at the top, and finished with the exact same downtime, giving the American defending World Cup champion her first medal of the season.
Humphries finished second, .17 ahead of Elana Meyers Taylor. Lake Placid bronze medalist Stephanie Schneider finished just outside of the medals in fourth.
Brittany Reinbolt scored a World Cup career-best fifth place finish in helping put all three United States sleds in the top five, while Mariama Jamanka finished sixth.
Two solid runs put Canadian Alysia Rissling just outside of the top six in seventh place, while teammate Christine de Bruin fell out of the top ten on her second run, finishing 11th.
Results:
| | | | | | | | | |
| --- | --- | --- | --- | --- | --- | --- | --- | --- |
| Pos | Names | Nation | Bib | Start 1 | Start 2 | Run 1 | Run 2 | Total |
| 1 | Greubel Poser / Gibbs | USA | 8 | 5.19 | 5.23 | 50.32 | 50.40 | 1:40.72 |
| 2 | Humphries / Lotholz | CAN | 5 | 5.25 | 5.23 | 50.42 | 50.40 | 1:40.82 |
| 3 | Meyers Taylor / L. Jones | USA | 11 | 5.22 | 5.16 | 50.49 | 50.50 | 1:40.99 |
| 4 | Schneider / Buckwitz | GER | 10 | 5.24 | 5.20 | 50.63 | 50.49 | 1:41.12 |
| 5 | Reinbolt / Evans | USA | 9 | 5.26 | 5.26 | 50.50 | 50.69 | 1:41.19 |
| 6 | Jamanka / Nolte | GER | 4 | 5.30 | 5.31 | 50.67 | 50.83 | 1:41.50 |
| 7 | Rissling / Bujnowski | CAN | 7 | 5.36 | 5.33 | 50.94 | 51.04 | 1:41.98 |
| 8 | Köhler / Strack | GER | 15 | 5.37 | 5.29 | 51.11 | 51.05 | 1:42.16 |
| 8 | Willemsen / Aerts | BEL | 16 | 5.44 | 5.44 | 51.01 | 51.15 | 1:42.16 |
| 10 | Hengster / Dekker | AUT | 20 | 5.36 | 5.43 | 51.03 | 51.15 | 1:42.18 |
| 11 | de Bruin / Appiah | CAN | 6 | 5.29 | 5.27 | 50.97 | 51.25 | 1:42.22 |
| 12 | Vannieuwenhuyse / Vanhaen | BEL | 18 | 5.44 | 5.43 | 51.20 | 51.04 | 1:42.24 |
| 13 | McNeill / Moore | GBR | 12 | 5.36 | 5.39 | 51.14 | 51.13 | 1:42.27 |
| 14 | Rodionova / Kocherzhova | RUS | 13 | 5.37 | 5.33 | 51.23 | 51.21 | 1:42.44 |
| 15 | Sergeeva / Shokshueva | RUS | 14 | 5.32 | 5.30 | 51.11 | 51.37 | 1:42.48 |
| 16 | Grecu / Puiu | ROU | 3 | 5.40 | 5.36 | 51.29 | 51.29 | 1:42.58 |
| 17 | Hafner / R. Rebsamen | SUI | 2 | 5.53 | 5.44 | 51.43 | 51.16 | 1:42.59 |
| 18 | Constantin / Iusco | ROU | 17 | 5.47 | 5.45 | 51.38 | 51.36 | 1:42.74 |
| 19 | Oshigiri / Morimoto | JPN | 19 | 5.39 | 5.37 | 51.60 | 51.43 | 1:43.03 |
| 20 | Asazu / Kawasaki | JPN | 1 | N/A | 5.52 | 51.73 | 52.07 | 1:43.80 |