From Park City, USA
(Nov. 17, 2017) The world had to wait a week for the first four-man IBSF World Cup four-man race of the season, but it was well worth the wait.
The first run of the event saw heavy wind and snow blowing into the track, leading to wildly varied push times. Germans Johannes Lochner and Nico Walther did the best out of the field in those conditions and it seemed as though it would be a German battle for gold.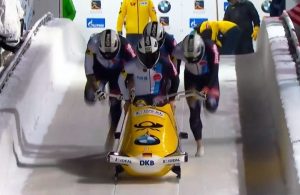 Canadian Justin Kripps had other plans, however. He came into the second run in tenth place, but threw down a blistering second effort to put pressure on the rest of the top ten. Team by team came down, and each one fell in behind the Canadian. Kripps' teammate Christopher Spring kept it close, dropping in just behind Kripps with only the top three to go.
British pilot Lamin Deen looked to pick up the first British four-man medal since John Jackson in Lake Placid, but struggled to find speed and fell to eighth.
Next up was Lake Placid two-man winner Nico Walther. Walther failed to find the speed that Kripps had shown, but managed to keep it close enough to take the lead with only teammate Johannes Lochner to come. Lochner's run wasn't as clean as he'd hoped, and found himself out of the medals, with Walther taking gold.
Walther finished just .03 ahead of Kripps, while Spring moved into the medals with a bronze. Lochner finished fourth, tied with Oskars Melbardis of Latvia, while Nick Poloniato finished sixth in the third Canadian sled.
Codie Bascue led the way for the United States, scoring a seventh place finish as the top American sled. Nick Cunningham finished 12th, while Justin Olsen was disqualified after the race for a "non-compliant" weld on their sled, which was fixed immediately after the event.
Results:
| | | | | | | | | |
| --- | --- | --- | --- | --- | --- | --- | --- | --- |
| Pos | Names | Nation | Bib | Start 1 | Start 2 | Run 1 | Run 2 | Total |
| 1 | Walther / Kuske / Poser / Franke | GER | 9 | 4.83 | 4.82 | 48.37 | 48.43 | 1:36.80 |
| 2 | Kripps / Brown / Coakwell / Wright | CAN | 6 | 4.85 | 4.82 | 48.54 | 48.29 | 1:36.83 |
| 3 | Spring / Lumsden / Kopacz / Smith | CAN | 17 | 4.74 | 4.76 | 48.43 | 48.43 | 1:36.86 |
| 4 | Melbardis / Dreiskens / Miknis / Strenga | LAT | 14 | 4.80 | 4.76 | 48.51 | 48.36 | 1:36.87 |
| 5 | Lochner / Rademacher / Weber / Rasp | GER | 15 | 4.81 | 4.80 | 48.35 | 48.52 | 1:36.87 |
| 6 | Poloniato / Stones / Kirkpatrick / Plug | CAN | 23 | 4.87 | 4.82 | 48.46 | 48.43 | 1:36.89 |
| 7 | Bascue / Weber / Valdes / McGuffie | USA | 5 | 4.89 | 4.81 | 48.53 | 48.39 | 1:36.92 |
| 8 | Deen / Simons / Olubi / Fearon | GBR | 19 | 4.79 | 4.82 | 48.39 | 48.55 | 1:36.94 |
| 9 | Friedrich / Bäcker / Grothkopp / Margis | GER | 13 | 4.83 | 4.78 | 48.53 | 48.42 | 1:36.95 |
| 10 | Kasjanov / Khuzin / Kondratenko / Pushkarev | RUS | 7 | 4.90 | 4.89 | 48.49 | 48.57 | 1:37.06 |
| 11 | Won / Kim / Seo / Oh | KOR | 18 | 4.86 | 4.83 | 48.61 | 48.47 | 1:37.08 |
| 12 | Cunningham / Bailey / Kinney / Michener | USA | 21 | 4.80 | 4.78 | 48.65 | 48.49 | 1:37.14 |
| 13 | Stulnev / Antukh / Malykh / Koshelev | RUS | 11 | 4.81 | 4.82 | 48.58 | 48.56 | 1:37.14 |
| 14 | Peter / Baumann / Friedli / Meier | SUI | 8 | 4.94 | 4.89 | 48.59 | 48.58 | 1:37.17 |
| 15 | Maier / Walch / Sammer / Moldovan | AUT | 12 | 4.80 | 4.83 | 48.57 | 48.66 | 1:37.23 |
| 16 | Kibermanis / Jansons / Lusis / Zirups | LAT | 10 | 4.95 | 4.93 | 48.61 | 48.74 | 1:37.35 |
| 17 | Costerg / Castell / Hauterville / Boutherin | FRA | 20 | 4.96 | 4.96 | 48.79 | 48.60 | 1:37.39 |
| 18 | Hefti / Moulinier / Ferrari / tanner | SUI | 2 | 4.96 | 4.99 | 48.76 | 48.87 | 1:37.63 |
| 19 | de Bruin / Piek / van der Zijde / Franjic | NED | 24 | 4.87 | 4.88 | 48.70 | 49.05 | 1:37.75 |
| 20 | Bertazzo / Fontana /Ughi / Bilotti | ITA | 1 | 5.10 | | 48.93 | | |
| 21 | Andrianov / Selikhov / Samitov / Mordasov | RUS | 16 | 4.92 | | 48.95 | | |
| 22 | Hall / Blanchet / Simpson / Cackett | GBR | 4 | 4.99 | | 49.08 | | |
| 23 | Baumgartner / Comel / Variola / Costa | ITA | 3 | 5.03 | | 49.32 | | |
| DSQ | Olsen / Weinstock / Langton / C. Fogt | USA | 22 | | | DSQ | | |