From Park City, USA
(Nov. 18, 2017) The track in Park City is a "starter's track", where those who can out-push everyone else have an even bigger advantage than usual. In women's skeleton at the moment, nobody is stronger at the top than Elena Nikitina.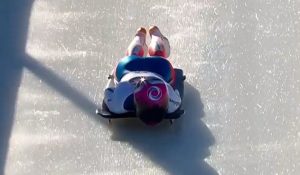 The Russian came into the second run just behind German Tina Hermann, who glided her way to a .04 lead over Nikitina. Nikitina's second start matched her new start-record 4.83, putting her well ahead of where Hermann could push.
Hermann is known as a great glider, an just about overcame a .35 deficit with half a track to go, but fell just .02 short behind Nikitina, handing the gold medal to the Russian.
Hermann took silver, just ahead of teammate Jacqueline Lölling, who moved up from fourth to third.
Canada's Mirela Rahneva moved up from sixth to fourth with a second run .4 faster than her first. Laura Deas of Great Britain finished fifth, while Elisabeth Vathje fell back from third to sixth.
Katie Uhlaender was the top-finishing American in seventh. Kendall Wesenberg finished 12th, and Savannah Graybill 16th to round out the United States' effort.
Canadian Jane Channell finished just outside of the top 10 in 11th.
The winner in Lake Placid, Janine Flock, missed the second run, finishing 22nd.
Results:
| | | | | | | | | |
| --- | --- | --- | --- | --- | --- | --- | --- | --- |
| Pos | Name | Nation | Bib | Start 1 | Start 2 | Run 1 | Run 2 | Total |
| 1 | Elena Nikitina | RUS | 6 | 4.83 | 4.83 | 50.33 | 50.16 | 1:40.49 |
| 2 | Tina Hermann | GER | 12 | 5.11 | 5.09 | 50.29 | 50.22 | 1:40.51 |
| 3 | Jacuqline Lölling | GER | 8 | 5.21 | 5.22 | 50.48 | 50.24 | 1:40.72 |
| 4 | Mirela Rahneva | CAN | 5 | 4.99 | 4.92 | 50.63 | 50.23 | 1:40.86 |
| 5 | Laura Deas | GBR | 13 | 4.95 | 4.94 | 50.72 | 50.16 | 1:40.88 |
| 6 | Elisabeth Vathje | CAN | 9 | 4.99 | 4.97 | 50.37 | 50.54 | 1:40.91 |
| 7 | Katie Uhlaender | USA | 4 | 5.05 | 5.03 | 50.79 | 50.38 | 1:41.17 |
| 8 | Lizzy Yarnold | GBR | 7 | 5.02 | 5.02 | 50.53 | 50.78 | 1:41.31 |
| 9 | Kim Meylemans | BEL | 15 | 5.05 | 5.03 | 50.86 | 50.54 | 1:41.40 |
| 10 | Kimberley Bos | NED | 16 | 5.12 | 5.01 | 50.97 | 50.47 | 1:41.44 |
| 11 | Jane Channell | CAN | 11 | 4.94 | 4.90 | 50.95 | 50.56 | 1:41.51 |
| 12 | Kendall Wesenberg | USA | 17 | 5.08 | 5.10 | 50.79 | 50.73 | 1:41.52 |
| 13 | Sophia Griebel | GER | 28 | 4.99 | 5.03 | 50.99 | 50.61 | 1:41.60 |
| 14 | Joska le Conte | NED | 3 | 5.10 | 5.09 | 50.95 | 50.89 | 1:41.84 |
| 15 | Jaclyn Narracott | AUS | 21 | 5.12 | 5.11 | 50.91 | 50.96 | 1:41.87 |
| 16 | Savannah Graybill | USA | 14 | 5.23 | 5.19 | 50.95 | 50.93 | 1:41.88 |
| 17 | Renata Khuzina | RUS | 27 | 4.99 | 4.95 | 51.12 | 50.87 | 1:41.99 |
| 18 | Lelde Priedulena | LAT | 20 | 5.09 | 5.00 | 51.02 | 51.06 | 1:42.08 |
| 19 | Nozomi Komuro | JPN | 22 | 5.12 | 5.13 | 50.99 | 51.11 | 1:42.10 |
| 20 | Yulia Kanakina | RUS | 18 | 4.91 | 4.90 | 51.34 | 50.79 | 1:42.13 |
| 21 | Ashleigh Pittaway | GBR | 26 | 5.33 | | 51.37 | | |
| 22 | Janine Flock | AUT | 10 | 5.10 | | 51.39 | | |
| 23 | Maya Pedersen | NOR | 2 | 5.20 | | 51.57 | | |
| 24 | Takako Oguchi | JPN | 25 | 5.12 | | 51.58 | | |
| 25 | Sophia Jeong | KOR | 24 | 4.99 | | 51.85 | | |
| 26 | Marina Gilardoni | SUI | 19 | 5.06 | | 52.01 | | |
| 27 | Katie Tannenbaum | ISV | 23 | 5.27 | | 52.35 | | |
| 28 | Maria Montejano | ESP | 1 | 5.20 | | 52.39 | | |