From Park City, USA
(Nov. 18, 2017) Given the relatively short length of the track, racing at Park City tends to be rather tight with ties throughout the field. Rarely does someone walk away with a race, especially when racing the greatest athlete their sport has ever seen.
That's exactly what Korean Sungbin Yun did on the second stop of the IBSF World Cup.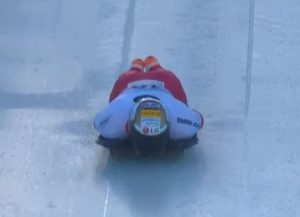 Yun came into the second heat with an already large .31 advantage over Lake Placid winner Martins Dukurs. On his second run Yun threw down, not only finishing .63 ahead of Dukurs, but breaking Dukurs' track record in the process.
Behind Yun and Dukurs there was plenty of movement up and down the leader board, with German Axel Jungk moving into third from sixth place. Jungk's teammate Christopher Grotheer moved from seventh to fourth, tied with Tomass Dukurs. Alexander Tretiakov moved up from ninth to finish in sixth.
Struggles continued for the American men's skeleton program, with Matt Antoine leading the way in 12th place. Greg West finished 16th and John Daly 18th.
It was a similar story for Canada, with Kevin Boyer leading the way in 14th place, one spot ahead of teammate Dave Greszczyszyn. Barrett Mrtineau just missed the second run in 22nd.
New Zealand's Rhys Thornbury came into the second run looking for a top five finish. He fell to ninth on the second run, but still had a solid top ten to fall back on. Ukrainian Vladyslav Heraskevych moved up from 20th to 13th on the strength of a eighth-fastest second run.
Results:
| | | | | | | | | |
| --- | --- | --- | --- | --- | --- | --- | --- | --- |
| Pos | Name | Nation | Bib | Start 1 | Start 2 | Run 1 | Run 2 | Total |
| 1 | Sungbin Yun | KOR | 10 | 4.51 | 4.52 | 48.82 | 48.50 | 1:37.32 |
| 2 | Martins Dukurs | LAT | 13 | 4.59 | 4.60 | 49.13 | 48.82 | 1:37.95 |
| 3 | Axel Jungk | RUS | 7 | 4.62 | 4.52 | 49.34 | 48.73 | 1:38.07 |
| 4 | Christopher Grotheer | GER | 11 | 4.67 | 4.67 | 49.35 | 48.93 | 1:38.28 |
| 4 | Tomass Dukurs | LAT | 9 | 4.69 | 4.70 | 49.22 | 49.06 | 1:38.28 |
| 6 | Alexander Tretiakov | RUS | 6 | 4.58 | 4.53 | 49.62 | 48.89 | 1:38.51 |
| 7 | Alexander Gassner | GER | 24 | 4.70 | 4.70 | 49.61 | 49.03 | 1:38.64 |
| 8 | Nikita Tregubov | RUS | 8 | 4.63 | 4.67 | 49.28 | 49.46 | 1:38.74 |
| 9 | Rhys Thornbury | NZL | 1 | 4.70 | 4.68 | 49.30 | 49.56 | 1:38.86 |
| 10 | Matthias Guggenberger | AUT | 14 | 4.74 | 4.74 | 49.62 | 49.32 | 1:38.94 |
| 11 | Jisoo Kim | KOR | 23 | 4.58 | 4.59 | 49.64 | 49.33 | 1:38.97 |
| 12 | Matthew Antoine | USA | 12 | 4.69 | 4.70 | 49.64 | 49.35 | 1:38.99 |
| 13 | Vladyslav Heraskevych | UKR | 31 | 4.90 | 4.89 | 49.85 | 49.32 | 1:39.17 |
| 14 | Kevin Boyer | CAN | 19 | 4.65 | 4.66 | 49.71 | 49.48 | 1:39.19 |
| 15 | Dave Greszczyszyn | CAN | 18 | 4.73 | 4.77 | 49.68 | 49.57 | 1:39.25 |
| 16 | Greg West | USA | 26 | 4.74 | 4.73 | 49.79 | 49.47 | 1:39.26 |
| 17 | Ander Mirambell | ESP | 3 | 4.81 | 4.83 | 49.68 | 49.58 | 1:39.26 |
| 18 | John Daly | USA | 22 | 4.72 | 4.74 | 49.82 | 49.49 | 1:39.31 |
| 19 | John Farrow | AUS | 27 | 4.84 | 4.84 | 49.81 | 49.54 | 1:39.35 |
| 20 | Dominic Parsons | GBR | 17 | 4.74 | 4.75 | 49.71 | 49.70 | 1:39.41 |
| 21 | Wenqiang Geng | CHN | 15 | 4.73 | | 49.86 | | |
| 22 | Barrett Martineau | CAN | 21 | 4.73 | | 49.90 | | |
| 22 | Hiroatsu Takahashi | JPN | 28 | 4.73 | | 49.90 | | |
| 24 | Jerry Rice | GBR | 20 | 4.73 | | 49.92 | | |
| 25 | Jack Thomas | GBR | 4 | 4.66 | | 50.00 | | |
| 26 | Vladislav Marchenkov | RUS | 16 | 4.73 | | 50.10 | | |
| 27 | Joseoph Luke Cecchini | ITA | 25 | 4.72 | | 50.26 | | |
| 28 | Nicholas Timmings | AUS | 30 | 4.76 | | 50.38 | | |
| 29 | Ronald Auderset | SUI | 29 | 4.64 | | 50.58 | | |
| 30 | Riet Graf | SUI | 5 | 4.89 | | 50.63 | | |
| 31 | Alex Hanssen | NOR | 2 | 4.66 | | 50.82 | | |