From Park City, USA
(Nov. 18, 2017) Much like their men's skeleton counterparts, the four-man bobsled race saw teams moving all over the leader board. When it was all said and done, some new names found themselves in the medals.
Great Britain's Bradley Hall set the fast time of the race in the first heat, and carried a .17 advantage over American Codie Bascue into the second heat, with Germans Johannes Lochner and Francesco Friedrich looming just outside of he medals.
On the second run, Lochner put pressure on the leaders with what became a heat-fastest second run. Neither Canada's Christopher Spring or Bascue could unseat Lochner, with only Hall to come.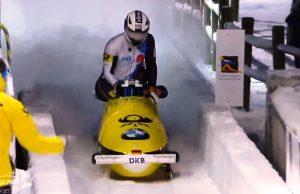 Bradley Hall's team out-pushed the Germans, but Lochner's run proved to be too much to overcome. Hall dropped to third overall, with Lochner taking gold and Bascue silver.
The medals for Bascue and Hall were both World Cup career bests, with Hall's medal being the first for a British four-man sled since John Jackson in Lake Placid in 2013.
Friedrich finished fourth, ahead of Spring in fifth. Lamin Deen helped put both British sleds in the top six with a sixth place finish.
Justin Kripps was unable to find his Race 1 magic to jump back into the medals, and settled for an eighth place finish, while teammate Nick Poloniato finished tied for 11th to round out the Canadian effort.
Justin Olsen and Nick Cunningham both moved up the leaderboard after tough first runs, with Olsen finishing 15th and Cunningham 16th.
Results:
| | | | | | | | | |
| --- | --- | --- | --- | --- | --- | --- | --- | --- |
| Pos | Names | Nation | Bib | Start 1 | Start 2 | Run 1 | Run 2 | Total |
| 1 | Lochner / Rademacher / Weber / Rasp | GER | 14 | 4.80 | 4.80 | 47.60 | 47.84 | 1:35.44 |
| 2 | Bascue / Weber / Valdes / McGuffie | USA | 6 | 4.82 | 4.80 | 47.54 | 47.95 | 1:35.49 |
| 3 | Hall / Tasker / Fearon / Cackett | GBR | 1 | 4.80 | 4.79 | 47.37 | 48.19 | 1:35.56 |
| 4 | Friedrich / Bäcker / Grothkopp / Margis | GER | 7 | 4.77 | 4.78 | 47.60 | 48.00 | 1:35.60 |
| 5 | Spring / Lumsden / Kopacz / Smith | CAN | 11 | 4.77 | 4.78 | 47.57 | 48.07 | 1:35.64 |
| 6 | Deen / Simons / Olubi / Matthews |  GBR | 12 | 4.85 | 4.82 | 47.67 | 48.00 | 1:35.67 |
| 7 | Melbardis / Dreiskens / Miknis / Strenga | LAT | 10 | 4.77 | 4.78 | 47.63 | 48.05 | 1:35.68 |
| 8 | Kripps / Brown / Coakwell / Wright | CAN | 8 | 4.84 | 4.84 | 47.63 | 48.09 | 1:35.72 |
| 9 | Walther / Kuske / Poser / Franke | GER | 15 | 4.85 | 4.85 | 47.72 | 48.04 | 1:35.76 |
| 10 | Won / Kim / Seo / Oh | KOR | 16 | 4.84 | 4.88 | 47.78 | 48.06 | 1:35.84 |
| 11 | Kasjanov / Zaitsev / Kondratenko / Pushkarev | RUS | 13 | 4.83 | 4.86 | 47.75 | 48.18 | 1:35.93 |
| 11 | Poloniato / Stones / Kirkpatrick / Plug | CAN | 9 | 4.87 | 4.85 | 47.68 | 48.25 | 1:35.93 |
| 13 | Kibermanis / Jansons / Lusis / Zirups | LAT | 21 | 4.96 | 4.99 | 47.95 | 48.01 | 1:35.96 |
| 14 | Maier / Walch / Sammer / Moldovan | AUT | 20 | 4.81 | 4.81 | 47.95 | 48.10 | 1:36.05 |
| 15 | Olsen / Weinstock / Langton / C. Fogt | USA | 24 | 4.74 | 4.78 | 48.00 | 48.07 | 1:36.07 |
| 16 | Cunningham / Bailey / Kinney / Michener | USA | 17 | 4.82 | 4.84 | 47.95 | 48.13 | 1:36.08 |
| 17 | Costerg / Ricard / Castell / Hauterville | FRA | 5 | 4.92 | 4.91 | 47.84 | 48.26 | 1:36.10 |
| 18 | de Bruin / Piek / van der Zijde / Franjic | NED | 3 | 4.90 | 4.87 | 47.75 | 48.39 | 1:36.14 |
| 19 | Stulnev / Antukh / Malykh / Koshelev | RUS | 18 | 4.85 | 4.87 | 47.94 | 48.29 | 1:36.23 |
| 20 | Bertazzo / Fontana / Ughi / Mulassano | ITA | 2 | 5.07 | 5.08 | 47.97 | 48.54 | 1:36.51 |
| 21 | Andrianov / Selikhov / Samitov / Mordasov | RUS | 23 | 4.87 | | 48.02 | | |
| 22 | Hefti / Mouliner / Ferrari / Tanner | SUI | 22 | 4.94 | | 48.10 | | |
| 23 | Peter / Bauann / Friedli / Meier | SUI | 19 | 4.94 | | 48.18 | | |
| 24 | Baumgartner / Comel / Variola / Costa | ITA | 4 | 5.00 | | 48.36 | | |