From Whistler, CAN
(Nov. 24, 2017) There are few places where you can guarantee a gold medal for someone on the IBSF World Cup tour. However, Kaillie Humphries in Whistler is about as close to a "sure thing" as you can find.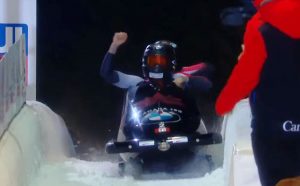 The two-time Olympic gold medalist carried a .15 second advantage over Jamie Greubel Poser and a .37 advantage over British pilot Mica McNeill into the second heat. On their second runs, neither McNeill nor Greubel Poser could make it down completely clean, meaning Humphries needed to just put down a relatively clean run.
Humphries mounted what was almost a victory lap, cruising to a .48 victory over Greubel Poser. Elana Meyers Taylor moved up from fourth in the first heat to third to take bronze.
Mariama Jamanka finished fourth, with McNeill and Nadezhda Sergeeva tying for fifth place, with fifth being a World Cup career best for McNeill.
Alysia Rissling moved up from tenth to seventh for Canada, while teammate Christine de Bruin moved up to ninth from 14th on the strength of a fifth-fastest run of the second heat.
Brittany Reinbolt rounded out the American effort with a 12th place effort.
The race was marred by crashes, with Yooran Kim and An Vannieuwenhuyse going over in the first heat, followed by Elfje Willemsen and Stephanie Schneider going over in the second heat.
Results:
| | | | | | | | | |
| --- | --- | --- | --- | --- | --- | --- | --- | --- |
| Pos | Names | Nation | Bib | Start 1 | Start 2 | Run 1 | Run 2 | Total |
| 1 | Humphries / Lotholz | CAN | 8 | 5.11 | 5.14 | 53.15 | 53.52 | 1:46.67 |
| 2 | Greubel Poser / Evans | USA | 11 | 5.09 | 5.16 | 53.30 | 53.85 | 1:47.15 |
| 3 | Meyers Taylor / K. Jones | USA | 9 | 5.06 | 5.07 | 53.52 | 53.98 | 1:47.50 |
| 4 | Jamanka / Noll | GER | 4 | 5.21 | 5.27 | 53.63 | 54.05 | 1:47.68 |
| 5 | Sergeeva / Shokshueva | RUS | 16 | 5.19 | 5.24 | 53.69 | 54.30 | 1:47.99 |
| 5 | McNeill / Moore | GBR | 14 | 5.25 | 5.30 | 53.48 | 54.51 | 1:47.99 |
| 7 | Rissling / Appiah | CAN | 7 | 5.19 | 5.22 | 53.77 | 54.25 | 1:48.02 |
| 8 | Hengster / Kleiser | AUT | 23 | 5.29 | 5.33 | 53.92 | 54.23 | 1:48.15 |
| 9 | de Bruin / Bujnowski | CAN | 5 | 5.24 | 5.26 | 53.97 | 54.19 | 1:48.16 |
| 10 | Hafner / E. Rebsamen | SUI | 21 | 5.27 | 5.29 | 53.86 | 54.39 | 1:48.25 |
| 11 | Rodionova / Kocherzhova | RUS | 15 | 5.21 | 5.27 | 53.74 | 54.67 | 1:48.41 |
| 12 | Reinbolt / Gibbs | USA | 12 | 5.15 | 5.26 | 53.83 | 54.66 | 1:48.49 |
| 13 | Constantin / Iusco | ROU | 20 | 5.30 | 5.36 | 54.20 | 54.31 | 1:48.51 |
| 14 | Köhler / Fritz-Glahn | GER | 10 | 5.29 | 5.32 | 54.33 | 54.30 | 1:48.63 |
| 15 | Lee / Jeon | KOR | 19 | 5.41 | 5.40 | 54.55 | 54.36 | 1:48.91 |
| 16 | Oshigiri / Kimishima | JPN | 22 | 5.31 | 5.55 | 54.14 | 54.90 | 1:49.04 |
| 17 | Grecu / Puiu | ROU | 2 | 5.26 | 5.30 | 54.49 | 55.62 | 1:50.11 |
| 18 | Paes / Silveira | BRA | 1 | 5.39 | 5.47 | 54.75 | 55.72 | 1:50.47 |
| 19 | Willemsen / Aerts | BEL | 6 | 5.30 | 5.28 | 53.71 | 57.70 | 1:51.41 |
| 20 | Schneider / Strack | GER | 13 | 5.14 | 5.17 | 53.67 | 57.78 | 1:51.45 |
| 21 | Asazu / Ogawa | JPN | 3 | 5.39 | | 55.39 | | |
| 22 | Kim / Kim | KOR | 17 | 5.35 | | 57.32 | | |
| 23 | Vannieuwenhuyse / Vercruyssen | BEL | 18 | 5.31 | | 62.74 | | |