From Whistler, CAN
(Nov. 24, 2017) Chris Spring and Justin Kripps have had great starts to their IBSF World Cup season. On their home soil, they made sure that run continued.
Spring carried a .16 second advantage over Latvian Oskars Melbardis going into the second heat in Whistler, while Kripps sat tied for third with Swiss pilot Rico Peter. Kripps made his second run count, putting down the fastest time in the head and putting the pressure on the teams after him.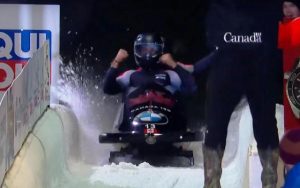 Peter relatively struggled on his second trip down with only the sixth fastest run, guaranteeing Kripps a medal. Melbardis then came down with an otherwise nice run, the second fastest of the heat, but found himself .07 behind Kripps with just Spring to go.
Spring's second run wasn't as close to flawless as his first, but his advantage going into the second run was enough to hold back his teammate by .02 and score his first gold medal since January 2016 in Whistler. Kripps took silver, and Melbardis bronze. Just .09 separated gold from bronze.
Russian Alexander Kasjanov finished fourth, ahead of Rico Peter and Korean Yunjong Won.
It was a great day for the Canadian men, with Nick Poloniato finishing tied for seventh to round out the Canadian effort.
For the Americans, they couldn't replicate their efforts in Lake Placid, with Nick Cunningham leading the charge in 11th place. Codie Bascue finished 16th, while Hunter Church made his World Cup debut in 24th.
Bradley Hall came into his second run in seventh place, but struggled in his second run, dropping to a tie for 13th with Francesco Friedrich. British teammate Bruce Tasker crashed late in his run, but crossed the line in 27th.
Results:
| | | | | | | | | |
| --- | --- | --- | --- | --- | --- | --- | --- | --- |
| Pos | Names | Nation | Bib | Start 1 | Start 2 | Run 1 | Run 2 | Total |
| 1 | Spring / Wright | CAN | 9 | 4.83 | 4.83 | 51.84 | 52.33 | 1:44.17 |
| 2 | Kripps / Kopacz | CAN | 10 | 4.83 | 4.77 | 52.02 | 52.17 | 1:44.19 |
| 3 | Melbardis / Dreiskens | LAT | 16 | 4.88 | 4.85 | 52.00 | 52.26 | 1:44.26 |
| 4 | Kasjanov / Pushkarev | RUS | 19 | 4.94 | 4.92 | 52.03 | 52.31 | 1:44.34 |
| 5 | Peter / Friedli | SUI | 6 | 4.89 | 4.86 | 52.02 | 52.38 | 1:44.40 |
| 6 | Won / Seo | KOR | 14 | 4.79 | 4.78 | 52.09 | 52.42 | 1:44.51 |
| 7 | Walther / Rödiger | GER | 8 | 4.89 | 4.89 | 52.19 | 52.34 | 1:44.53 |
| 8 | Poloniato / Brown | CAN | 17 | 4.82 | 4.78 | 52.06 | 52.47 | 1:44.53 |
| 9 | Stulnev / Malykh | RUS | 24 | 4.93 | 4.92 | 52.13 | 52.54 | 1:44.67 |
| 10 | Kibermanis / Miknis | LAT | 7 | 4.91 | 4.91 | 52.17 | 52.59 | 1:44.76 |
| 11 | Cunningham / Bailey | USA | 11 | 4.81 | 4.81 | 52.26 | 52.51 | 1:44.77 |
| 12 | Costerg / Hauterville | FRA | 4 | 4.94 | 4.91 | 52.27 | 52.54 | 1:44.81 |
| 13 | Friedrich / Margis | GER | 12 | 4.82 | 4.74 | 52.47 | 52.42 | 1:44.89 |
| 13 | Hall / Fearon | GBR | 3 | 4.85 | 4.81 | 52.09 | 52.80 | 1:44.89 |
| 15 | Andrianov / Mordasov | RUS | 23 | 4.93 | 4.92 | 52.39 | 52.68 | 1:45.07 |
| 16 | Bascue / McGuffie | USA | 15 | 4.82 | 4.82 | 52.35 | 52.73 | 1:45.08 |
| 17 | Maier / Walch | AUT | 22 | 4.85 | 4.83 | 52.44 | 52.65 | 1:45.09 |
| 18 | Kim / Oh | KOR | 1 | 4.92 | 4.87 | 52.40 | 52.84 | 1:45.24 |
| 19 | Zalims / Dambis | LAT | 21 | 4.87 | 4.89 | 52.54 | 52.75 | 1:45.29 |
| 20 | de Bruin / van der Zijde | NED | 5 | 4.97 | 4.90 | 52.40 | 53.00 | 1:45.40 |
| 21 | Lochner / Rasp | GER | 13 | 4.86 | | 52.55 | | |
| 22 | Rinaldi / Vain | MON | 18 | 4.91 | | 52.65 | | |
| 23 | Hefti / Moulinier | SUI | 25 | 4.95 | | 52.71 | | |
| 24 | Church / Abdul-Saboor | USA | 20 | 4.91 | | 52.77 | | |
| 25 | Bertazzo / Variola | ITA | 26 | 4.97 | | 52.86 | | |
| 26 | Baumgartner / Fontana | ITA | 2 | 5.04 | | 53.07 | | |
| 27 | Tasker / Gleeson | GBR | 27 | 4.84 | | 55.93 | | |