From Whistler, CAN
(Nov. 25, 2017) Sungbin Yun has been traditionally good in Whistler. In the year of his home country Olympics, Sungbin was exceptional.
The Korean set the track record in the first heat, and cruised to victory with the fastest run in the second heat to take gold, .75 ahead of Russian Nikita Tregubov. The gold medal was Sungbin's 18th medal of his relatively short World Cup career.
If it weren't for Sungbin Yun, Tregubov would have cruised to a gold himself. He was the second fastest in each heats, and cruised to a silver medal ahead of Tomass Dukurs of Latvia.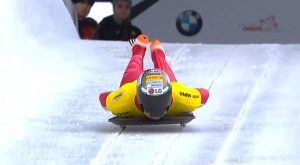 Dukurs came into his second run tied for sixth with Christopher Grotheer of Germany, but put down a great second run to move himself up the order. Both Matt Antoine and Dave Greszczyszyn struggled on their runs to help the Latvian take bronze.
Grotheer finished fourth, ahead of teammate Alexander Gassner and Martins Dukurs, who struggled in his first run but set the third fastest run of the second heat to move from eighth to sixth.
Dave Greszczyszyn finished seventh as the top-finishing Canadian. He came into the second run in bronze medal contention, but a few slight mistakes on his second run, coupled with an excellent run by the men in front of him left him on the outside looking in. Teammates Kevin Boyer and Barrett Martineau both had much better runs in their second heats, with Boyer moving from 13th to 12th, and Martineau from 20th to 15th on their second trips down.
Matt Antoione led the way for the United States with an eighth place finish, as the lone bright spot for the Americans. Greg West and John Daly both missed their second runs, with West finishing 26th and Daly 29th.
Dom Parsons moved up one spot from 14th to 13th in his second run, tied with Norway's Alex Hanssen. Parsons' British teammates Jack Thomas and Jerry Rice finished 19th and 23rd, respectively.
Results:
| | | | | | | | | |
| --- | --- | --- | --- | --- | --- | --- | --- | --- |
| Pos | Name | Nation | Bib | Start 1 | Start 2 | Run 1 | Run 2 | Total |
| 1 | Sungbin Yun | KOR | 14 | 4.52 | 4.50 | 51.99 | 52.35 | 1:44.34 |
| 2 | Nikita Tregubov | RUS | 8 | 4.58 | 4.56 | 52.43 | 52.66 | 1:45.09 |
| 3 | Tomass Dukurs | LAT | 7 | 4.67 | 4.61 | 52.64 | 52.69 | 1:45.33 |
| 4 | Christopher Grotheer | GER | 10 | 4.65 | 4.61 | 52.64 | 52.73 | 1:45.37 |
| 5 | Alexander Gassner | GER | 6 | 4.66 | 4.66 | 52.61 | 52.86 | 1:45.47 |
| 6 | Martins Dukurs | LAT | 12 | 4.57 | 4.56 | 52.83 | 52.68 | 1:45.51 |
| 7 | Dave Greszczyszyn | CAN | 17 | 4.66 | 4.67 | 52.57 | 52.97 | 1:45.54 |
| 8 | Matthew Antoine | USA | 9 | 4.62 | 4.64 | 52.58 | 53.23 | 1:45.81 |
| 9 | Axel Jungk | GER | 13 | 4.58 | 4.53 | 53.28 | 52.75 | 1:46.03 |
| 9 | Rhys Thornbury | NZL | 19 | 4.63 | 4.61 | 52.85 | 53.18 | 1:46.03 |
| 11 | Matthias Guggenberger | AUT | 15 | 4.63 | 4.66 | 52.95 | 53.18 | 1:46.13 |
| 12 | Kevin Boyer | CAN | 18 | 4.56 | 4.59 | 53.31 | 52.90 | 1:46.21 |
| 13 | Dominc Parsons | GBR | 20 | 4.74 | 4.72 | 53.50 | 53.27 | 1:46.77 |
| 13 | Alex Hanssen | NOR | 5 | 4.58 | 4.61 | 52.95 | 53.82 | 1:46.77 |
| 15 | Barrett Martineau | CAN | 25 | 4.65 | 4.66 | 53.84 | 52.98 | 1:46.82 |
| 16 | Jisoo Kim | KOR | 16 | 4.53 | 4.53 | 53.59 | 53.60 | 1:47.19 |
| 17 | Ander Mirambell | ESP | 27 | 4.82 | 4.82 | 53.66 | 53.54 | 1:47.20 |
| 18 | Vladyslav Heraskevych | UKR | 24 | 4.93 | 4.86 | 53.73 | 53.54 | 1:47.27 |
| 19 | Jack Thomas | GBR | 4 | 4.61 | 4.62 | 53.64 | 54.12 | 1:47.76 |
| 20 | Nicholas Timmings | AUS | 3 | 4.73 | 4.73 | 53.72 | 54.31 | 1:48.03 |
| 21 | Wenqiang Geng | CHN | 11 | 4.69 | | 53.90 | | |
| 22 | Hiroatsu Takahashi | JPN | 29 | 4.71 | | 54.02 | | |
| 23 | Jeremy Rice | GBR | 26 | 4.72 | | 54.12 | | |
| 24 | Vladislav Marchenkov | RUS | 21 | 4.64 | | 54.22 | | |
| 25 | Riet Graf | SUI | 2 | 4.75 | | 54.32 | | |
| 26 | Greg West | USA | 22 | 4.68 | | 54.32 | | |
| 27 | Dean Timmings | AUS | 1 | 4.72 | | 54.77 | | |
| 28 | Ronald Auderset | SUI | 30 | 4.58 | | 54.91 | | |
| 29 | John Daly | USA | 23 | 4.68 | | 54.94 | | |
| 30 | Joseph Luke Cecchini | ITA | 28 | 4.67 | | 55.05 | | |