From Whistler, CAN
(Nov. 26, 2017) Alexander Kasjanov found himself .02 out of a gold medal in Whistler, needing to beat a hungry British squad looking for their first gold medal since 1993.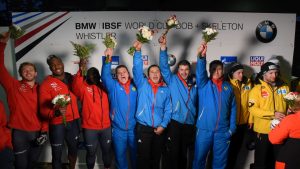 On his first run, Lamin Deen set a track record on the fastest track on earth to put himself into the final starting spot in the second heat. Just before him, Kasjanov had been as close to flawless as anyone had been all evening to put the pressure on the Brits. Deen's team set a great start time, .05 ahead of the Russian, but an early set of skids put Deen behind early. Deen was able to clean up his run, and take the first silver medal for a British four-man team since John Jackson's amazing run in 2013 in Lake Placid.
For Kasjanov, it was his second four-man win in Whister in as many years.
German Nico Walther finished with a bronze medal, holding off a number of great teams. Canadian Justin Kripps, German Johannes Lochner, French pilot Loic Costerg, and Swiss pilot Rico Peter finished fourth through seventh, all within .09 of Walther.
Codie Bascue continued a strong season in the top-finishing United States sled. His eighth place run in Whistler coupled with his two runs in Park City, leave him solidly in the top five in four-man points. Teammate Hunter Church just missed a second run in his first ever four-man World Cup race, finishing 22nd.
Nick Poloniato and Chris Spring rounded out the Canadian effort, with both finishing just outside of the top 10 in 11th and 13th, respectively.
Brad Hall finished ninth in the second British sled.
Results:
| | | | | | | | | |
| --- | --- | --- | --- | --- | --- | --- | --- | --- |
| Pos | Names | Nation | Bib | Start 1 | Start 2 | Run 1 | Run 2 | Total |
| 1 | Kasjanov / Khuzin / Kondratenko / Pushkarev | RUS | 8 | 4.78 | 4.79 | 50.68 | 51.21 | 1:41.89 |
| 2 | Deen / Simons / Olubi / Matthews | GBR | 6 | 4.78 | 4.74 | 50.66 | 51.51 | 1:42.17 |
| 3 | Walther / Kuske / Korona / Franke | GER | 7 | 4.79 | 4.76 | 50.81 | 51.56 | 1:42.37 |
| 4 | Kripps / Kopacz / Lumsden / Smith | CAN | 10 | 4.72 | 4.71 | 50.94 | 51.46 | 1:42.40 |
| 5 | Lochner / Rademacher / Weber / Rasp | GER | 14 | 4.74 | 4.74 | 50.91 | 51.50 | 1:42.41 |
| 6 | Costerg / Ricard / Castell / Hauterville | FRA | 3 | 4.84 | 4.83 | 50.86 | 51.56 | 1:42.42 |
| 7 | Peter / Friedli / Baumann / Amrhein | SUI | 21 | 4.81 | 4.80 | 51.16 | 51.30 | 1:42.46 |
| 8 | Bascue / Weber / Valdes / McGuffie | USA | 11 | 4.76 | 4.74 | 50.91 | 51.59 | 1:42.50 |
| 9 | Hall / Gleeson / Fearon / Cackett | GBR | 16 | 4.76 | 4.75 | 50.97 | 51.55 | 1:42.52 |
| 10 | Kibermanis / ansons / Lusis / Zirups | LAT | 18 | 4.90 | 4.86 | 51.13 | 51.43 | 1:42.56 |
| 11 | Poloniato / Brown / Coakwell / Plug | CAN | 13 | 4.80 | 4.80 | 51.13 | 51.47 | 1:42.60 |
| 11 | Friedrich / Bäcker / Grothkopp / Margis | GER | 9 | 4.78 | 4.76 | 51.32 | 51.31 | 1:42.63 |
| 13 | Spring / Kirkpatrick / Stones / Wright | CAN | 12 | 4.79 | 4.75 | 51.03 | 51.63 | 1:42.66 |
| 14 | Melbardis / Dreiskens / Miknis / Stregna | LAT | 15 | 4.77 | 4.75 | 51.35 | 51.32 | 1:42.67 |
| 15 | Maier / Laussegger / Sammer / Moldovan | AUT | 19 | 4.80 | 4.77 | 51.24 | 51.46 | 1:42.70 |
| 16 | Stulnev / Antukh / Malykh / Koshelev | RUS | 20 | 4.80 | 4.79 | 51.31 | 51.46 | 1:42.77 |
| 17 | de Bruin / Piek / van der Zijde / Franjic | NED | 17 | 4.82 | 4.81 | 51.31 | 51.62 | 1:42.93 |
| 18 | Baumgartner / Fontana / Ughi / Costa | ITA | 1 | 4.95 | 4.94 | 51.27 | 51.74 | 1:43.01 |
| 19 | Bertazzo / Comel / Variola / Bilotti | ITA | 2 | 4.86 | 4.84 | 51.19 | 52.03 | 1:43.22 |
| 20 | Andrianov / Lylov / Selikhov / Samitov | RUS | 5 | 4.83 | 4.83 | 51.00 | 60.60 | 1:51.60 |
| 21 | Hefi / Moulinier / Ferrari / Tanner | SUI | 22 | 4.89 | | 51.66 | | |
| 22 | Church / B. Fogt / Moreira / Abdul-Saboor | USA | 17 | 4.86 | | 51.77 | | |