From Königssee, GER
(Dec. 1, 2017) Katrin Beierl of Austria won her third gold medal in as many attempts on the European Cup circuit, cruising to victory in a tough field. In the largest field of sleds thus far in the European Cup women's bobsled season with eight World Cup regulars in it, Beierl made it look easy, winning by .69 over Christin Senkel of Germany.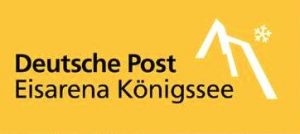 Beierl and brakewoman Jennifer Onasanya were the fastest off the top and led at every split in both heats to take gold. The win is her third in third tries, having missed the race in Altenberg.
Senkel came back from fifth place to take silver, wile Romanian Maria Constantin finished third. The bronze for Constantin is her best women's bobsled finish since January 31st, 2015 in Winterberg.
Sandra Kroll finished fourth for Germany, while Christina Hengster finished fifth. Sabina Hafner finished sixth for Switzerland.
Results:
| | | | | | | | |
| --- | --- | --- | --- | --- | --- | --- | --- |
| Pos | Names | Nation | Start 1 | Start 2 | Run 1 | Run 2 | Total |
| 1 | Beierl / Onasanya | AUT | 5.25 | 5.27 | 51.18 | 51.36 | 1:42.54 |
| 2 | Senkel / Bertels | GER | 5.35 | 5.35 | 51.53 | 51.70 | 1:43.23 |
| 3 | Constantin / Iusco | ROU | 5.41 | 5.45 | 51.51 | 51.84 | 1:43.35 |
| 4 | Kroll / Noll | GER | 5.45 | 5.48 | 51.48 | 51.91 | 1:43.39 |
| 5 | Hengster / Hahn | AUT | 5.48 | 5.45 | 51.70 | 51.72 | 1:43.42 |
| 6 | Hafner / Rebsamen | SUI | 5.39 | 5.39 | 51.50 | 51.95 | 1:43.45 |
| 7 | Oshigiri / Morimoto | JPN | 5.38 | 5.42 | 51.63 | 51.89 | 1:43.52 |
| 8 | Vannieuwenhuyse / Vanhaen | BEL | 5.45 | 5.47 | 51.78 | 51.92 | 1:43.70 |
| 9 | Willemsen / Hubrecht | BEL | 5.55 | 5.59 | 51.78 | 51.93 | 1:43.71 |
| 10 | Nolte / Zelichowski | GER | 5.36 | 5.36 | 51.63 | 52.19 | 1:43.82 |
| 11 | Grecu / Puiu | ROU | 5.36 | 5.39 | 52.01 | 52.19 | 1:44.20 |
| 12 | Fontanive / Strebel | SUI | 5.35 | 5.36 | 52.06 | 52.19 | 1:44.25 |
| 13 | Asazu / Ogawa | JPN | 5.50 | 5.52 | 52.34 | 52.65 | 1:45.01 |
| 14 | Chernykh / Shabalina | RUS | 5.41 | 5.46 | 52.48 | 52.72 | 1:45.20 |
| 15 | Nazaruk / Bolshakova | RUS | 5.46 | 5.43 | 52.93 | 52.75 | 1:45.68 |