From Königssee, GER
(Dec. 2, 2017) The race for gold in Königssee in the fifth European Cup event was the closest of the 2017/2018 season thus far going into the second heat, with Austria's Katrin Beierl leading Christin Senkel of Germany by .01 and Romania's Andreea Grecu by .02, and it looked for a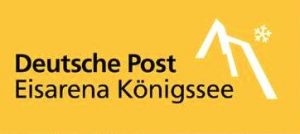 moment like Beierl would finish off the top podium spot for the first time this year.
Grecu struggled a bit on her second run, managing only the eighth fastest run of the heat and tying for the lead with Switzerland's Sabina Hafner with Senkel and Beierl to come. Senkel, in turn, set what was the fastest run of the heat before Beierl's run to put pressure on the Austrian.
Beierl's second run was the fastest at the start, and at every split down the German track to take gold by .41 over Senkel. Grecu and Hafner tied for bronze.
The gold medal for Beierl is her fourth in four European Cup races this season.
Belgians an Vannieuwenhuyse and Elfje Willemsen finished .04 apart in fifth and sixth, respectively.
Results:
| | | | | | | | |
| --- | --- | --- | --- | --- | --- | --- | --- |
| Pos | Names | Nation | Start 1 | Start 2 | Run 1 | Run 2 | Total |
| 1 | Beierl / Onasanya | AUT | 5.29 | 5.30 | 51.45 | 51.36 | 1:42.81 |
| 2 | Senkel / Bertels | GER | 5.32 | 5.33 | 51.46 | 51.76 | 1:43.22 |
| 3 | Grecu / Iusco | ROU | 5.34 | 5.37 | 51.47 | 52.00 | 1:43.47 |
| 3 | Hafner / R. Rebsamen | SUI | 5.42 | 5.42 | 51.64 | 51.83 | 1:43.47 |
| 5 | Vannieuwenhuyse / Vanhaen | BEL | 5.47 | 5.47 | 51.59 | 51.89 | 1:43.48 |
| 6 | Willemsen / Aerts | BEL | 5.40 | 5.41 | 51.56 | 51.96 | 1:43.52 |
| 7 | Kroll / Noll | GER | 5.48 | 5.50 | 51.63 | 51.90 | 1:43.53 |
| 8 | Constantin / Puiu | ROU | 5.47 | 5.57 | 51.61 | 52.06 | 1:43.67 |
| 9 | Nolte / Mark | GER | 5.36 | 5.38 | 51.80 | 51.99 | 1:43.79 |
| 10 | Oshigiri / Morimoto | JPN | 5.43 | 5.46 | 51.90 | 52.09 | 1:43.99 |
| 11 | Fontanive / Kambundji | SUI | 5.41 | 5.44 | 52.27 | 52.68 | 1:44.95 |
| 12 | Asazu / Kawasaki | JPN | 5.52 | 5.51 | 52.50 | 52.80 | 1:45.30 |
| 13 | Chernykh / Parfenova | RUS | 5.37 | 5.39 | 52.48 | 52.96 | 1:45.44 |
| 14 | Nazaruk / Bolshakova | RUS | 5.42 | 5.49 | 52.80 | 53.18 | 1:45.98 |