From Königssee, GER
(Dec. 2, 2017) Pablo Nolte won his first four-man gold medal in a tight race in Königssee.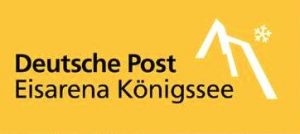 Nolte carried a .09 advantage over Switzerland's Rico Peter into the second heat. Peter put the pressure on the young German with a heat-fastest second run, but Nolte was able to hold off Peter despite a third-quickest run and win his first IBSF 4-man gold medal.
Peter held on for second, edging German Christoph Hafer, who finished third.
Previous race winner Markus Treichl missed a medal by .13 of a second, finishing fourth, while Bennet Buchmüller and Maxim Andrianov rounded out the top six.
Results:
| | | | | | | | |
| --- | --- | --- | --- | --- | --- | --- | --- |
| Pos | Names | Nation | Start 1 | Start 2 | Run 1 | Run 2 | Total |
| 1 | Nolte / Hertel / Schüller / Straub | GER | 4.88 | 4.88 | 49.11 | 49.44 | 1:38.55 |
| 2 | Peter / Baumann / Friedli / Amrhein | SUI | 4.92 | 4.90 | 49.20 | 49.40 | 1:38.60 |
| 3 | Hafer / Salzer / Reichle / Schneider | GER | 4.92 | 4.94 | 49.27 | 49.41 | 1:38.68 |
| 4 | Treichl / Glück / Rangl / Bassey | AUT | 4.93 | 4.92 | 49.34 | 49.47 | 1:38.81 |
| 5 | Buchmüller / Krenz / Ammour / Laurenz | GER | 4.86 | 4.88 | 49.36 | 49.52 | 1:38.88 |
| 6 | Andrianov / Selikhov / Samitov / Mordasov | RUS | 4.93 | 4.92 | 49.39 | 49.51 | 1:38.90 |
| 7 | Jannusch / Ebert / Bogdaschin / Heber | GER | 5.02 | 4.99 | 49.50 | 49.64 | 1:39.14 |
| 8 | Popov / Gaitiukevich / Zharovtsev / Kuzmenko | RUS | 4.91 | 4.95 | 49.61 | 49.77 | 1:39.38 |
| 9 | Vrba / Stoklaska / Suchy / Egydy | CZE | 4.96 | 4.98 | 49.71 | 49.82 | 1:39.53 |
| 10 | Won / Kim / Seo / Oh | KOR | 4.90 | 4.93 | 49.57 | 49.99 | 1:39.56 |
| 11 | Dvorak / Dobes / Sindelar / Nosek | CZE | 4.91 | 4.93 | 49.73 | 49.95 | 1:39.68 |
| 12 | Matousek / Kozienka / Simik / Fendek | SVK | 5.00 | 5.04 | 49.72 | 49.98 | 1:39.70 |
| 13 | Luty / Masztak / Miedzik / Kossakowski | POL | 4.94 | 4.96 | 49.78 | 49.95 | 1:39.73 |
| 13 | Bredikhin / Buryakov / Sysoev / Korotkov | RUS | 4.97 | 4.97 | 49.79 | 49.94 | 1:39.73 |
| 15 | Heinrich / Bytebier / Lefebvre / Flaven | FRA | 5.07 | 5.07 | 49.85 | 50.20 | 1:40.05 |
| 16 | Bracher / Knuser / Dörig / Meier | SUI | 5.01 | 5.03 | 50.02 | 50.04 | 1:40.06 |
| 17 | Meyerhans / Lorenzoni / Bieri / Danso | SUI | 5.10 | 5.16 | 49.93 | 50.17 | 1:40.10 |
| 17 | Radenovic / Vujanic / Ristic / Nikolic | SRB | 4.99 | 5.00 | 50.04 | 50.06 | 1:40.10 |
| 19 | Grigore / Radu / Craciun / Bartha | ROU | 5.01 | 5.06 | 49.95 | 50.22 | 1:40.17 |
| 20 | Berzins / Priekulis / Nungurs / Kaufmanis | LAT | 5.00 | 5.01 | 50.06 | 50.94 | 1:41.00 |
| 21 | Godefroy / Baechler / Aguemon / Alais | FRA | 5.13 | | 50.16 | | |
| 22 | de Bruin / Piek / van der Zijde / Franjic | NED | 4.93 | | 50.23 | | |
| 23 | Tentea / Coman / Dobre / Daroczi | ROU | 5.00 | | 50.40 | | |
| 24 | Constantin / Iusco / Muntean / Bugheanu | ROU | 5.24 | | 50.72 | | |
| 25 | Stano / Michalski / Zakrzewski / Sarnecki | POL | 5.35 | | 51.47 | | |