From Winterberg, GER
(Dec. 8, 2017) It's been said that it would take an act of God to keep Martins Dukurs off the top of the Winterberg podium, where coming into the 2017/2018 season race Dukurs had found himself eight straight times.
Today, that act happened and what had shaped up to be a great second heat between Dukurs and Sungbin Yun was wiped out by the same  steady snow and wind that had wrought havoc on the women's race earlier in the day.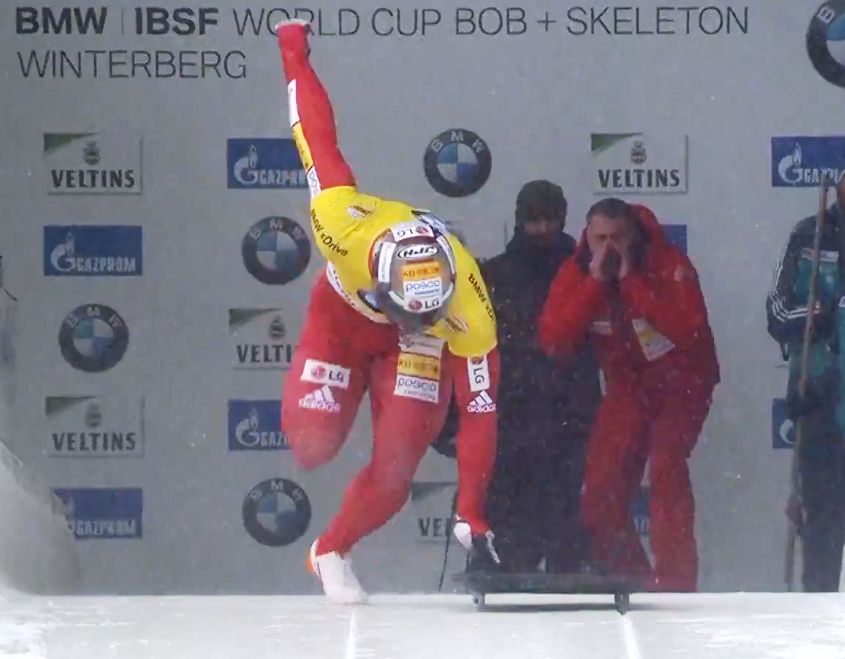 At the end of the first heat Yun had edged Dukurs by .06, with a .07 advantage at the start. Heavy snow picked back up in between the two heats, and unlike earlier in the day, it failed to subside.
After a 45 minute delay, the second heat was called due to weather, and Yun was declared the winner. Dukurs finished with a silver medal, and Dave Greszczyszyn won his first World Cup medal with a bronze.
Alexander Tretiakov finished fourth, Tomass Dukurs fifth, and Axel Jungk sixth.
The snow robbed Matt Antoine a chance to move up into the top six, having finished his first run .06 out in seventh. American teammates John Daly and Greg West both finished with season-best finishes of tied for 10th and 15th, respectively. The 15th place finish for West was a World Cup career best.
Kevin Boyer finished 12th for Canada, while Barrett Martineau had trouble at the start of his run and finished 28th.
It was a tough day for Great Britain. Aside from a ninth place finish for Dom Parsons, neither Jeremy Rice or Jack Thomas could crack the top 20. Rice had a rough run to finished 29th, while Thomas had the worst snow/wind combination of the heat to finish 33rd.
Results:
| | | | | | |
| --- | --- | --- | --- | --- | --- |
| Pos | Name | Nation | Bib | Start | Finish |
| 1 | Sungbin Yun | KOR | 8 | 4.91 | 56.62 |
| 2 | Martins Dukurs | LAT | 7 | 4.98 | 56.68 |
| 3 | Dave Greszczyszyn | CAN | 11 | 5.04 | 56.88 |
| 4 | Alexander Tretiakov | RUS | 16 | 4.81 | 57.01 |
| 5 | Tomass Dukurs | LAT | 10 | 5.10 | 57.06 |
| 6 | Axel Jungk | GER | 15 | 5.01 | 57.28 |
| 7 | Matthew Antoine | USA | 9 | 5.08 | 57.34 |
| 8 | Vladislav Marchenkov | RUS | 24 | 5.06 | 57.36 |
| 9 | Dominic Parsons | GBR | 19 | 5.06 | 57.39 |
| 10 | Christopher Grotheer | GER | 12 | 5.06 | 57.41 |
| 10 | John Daly | USA | 27 | 5.03 | 57.41 |
| 12 | Kevin Boyer | CAN | 18 | 5.02 | 57.43 |
| 13 | Matthias Guggenberger | AUT | 13 | 5.06 | 57.46 |
| 14 | Nikita Tregubov | RUS | 14 | 5.14 | 57.54 |
| 15 | Greg West | USA | 25 | 5.16 | 57.58 |
| 16 | Alexander Gassner | GER | 6 | 5.15 | 57.59 |
| 17 | Ander Mirambell | ESP | 22 | 5.20 | 57.78 |
| 18 | Hansin Lee | KOR | 4 | 5.20 | 57.80 |
| 19 | Hiroatsu Takahashi | JPN | 29 | 5.04 | 57.85 |
| 20 | Riet Graf | SUI | 5 | 5.19 | 57.98 |
| 20 | John Farrow | AUS | 23 | 5.25 | 57.98 |
| 22 | Rhys Thornbury | NZL | 17 | 5.31 | 58.07 |
| 23 | Florian Auer | AUT | 30 | 5.20 | 58.07 |
| 24 | Joseph Luke Cecchini | ITA | 32 | 5.10 | 58.13 |
| 25 | Alexander Auer | AUT | 28 | 5.10 | 58.20 |
| 26 | Ronald Auderset | SUI | 2 | 5.11 | 58.43 |
| 27 | Alex Hanssen | NOR | 31 | 5.07 | 58.43 |
| 28 | Barrett Martineau | CAN | 20 | 5.15 | 58.46 |
| 29 | Jeremy Rice | GBR | 26 | 5.12 | 58.48 |
| 30 | Manuel Schwärzer | ITA | 1 | 5.31 | 58.80 |
| 31 | Vladyslav Heraskevych | UKR | 21 | 5.54 | 58.95 |
| 32 | Nicholas Timmings | AUS | 33 | 5.15 | 59.12 |
| 33 | Jack Thomas | GBR | 3 | 5.42 | 59.19 |