From Winterberg, GER
(Dec. 8, 2017) Despite all of her success, German Jacqueline Lölling had never won a World Cup gold medal on her home track in Winterberg. She looked to do just that in the fourth race of the IBSF World Cup.
With two very different runs, Lölling and Elena Nikitina came into the second heat tied for the lead. Lölling had one of the slower starts at the time and lived up to her reputation as a glider to cruise to a lead. Nikitina, on the other hand, tied her start record to equal Lölling's first heat time of 57.85
In the second heat, the Canadian women put the pressure on the leaders. Elisabeth Vathje led the way, moving up from fourth to no worse than third with only the leaders to go. Nikitina set a new start record on her final run, but struggled to keep the run clean and fell behind Vathje with only Lölling to go.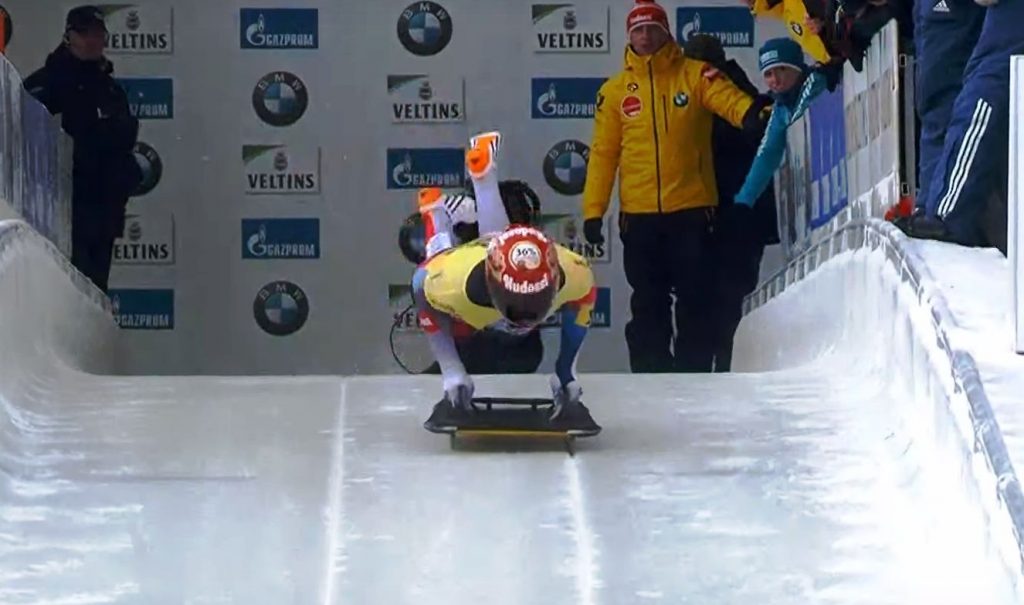 Lölling was quick and clean in her final run, and was rewarded with her first ever World Cup medal at Winterberg.
Vathje moved up from fourth to second to win silver, while Nikitina finished third.
Mimi Rahneva moved up from fifth to fourth, while Tina Hermann finished fifth. Jane Channell finished out a strong showing for Canada, moving up to sixth from tenth in the first heat.
The snow and wind played a large role in handicapping the first heat. Olympic champion Lizzy Yarnold, going off in the 14th position, pushed off into a snow-filled headwind and saw both her start time and downtime suffer. The next seven women down all suffered the same fate, with the United States' Savannah Graybill have a clean downtime of just .2 faster than Renata Khuzina, who popped a groove and hit a wall at the start of her run. Both women were over 2.5 seconds behind Lölling at the end of the first run on one of the shorter tracks on tour.
Despite the conditions, the IBSF determined the race was fair enough and ran the second heat as planned.
Both Kendall Wesenber and Savannah Graybill had really tough breaks in the first heat. Both came down as the snow and wind seemed to be at its worst, and despite two otherwise very clean runs, they finished 25th and 26th respectively.
Laura Deas was the top-scoring British slider, finishing seventh. Yarnold finished 13th after a weather-assisted 14th place first run. Ashleigh Pittaway just missed the cut in 21st.
Results:
| | | | | | | | | |
| --- | --- | --- | --- | --- | --- | --- | --- | --- |
| Pos | Name | Nation | Bib | Start 1 | Start 2 | Run 1 | Run 2 | Total |
| 1 | Jacqueline Lölling | GER | 7 | 5.63 | 5.64 | 57.85 | 58.01 | 1:55.86 |
| 2 | Elisabeth Vathje | CAN | 12 | 5.36 | 5.31 | 58.00 | 58.10 | 1:56.10 |
| 3 | Elena Nikitina | RUS | 8 | 5.17 | 5.12 | 57.85 | 58.26 | 1:56.11 |
| 4 | Mirela Rahneva | CAN | 13 | 5.41 | 5.23 | 58.15 | 58.11 | 1:56.26 |
| 5 | Tina Hermann | GER | 9 | 5.53 | 5.55 | 57.96 | 58.55 | 1:56.51 |
| 6 | Jane Channell | CAN | 4 | 5.27 | 5.24 | 58.36 | 58.24 | 1:56.60 |
| 7 | Laura Deas | GBR | 5 | 5.34 | 5.29 | 58.30 | 58.38 | 1:56.68 |
| 8 | Katie Uhlaender | USA | 11 | 5.40 | 5.43 | 58.26 | 58.54 | 1:56.80 |
| 9 | Anna Fernstädt | GER | 10 | 5.72 | 5.72 | 58.27 | 58.63 | 1:56.90 |
| 10 | Kim Meylemans | BEL | 6 | 5.46 | 5.43 | 58.34 | 58.73 | 1:57.07 |
| 11 | Janine Flock | AUT | 15 | 5.66 | 5.42 | 58.81 | 58.39 | 1:57.20 |
| 12 | Yulia Kanakina | RUS | 19 | 5.40 | 5.17 | 59.18 | 58.46 | 1:57.64 |
| 13 | Lizzy Yarnold | GBR | 14 | 5.65 | 5.38 | 59.36 | 58.42 | 1:57.78 |
| 14 | Lelde Priedulena | LAT | 16 | N/A | 5.36 | 59.38 | 58.41 | 1:57.79 |
| 15 | Marina Gilardoni | SUI | 21 | 5.49 | 5.44 | 59.61 | 58.75 | 1:58.36 |
| 16 | Jaclyn Narracott | AUS | 24 | 5.56 | 5.60 | 59.30 | 59.33 | 1:58.63 |
| 17 | Takako Oguchi | JPN | 2 | 5.62 | 5.49 | 59.36 | 59.37 | 1:58.73 |
| 18 | Nozomi Komuro | JPN | 26 | 5.49 | 5.49 | 59.82 | 58.97 | 1:58.79 |
| 19 | Rayoung Mun | KOR | 1 | 5.72 | 5.65 | 59.96 | 59.84 | 1:59.80 |
| 20 | Maria Montejano | ESP | 3 | 5.68 | 5.71 | 59.85 | 60.14 | 1:59.99 |
| 21 | Ashleigh Pittaway | GBR | 27 | 5.78 | | 60.08 | | |
| 22 | Joska le Conte | NED | 22 | 5.67 | | 60.09 | | |
| 23 | Maria Marinela Mazilu | ROU | 25 | 5.74 | | 60.11 | | |
| 24 | Kimberley Bos | NED | 17 | N/A | | 60.33 | | |
| 25 | Kendall Wesenberg | USA | 18 | 5.96 | | 60.35 | | |
| 26 | Savannah Graybill | USA | 20 | 5.90 | | 60.58 | | |
| 27 | Renata Khuzina | RUS | 23 | 5.64 | | 60.78 | | |
| 28 | Maya Pedersen | NOR | 28 | 5.95 | | 60.80 | | |