From Calgary, CAN
(Dec. 9, 2017) Tatjana Hüfner has been dancing around the top of the FIL World Cup podium for quite some time this season, with the German never finishing outside of the top five but also not winning. But that all changed in Calgary.
The winner of the first three races of the season, Natalie Geisenberger, held the lead once again going into the second heat on the 1988 Olympic track. With Hüfner and Canadian Alex Gough having already put down really quick runs, the pressure was on Geisenberger and for the bulk of her run it looked like she had the race in the bag.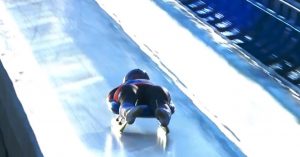 Then, within the final set of curves, Geisenberger made a big enough mistake to drop back, only setting the fifth quickest time of the heat and dropping to third overall and handing the win to her teammate.
Gough finished second, the best Canadian finish of the weekend on home ice, while Geisenberger settled for third.
Kimberley McRae finished fourth to help put two Canadian women in the top six, while Summer Britcher of the United States and Dajana Eitberger of Germany finished fifth and sixth, respectively.
Emily Sweeney finished just outside of the top six in seventh place, moving up from tenth after the first run. American Teammate Erin Hamlin came into her second run in fifth place with a chance of moving up. She had major trouble on the longest straight of the track, hitting the wall four times and falling to 18th in the process.
Brooke Apshkrum finished 14th to cap a great day for the Canadian women.
Results:
| | | | | | | | | |
| --- | --- | --- | --- | --- | --- | --- | --- | --- |
| Pos | Name | Nation | Bib | Start 1 | Start 2 | Run 1 | Run 2 | Total |
| 1 | Tatjana Hüfner | GER | 21 | 4.954 | 4.933 | 46.731 | 46.711 | 1:33.442 |
| 2 | Alex Gough | CAN | 24 | 4.995 | 4.987 | 46.769 | 46.788 | 1:33.557 |
| 3 | Natalie Geisenberger | GER | 22 | 4.982 | 4.976 | 46.728 | 46.875 | 1:33.603 |
| 4 | Kimberley McRae | CAN | 18 | 4.991 | 5.009 | 46.902 | 46.894 | 1:33.796 |
| 5 | Summer Britcher | USA | 17 | 4.986 | 4.992 | 47.131 | 46.839 | 1:33.970 |
| 6 | Dajana Eitberger | GER | 19 | 5.073 | 5.032 | 46.921 | 47.135 | 1:34.056 |
| 7 | Emily Sweeney | USA | 13 | 5.003 | 4.994 | 47.162 | 46.909 | 1:34.071 |
| 8 | Miriam Kastslunger | AUT | 12 | 5.066 | 5.059 | 47.172 | 47.112 | 1:34.284 |
| 9 | Martina Kocher | SUI | 5 | 5.031 | 5.014 | 47.156 | 47.158 | 1:34.314 |
| 10 | Ulla Zirne | LAT | 9 | 5.080 | 5.106 | 47.177 | 47.158 | 1:34.335 |
| 11 | Julia Taubitz | GER | 20 | 5.005 | 5.012 | 46.950 | 47.386 | 1:34.336 |
| 12 | Viktoriia Demchenko | RUS | 16 | 5.073 | 5.086 | 47.165 | 47.324 | 1:34.489 |
| 13 | Raluca Stramaturaru | ROU | 11 | 5.077 | 5.082 | 47.298 | 47.340 | 1:34.638 |
| 14 | Brooke Apshkrum | CAN | 8 | 5.049 | 5.060 | 47.352 | 47.329 | 1:34.681 |
| 15 | Natalia Wojtusciszyn | POL | 6 | 5.073 | 5.071 | 47.280 | 47.633 | 1:34.913 |
| 16 | Eliza Cauce | LAT | 10 | 5.011 | 5.001 | 47.285 | 47.763 | 1:35.048 |
| 17 | Ekaterina Baturina | RUS | 1 | 5.075 | 5.044 | 47.742 | 47.370 | 1:35.112 |
| 18 | Erin Hamlin | USA | 15 | 5.019 | 5.034 | 46.904 | 48.265 | 1:35.169 |
| 19 | Ewa Kuls-Kusyk | POL | 2 | 5.053 | 5.036 | 47.656 | 47.585 | 1:35.241 |
| 20 | Andrea Vötter | ITA | 4 | 5.035 | 5.024 | 47.418 | 47.871 | 1:35.289 |
| 21 | Kendija Aparjode | LAT | 7 | 5.123 | 5.116 | 47.872 | 47.694 | 1:35.566 |
| 22 | Natalie Maag | SUI | 3 | 5.073 | 5.072 | 48.208 | 47.513 | 1:35.721 |
| 23 | Tatyana Ivanova | RUS | 23 | 4.970 | 4.983 | 51.022 | 46.849 | 1:37.871 |
| DNF | Sandra Robatscher | ITA | 14 | 5.025 | | DNF | | |