From Calgary, CAN
(Dec. 9, 2017) For the third time in as many races, the German luge team won the FIL Team Relay, this time edging Canada on their home ice.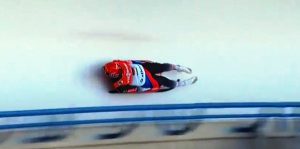 Russia led early on the strength of a great run by Tatyana Ivanova, and Roman Repilov kept it close with a clean slide. The doubles team of Denisev & Antonov struggled on their run, though, dropping Russia off the podium to sixth.
Russia's demise opened the door for Canada, who found themselves in the leaders box with just Germany to go. A great slide by the doubles team of Walker & Snith kept the Germans honest, but Germany was just too strong throughout.
Germany's gold is their sixth in a row dating back to Oberhof in the 2016/2017 season, while Canada's silver is their second in three relays this year.
Austria finished with a bronze medal, while the United States finished fourth for the second time in three relays. Latvia and Russia rounded out the top six.
Results:
| | | | | | | |
| --- | --- | --- | --- | --- | --- | --- |
| Pos | Names | Nation | Bib | Women | Men | Total |
| 1 | Hüfner / Loch / Eggert & Benecken | GER | 15 | 45.882 | 1:33.250 | 2:21.146 |
| 2 | Gough / Edney / Walker & Snith | CAN | 14 | 45.889 | 1:33.397 | 2:21.187 |
| 3 | Kastlunger / Kindl / Penz & Fischler | AUT | 13 | 46.326 | 1:33.925 | 2:21.589 |
| 4 | Britcher / Mazdzer / Mortensen & Terdiman | USA | 11 | 46.165 | 1:33.693 | 2:21.654 |
| 5 | Zirne / Aparjods / Sics & Sics | LAT | 12 | 46.352 | 1:33.988 | 2:21.730 |
| 6 | Ivanova / Repilov / Denisev & Antonov | RUS | 10 | 45.872 | 1:33.364 | 2:21.767 |
| 7 | Vötter / K. Fischnaller / Rieder & Rastner | ITA | 4 | 46.321 | 1:34.201 | 2:22.236 |
| 8 | Wojtusciszyn / Kurowski / Chmielewski & Kowalewski | POL | 9 | 46.349 | 1:34.254 | 2:22.545 |
| 9 | Stramaturaru / Cretu / Atodiresei & Musei | ROU | 7 | 46.208 | 1:34.114 | 2:22.933 |
| 10 | Noskova / Hyman / Broz & Broz | CZE | 6 | 46.735 | 1:34.639 | 2:23.028 |
| 11 | Simonakova / Ninis / Solcansky & Stuchlak | SVK | 8 | 46.762 | 1:34.636 | 2:23.448 |
| 12 | Shkhumova / Mandziy / Obolonchyk & Zakharkiv | UKR | 1 | 47.948 | 1:35.913 | 2:25.160 |
| 13 | Scott / Staudinger / Rosen & Thompson | GBR | 3 | 47.399 | 1:36.284 | 2:25.451 |
| 14 | Bogacheva / Kopyrenko / Yefrenov & Tatyanchenko | KAZ | 2 | 47.174 | 1:36.207 | 2:26.106 |
| DSQ | Sung / Lim / Park & Cho | KOR | 5 | DSQ | | |