From Winterberg, GER
(Dec. 10, 2017) For the first time in the 2017/2018 IBSF World Cup season, a nation swept the podium. Unsurprisingly, it was a the hands of the German four-man squad in Winterberg.
Under the same snowy and windy conditions the track had seen all weekend, Johannes Lochner made up for what was an abysmal two-man effort by setting the fast time in both heats on his way to a .23 victory over teammate Nico Walther.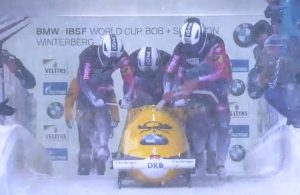 Walther was bested by only Lochner in both heats, overcoming a slower push than the two other German squads to take silver, while Francesco Friedrich finished with a bronze medal on the strength of the third quickest time in both runs.
Canadian Justin Kripps finished fourth as the top-finishing non-German. His fantastic start of the four-man season continued with his third top five in four races. Kripps' teammate Chris Spring finished tied for fifth with Benjamin Maier and Oskars Kibermanis. The fifth place finish for Spring was his third top five of the season.
Codie Bascue led the way for the United States in 11th. Bascue's sled was the only one that arrived on time for the weekend, with both Nick Cunningham and Justin Olsen having to borrow sleds for the week to practice and qualify. Cunningham finished 20th after a tough start to his second run, while Justin Olsen just missed the top 20 with a 23rd place finish.
The British squad had a lot to like out of their runs. Lamin Deen scored a top ten with a tie for ninth, while Bradley Hall moved up from 16th to 13th with a fantastic second run.
Nick Poloniato finished 16th for Canada.
Results:
| | | | | | | | | |
| --- | --- | --- | --- | --- | --- | --- | --- | --- |
| Pos | Names | Nation | Bib | Start 1 | Start 2 | Run 1 | Run 2 | Total |
| 1 | Lochner / Bluhm / Weber / Rasp | GER | 9 | 5.06 | 5.06 | 54.36 | 54.67 | 1:49.03 |
| 2 | Walther / Hübenbecker / Korona / Franke | GER | 8 | 5.11 | 5.14 | 54.48 | 54.78 | 1:49.26 |
| 3 | Friedrich / Bäcker / Grothkopp / Margis | GER | 12 | 5.08 | 5.07 | 54.51 | 54.85 | 1:49.36 |
| 4 | Kripps / Kopacz / Lumsden / Smith | CAN | 15 | 5.02 | 5.06 | 54.59 | 54.93 | 1:49.52 |
| 5 | Maier / Walch / Sammer / Moldovan | AUT | 22 | 5.07 | 5.05 | 54.77 | 54.89 | 1:49.66 |
| 5 | Kibermanis / Jansons / Miknis / Zirups | LAT | 18 | 5.12 | 5.11 | 54.73 | 54.93 | 1:49.66 |
| 5 | Spring / Stones / Kirkpatrick / Wright | CAN | 14 | 5.08 | 5.09 | 54.54 | 55.12 | 1:49.66 |
| 8 | Kasjanov / Khuzin / Kondratenko / Pushkarev | RUS | 11 | 5.11 | 5.13 | 54.69 | 55.04 | 1:49.73 |
| 9 | Peter / Baumann / Friedli / Amrhein | SUI | 17 | 5.15 | 5.17 | 54.83 | 55.10 | 1:49.93 |
| 9 | Deen / Simon / Olubi / Matthews | GBR | 6 | 5.13 | 5.11 | 54.78 | 55.15 | 1:49.93 |
| 11 | Bascue / Weber / Valdes / McGuffie | USA | 13 | 5.09 | 5.13 | 54.81 | 55.15 | 1:49.96 |
| 12 | Melbardis / Dreiskens / Lusis / Strenga | LAT | 10 | 5.12 | 5.15 | 54.86 | 55.15 | 1:50.01 |
| 13 | Hall / Gleeson / Fearon / Cackett | GBR | 16 | 5.09 | 5.13 | 55.05 | 55.16 | 1:50.21 |
| 14 | Costerg / Ricard / Castell / Hauterville | FRA | 20 | 5.18 | 5.23 | 55.04 | 55.25 | 1:50.29 |
| 15 | Bertazzo / Comel / Variola / Bilotti | ITA | 28 | 5.22 | 5.28 | 55.04 | 55.29 | 1:50.33 |
| 16 | Poloniato / Brown / Barnett / Coakwell | CAN | 7 | 5.08 | 5.15 | 55.04 | 55.40 | 1:50.44 |
| 17 | Bracher / Knuser / Dörig / Kuonen | SUI | 3 | 5.23 | 5.28 | 55.06 | 55.41 | 1:50.47 |
| 18 | Andrianov / Moiseev / Samitov / Mordasov | RUS | 25 | 5.19 | 5.27 | 55.09 | 55.48 | 1:50.57 |
| 19 | Luty / Masztak / Miedzik / Kossakowski | POL | 2 | 5.19 | 5.24 | 55.08 | 55.61 | 1:50.69 |
| 20 | Cunningham / Abdul-Saboor / Kinney / Michener | USA | 19 | 5.12 | 5.24 | 55.12 | 55.76 | 1:50.88 |
| 21 | Dvorak / Dobes / Sindelar / Nosek | CZE | 4 | 5.12 | | 55.16 | | |
| 21 | Stulnev / Antukh / Malykh / Koshelev | RUS | 24 | 5.15 | | 55.16 | | |
| 23 | Olsen / Weinstock / Langton / C. Fogt | USA | 21 | 5.07 | | 55.23 | | |
| 24 | Treichl / Glück / Somov / Bassey | AUT | 23 | 5.27 | | 55.26 | | |
| 25 | de Bruin / Piek / van der Zijde / Franjic | NED | 27 | 5.14 | | 55.29 | | |
| 26 | Vrba / Stoklaska / Suchy / Egydy | CZE | 26 | 5.17 | | 55.48 | | |
| 27 | Baumgartner / Fontana / Ughi / Costa | ITA | 1 | 5.28 | | 55.49 | | |
| 28 | Grigore / Muntean / Craciun / Bartha | ROU | 29 | 5.24 | | 55.67 | | |
| 29 | Radenovic / Vujanic / Radosavljevic / Nikolic | SRB | 5 | 5.24 | | 55.70 | | |