From Lake Placid, USA
(Dec. 15, 2017) The German duo of Toni Eggert & Sascha Benecken once again in the FIL World Cup, staying perfect on the non-sprint season.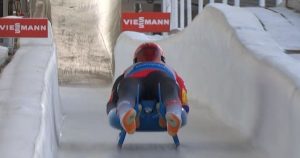 The Germans set a track record in the first heat with a 43.372 downtime, and while they couldn't quite match that time in the second heat their second run downtime was still faster than any one else's run in either heat.
Peter Penz & Georg Fischler of Austria finished second, moving up from third in their second run, while the Canadian team of Tristan Walker & Justin Snith finished with a bronze medal.
Christian Oberstolz & Patrick Gruber finished fourth, while Matt Mortensen & Jayson Terdiman of the United States finished fifth after a rough second run dropped them out of the medals. Teammates Justin Krewson & Andrew Sherk finished sixth.
Jacob Hyrns & Anthony Espinoza finished eighth on the third American sled.
Results:
| | | | | | | | | |
| --- | --- | --- | --- | --- | --- | --- | --- | --- |
| Pos | Names | Nation | Bib | Start 1 | Start 2 | Run 1 | Run 2 | Total |
| 1 | Eggert / Benecken | GER | 22 | 6.273 | 6.258 | 43.372 | 43.434 | 1:26.806 |
| 2 | Penz / Fischler | AUT | 24 | 6.319 | 6.324 | 43.794 | 43.646 | 1:27.440 |
| 3 | Walker / Snith | CAN | 16 | 6.308 | 6.284 | 43.810 | 43.873 | 1:27.683 |
| 4 | Oberstolz / Gruber | ITA | 13 | 6.301 | 6.322 | 43.867 | 43.899 | 1:27.766 |
| 5 | Mortensen / Terdiman | USA | 20 | 6.341 | 6.343 | 43.515 | 44.291 | 1:27.806 |
| 6 | Krewson / Sherk | USA | 11 | 6.348 | 6.326 | 43.947 | 43.882 | 1:27.829 |
| 7 | Wendl / Arlt | GER | 23 | 6.292 | 6.324 | 43.840 | 44.044 | 1:27.884 |
| 8 | Hyrns / Espinoza | USA | 12 | 6.322 | 6.330 | 43.935 | 43.956 | 1:27.891 |
| 9 | Geueke / Gamm | GER | 19 | 6.331 | 6.297 | 43.832 | 44.136 | 1:27.968 |
| 10 | Rieder / Rastner | ITA | 18 | 6.302 | 6.307 | 44.039 | 43.958 | 1:27.997 |
| 11 | Sics / Sics | LAT | 21 | 6.350 | 6.357 | 43.944 | 44.215 | 1:28.159 |
| 12 | Gruber / Kainzwaldner | ITA | 9 | 6.323 | 6.358 | 44.135 | 44.046 | 1:28.181 |
| 13 | Bogdanov / Medvedev | RUS | 15 | 6.296 | 6.305 | 43.947 | 44.243 | 1:28.190 |
| 14 | Steu / Koller | AUT | 17 | 6.343 | 6.339 | 44.085 | 44.163 | 1:28.248 |
| 15 | Broz / Broz | CZE | 10 | 6.373 | 6.398 | 44.226 | 44.240 | 1:28.466 |
| 16 | Kvicala / Kudera | CZE | 7 | 6.457 | 6.443 | 44.452 | 44.247 | 1:28.699 |
| 17 | Chmielewski / Kowalewski | POL | 14 | 6.307 | 6.320 | 44.254 | 44.468 | 1:28.722 |
| 18 | Vavercak / Smij | SVK | 1 | 6.363 | 6.375 | 44.180 | 44.623 | 1:28.803 |
| 19 | Atodiresei / Musei | ROU | 5 | 6.393 | 6.426 | 44.692 | 44.542 | 1:29.234 |
| 20 | Solcansky / Stuchlak | SVK | 6 | 6.321 | 6.362 | 44.961 | 44.332 | 1:29.293 |
| 21 | Denisev / Antonov | RUS | 4 | 6.332 | 6.315 | 44.509 | 44.909 | 1:29.418 |
| DNF | Petyniak / Wanielista | POL | 2 | 6.409 | 6.579 | 45.574 | DNF | |
| DNF | Putins / Marcinkevics | LAT | 8 | 5.338 | | DNF | | |
| DNF | Obolonchyk / Zakharkiv | UKR | 3 | 6.398 | | DNF | | |