From Igls, AUT
(Dec. 15, 2017) It may have taken a little longer than expected, but Martins Dukurs won his 50th IBSF World Cup event in Igls. After winning in Lake Placid, Dukurs had finishes of silver, sixth, and silver leading up to the final race of 2017. With Sungbin Yun on his game yet again, Dukurs had to answer.
Yun came into his second run just .07 behind Dukurs. He started his second run .05 quicker than in his first run and had a very clean trip down the Austrian track to put the pressure on the Latvian. Dukurs answered with a start that was .05 quicker as well. While Dukurs was slower at most every split, he was fastest at the one that mattered, with the final margin of victory .15 over the Korean.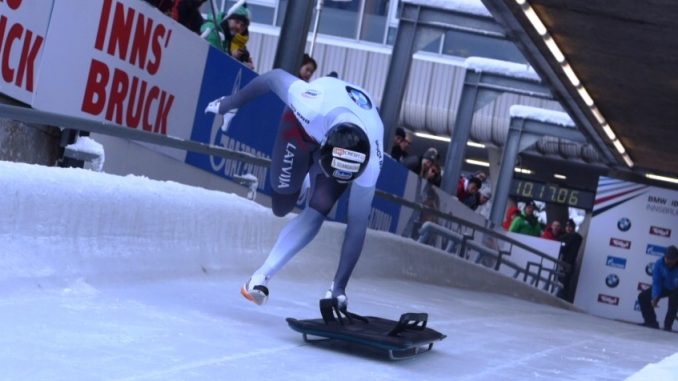 Nikita Tregubov finished third, essentially by himself in an otherwise tight field from fourth on back.
Axel Jungk moved up from sixth to fourth with a great second run, with teammate Christopher Grotheer finishing fifth and Tomass Dukurs sixth.
The event also doubled as the European Championships, in which Martins Dukurs also won, with Tregubov winning silver and Jungk bronze.
Matt Antoine led a solid day for the American men in ninth place, his 13th top 10 in 14 races. Teammate John Daly finished just outside of the top 10 in 11th, while Greg West finished 19th.
For Canada, Dave Greszczyszyn couldn't replicate his showing in Winterberg but did finish tied for 14th with British slider Jerry Rice. Kevin Boyer finished 20th and Barrett Martineau tied for 21st to round out the Canadian effort.
World Cup rookie Marcus Wyatt led the British charge in tenth place, while Dom Parsons struggled a bit in his second run to finish 18th.
Results:
| | | | | | | | | |
| --- | --- | --- | --- | --- | --- | --- | --- | --- |
| Pos | Name | Nation | Bib | Start 1 | Start 2 | Run 1 | Run 2 | Total |
| 1 | Martins Dukurs | LAT | 8 | 4.90 | 4.85 | 53.15 | 52.88 | 1:46.03 |
| 2 | Sungbin Yun | KOR | 9 | 4.85 | 4.80 | 53.22 | 52.96 | 1:46.18 |
| 3 | Nikita Tregubov | RUS | 7 | 4.92 | 4.93 | 53.31 | 53.21 | 1:46.52 |
| 4 | Axel Jungk | GER | 6 | 4.88 | 4.87 | 53.68 | 53.32 | 1:47.00 |
| 5 | Christopher Grotheer | GER | 15 | 5.00 | 4.96 | 53.56 | 53.52 | 1:47.08 |
| 6 | Tomass Dukurs | LAT | 11 | 5.01 | 4.98 | 53.65 | 53.52 | 1:47.17 |
| 7 | Jisoo Kim | KOR | 20 | 4.86 | 4.82 | 53.75 | 53.50 | 1:47.25 |
| 8 | Alexander Gassner | GER | 16 | 5.00 | 4.96 | 53.83 | 53.45 | 1:47.28 |
| 9 | Matthew Antoine | USA | 14 | 5.03 | 4.99 | 53.77 | 53.60 | 1:47.37 |
| 10 | Marcus Wyatt | GBR | 21 | 4.88 | 4.91 | 53.82 | 53.61 | 1:47.43 |
| 11 | John Daly | USA | 23 | 5.03 | 5.04 | 53.93 | 53.58 | 1:47.51 |
| 12 | Vladislav Marchenkov | RUS | 22 | 5.10 | 5.06 | 54.00 | 53.53 | 1:47.53 |
| 13 | Matthias Guggenberger | AUT | 12 | 4.98 | 4.98 | 53.84 | 53.82 | 1:47.66 |
| 14 | Dave Greszczyszyn | CAN | 13 | 5.11 | 5.04 | 54.12 | 53.63 | 1:47.75 |
| 14 | Jeremy Rice | GBR | 32 | 5.04 | 5.04 | 54.12 | 53.63 | 1:47.75 |
| 16 | Rhys Thornbury | NZL | 19 | 5.05 | 5.03 | 54.02 | 53.86 | 1:47.88 |
| 17 | Hiroatsu Takahashi | JPN | 29 | 5.01 | 4.99 | 54.23 | 53.67 | 1:47.90 |
| 18 | Dominic Parsons | GBR | 18 | 5.08 | 5.09 | 54.21 | 53.74 | 1:47.95 |
| 19 | Greg West | USA | 25 | 5.14 | 5.07 | 54.25 | 53.75 | 1:48.00 |
| 20 | Kevin Boyer | CAN | 17 | 4.97 | 4.99 | 54.25 | 54.21 | 1:48.46 |
| 21 | Wenqiang Geng | CHN | 26 | 5.10 | | 54.26 | | |
| 21 | Barrett Martineau | CAN | 28 | 5.06 | | 54.26 | | |
| 23 | Ander Mirambell | ESP | 24 | 5.16 | | 54.44 | | |
| 24 | Florian Auer | AUT | 3 | 5.14 | | 54.51 | | |
| 25 | Alexander Auer | AUT | 30 | 5.07 | | 54.56 | | |
| 26 | John Farrow | AUS | 27 | 5.22 | | 54.59 | | |
| 27 | Vladyslav Heraskevych | UKR | 31 | 5.24 | | 54.64 | | |
| 28 | Alex Hanssen | NOR | 4 | 4.98 | | 54.66 | | |
| 29 | Ronald Auderset | SUI | 1 | 5.03 | | 54.68 | | |
| 30 | Manuel Schwärzer | ITA | 34 | 5.12 | | 54.70 | | |
| 31 | Dorin Velicu | ROU | 35 | 5.10 | | 54.76 | | |
| 32 | Riet Graf | SUI | 2 | 5.22 | | 54.85 | | |
| 33 | Joseph Luke Cecchini | ITA | 33 | 5.16 | | 55.06 | | |
| 34 | Brendan Doyle | IRL | 36 | 5.13 | | 55.49 | | |
| 35 | Dean Timmings | AUS | 5 | 5.19 | | 55.53 | | |
| 36 | Alexander Tretiakov | RUS | 10 | 5.71 | | 56.69 | | |