From Igls, AUT
(Dec. 16, 2017) It took a couple of years for the German women to return to form after a disappointing Olympic season in 2014, but it's safe to say that they're back. For the second week in a row, the young Germans upstaged the veteran North American squads with Stephanie Schneider winning gold, this time in the European Championships.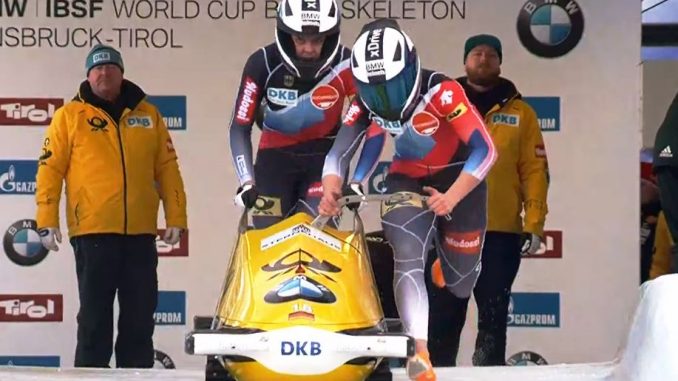 Schneider, with Annika Drazek on her brakes, tied the start record in the second heat to cruise to a .36 second victory over defending World Champion and start record holder Elana Meyers Taylor. The victory was Schneider's second win in eight IBSF World Cup starts.
Meyers Taylor had two solid runs, but came back to German Mariama Jamanka, who finished just .01 behind her for bronze. Neither Meyers Taylor nor Jamanka have finished outside of the top six this season, with Meyers Taylor medaling in every event thus far.
Defending Olympic champion Kaillie Humphries finished just outside of the medals in fourth, while 2016/2017 European Cup champion Anna Köhler finished fifth. Jamie Greubel Poser, the 2016/2017 World Cup champion, finished sixth.
The race in Igls doubled as the European Championships, in which Schneider, Jamanka, and Köhler led a German sweep of the podium.
Alyssia Rissling and Christine de Bruin finished seventh and ninth for Canada, while Brittany Reinbolt finished eighth in the third United States sled, helping put all six North American sleds in the top ten.
Mica McNeill finished tenth for Great Britain.
Results:
| | | | | | | | |
| --- | --- | --- | --- | --- | --- | --- | --- |
| Pos | Names | Nation | Bib | Start 1 | Start 2 | Run 1 | Run 2 |
| 1 | Schneider / Drazek | GER | 11 | 5.41 | 5.38 | 53.18 | 53.10 |
| 2 | Meyers Taylor / K. Jones | USA | 9 | 5.47 | 5.42 | 53.42 | 53.22 |
| 3 | Jamanka / Buckwitz | GER | 7 | 5.54 | 5.48 | 53.47 | 53.18 |
| 4 | Humphries / George | CAN | 6 | 5.49 | 5.45 | 53.47 | 53.42 |
| 5 | Köhler / Strack | GER | 5 | 5.57 | 5.56 | 53.57 | 53.46 |
| 6 | Greubel Poser / Gibbs | USA | 13 | 5.52 | 5.52 | 53.61 | 53.62 |
| 7 | Rissling / Moyse | CAN | 12 | 5.57 | 5.58 | 53.73 | 53.69 |
| 8 | Reinbolt / Evans | USA | 4 | 5.50 | 5.52 | 53.72 | 53.76 |
| 9 | de Bruin / Bujnowski | CAN | 10 | 5.60 | 5.58 | 53.81 | 53.78 |
| 10 | McNeill / Moore | GBR | 14 | 5.68 | 5.65 | 53.88 | 53.85 |
| 11 | Fenlator-Victorian / Russell | JAM | 2 | 5.65 | 5.57 | 53.90 | 53.98 |
| 12 | Rodionova / Kocherzhova | RUS | 17 | 5.63 | 5.63 | 54.03 | 53.86 |
| 13 | Beierl / Onasanya | AUT | 8 | 5.52 | 5.51 | 53.96 | 53.95 |
| 14 | Sergeeva / Belomestnykh | RUS | 16 | 5.58 | 5.56 | 54.09 | 53.92 |
| 15 | Hengster / Kleiser | AUT | 18 | 5.68 | 5.69 | 54.03 | 54.07 |
| 16 | Hafner / E. Rebsamen | SUI | 19 | 5.67 | 5.65 | 54.15 | 53.97 |
| 17 | Grecu / Puiu | ROU | 21 | 5.66 | 5.71 | 54.11 | 54.06 |
| 18 | Vannieuwenhuyse / Aerts | BEL | 20 | 5.63 | 5.64 | 54.10 | 54.16 |
| 19 | Willemsen / Vercruyssen | BEL | 15 | 5.76 | 5.75 | 54.25 | 54.07 |
| 20 | Oshigiri / Morimoto | JPN | 3 | 5.67 | 5.68 | 54.30 | 54.41 |
| 21 | Asazu / Ogawa | JPN | 1 | 5.81 | | 54.81 | |