From Lake Placid, USA
(Dec. 15, 2017) Roman Repilov led a Russian 1-2 finish, jumping up into the gold medal position from third in the process.
Repilov took advantage of quick Lake Placid ice to set a track record on his way to a .064 victory over teammate Semen Pavlichenko. Pavlichenko set a start record on his way to his silver medal.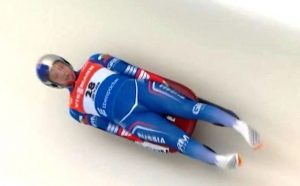 Tucker West of the United States came into the second heat as the race leader, but struggled toward the bottom of his run, only setting the ninth fastest time of the heat on his way to a bronze medal.
Johannes Ludwig of Germany finished fourth, ahead of American Taylor Morris and Austrian Wolfgang Kindl, who rounded out the top six.
Chris Mazdzer never was able to find the speed he needed to contend for a medal on home ice, finishing eighth for the United States. Jonathan Gustafson finished 22nd to round out the American effort.
Mitchel Malyk finished 15th to lead the Canadian effort, while teammate Samuel Edney finished 21st.
Results:
| | | | | | | | | |
| --- | --- | --- | --- | --- | --- | --- | --- | --- |
| Pos | Name | Nation | Bib | Start 1 | Start 2 | Run 1 | Run 2 | Total |
| 1 | Roman Repilov | RUS | 28 | 6.387 | 6.369 | 50.999 | 50.875 | 1:41.874 |
| 2 | Semen Pavlichenko | RUS | 17 | 6.357 | 6.385 | 50.941 | 50.997 | 1:41.938 |
| 3 | Tucker West | USA | 14 | 6.380 | 6.419 | 50.904 | 51.228 | 1:42.132 |
| 4 | Johannes Ludwig | GER | 30 | 6.425 | 6.420 | 51.107 | 51.119 | 1:42.226 |
| 5 | Taylor Morris | USA | 16 | 6.510 | 6.522 | 51.046 | 51.183 | 1:42.229 |
| 6 | Wolfgang Kindl | AUT | 27 | 6.470 | 6.463 | 51.269 | 50.967 | 1:42.236 |
| 7 | Felix Loch | GER | 32 | 6.463 | 6.440 | 51.134 | 51.248 | 1:42.382 |
| 8 | Chris Mazdzer | USA | 6 | 6.397 | 6.382 | 51.265 | 51.186 | 1:42.451 |
| 9 | Dominik Fischnaller | ITA | 23 | 6.446 | 6.440 | 51.461 | 51.030 | 1:42.491 |
| 10 | Andi Langenhan | GER | 26 | 6.431 | 6.415 | 51.280 | 51.230 | 1:42.510 |
| 11 | Kevin Fischnaller | ITA | 29 | 6.464 | 6.471 | 51.506 | 51.097 | 1:42.603 |
| 12 | Stepan Fedorov | RUS | 19 | 6.436 | 6.438 | 51.368 | 51.299 | 1:42.667 |
| 13 | Inars Kivlenieks | LAT | 15 | 6.426 | 6.421 | 51.365 | 51.309 | 1:42.674 |
| 14 | Reinhard Egger | AUT | 18 | 6.435 | 6.443 | 51.452 | 51.317 | 1:42.769 |
| 15 | Mitchel Malyk | CAN | 20 | 6.516 | 6.497 | 51.551 | 51.422 | 1:42.973 |
| 16 | Emanuel Rieder | ITA | 13 | 6.408 | 6.407 | 51.586 | 51.420 | 1:43.006 |
| 17 | Nico Gleirscher | AUT | 12 | 6.418 | 6.430 | 51.532 | 51.490 | 1:43.022 |
| 18 | Ralf Palik | GER | 31 | 6.497 | 6.469 | 51.638 | 51.462 | 1:43.100 |
| 19 | Kristers Aparjods | LAT | 21 | 6.504 | 6.475 | 51.664 | 51.479 | 1:43.143 |
| 20 | David Gleirscher | AUT | 25 | 6.440 | 6.411 | 51.699 | 51.447 | 1:43.146 |
| 21 | Samuel Edney | CAN | 24 | 6.533 | 6.492 | 51.618 | 51.553 | 1:43.171 |
| 22 | Jonathan Gustafson | USA | 10 | 6.410 | 6.525 | 51.451 | 51.823 | 1:43.274 |
| 23 | Ondrej Hhyman | CZE | 9 | 6.459 | 6.456 | 51.412 | 51.871 | 1:43.283 |
| 24 | Jozef Ninis | SVK | 8 | 6.568 | 6.574 | 51.642 | 51.798 | 1:43.440 |
| 25 | Reid Watts | CAN | 11 | 6.548 | 6.526 | 51.655 | 51.821 | 1:43.476 |
| 26 | Christian Paffe | GER | 4 | 6.499 | 6.464 | 51.801 | 51.788 | 1:43.589 |
| 27 | Armin Frauscher | AUT | 22 | 6.449 | 6.458 | 51.947 | 51.651 | 1:43.598 |
| 28 | Andriy Mandziy | UKR | 3 | 6.485 | 6.497 | 51.990 | 51.639 | 1:43.629 |
| 29 | Arturs Darznieks | LAT | 7 | 6.460 | 6.464 | 52.030 | 51.638 | 1:43.668 |
| 30 | Valentin Cretu | ROU | 5 | 6.441 | 6.422 | 51.826 | 51.980 | 1:43.806 |
| 31 | Mateusz Sochowicz | POL | 2 | 6.506 | 6.522 | 52.008 | 52.062 | 1:44.070 |
| 32 | Alexander Ferlazzo | AUS | 1 | 6.466 | 6.453 | 70.288 | 51.762 | 2:02.050 |