From Altenberg, GER
(Jan 5, 2018) There's no better time to be the hottest athlete on tour than in the season leading up to an Olympics on your home soil. Right now, that's exactly what Sungbin Yun is.
The Korean won his fourth race of the season in Altenberg (and his sixth top-two in six attempts), setting the fast time in both heats in the process. His combined 1:54.28 was .39 of Russian Alexander Tretiakov, who could only manage a fourth-quickest run in the second heat to hang onto second.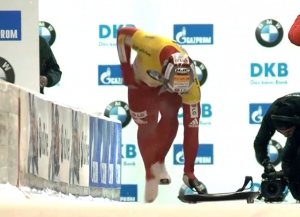 Christopher Grotheer finished third, helping Germany score four of the six available medals on the day after the German women swept the podium earlier in the morning.
Nikita Tregubov just missed a medal in fourth, while Martins Dukurs overcame a sloppy (by his standards) ninth place first run to move into fifth. Tomass Dukurs rounded out the top six.
The Canadian men scored well in Altenberg, with Dave Greszczyszyn finishing 10th to lead the way. Barrett Martineau set the sixth fastest time in the second heat to move up from 16th to 11th, while Kevin Boyer finished 15th.
The United States skeleton program will be generally happy to get out of Altenberg. After a tough day on the women's side, Matt Antoine finished 13th to lead the way for the US. Nathan Crumpton finished 19th in his first World Cup start of the season, while Greg West just missed the second run in 22nd.
Rookie standout Marcus Wyatt struggled a bit in his first run, but made up for it with a blistering second run to move up from 19th to 14th. teammate Dom Parsons moved up from 20th to finish 18th.
Results:
| | | | | | | | | |
| --- | --- | --- | --- | --- | --- | --- | --- | --- |
| Pos | Name | Nation | Bib | Start 1 | Start 2 | Run 1 | Run 2 | Total |
| 1 | Sungbin Yun | KOR | 7 | 4.96 | 4.94 | 57.24 | 57.04 | 1:54.28 |
| 2 | Alexander Tretiakov | RUS | 16 | 4.94 | 4.96 | 57.33 | 57.34 | 1:54.67 |
| 3 | Christopher Grotheer | GER | 6 | 5.12 | 5.08 | 57.65 | 57.39 | 1:55.04 |
| 4 | Nikita Tregubov | RUS | 14 | 5.07 | 5.10 | 57.86 | 57.57 | 1:55.43 |
| 5 | Martins Dukurs | LAT | 15 | 5.00 | 5.00 | 58.36 | 57.13 | 1:55.49 |
| 6 | Tomass Dukurs | LAT | 8 | 5.11 | 5.12 | 57.79 | 57.84 | 1:55.63 |
| 7 | Alexander Gassner | GER | 12 | 5.15 | 5.12 | 57.90 | 57.75 | 1:55.65 |
| 8 | Axel Jungk | GER | 13 | 5.01 | 5.00 | 58.52 | 57.30 | 1:55.82 |
| 9 | Hiroatsu Takahashi | JPN | 5 | 5.18 | 5.18 | 58.08 | 57.99 | 1:56.07 |
| 10 | Dave Greszczyszyn | CAN | 9 | 5.24 | 5.29 | 58.37 | 57.89 | 1:56.26 |
| 11 | Barrett Martineau | CAN | 25 | 5.16 | 5.16 | 58.86 | 57.43 | 1:56.29 |
| 12 | Pavel Kulikov | RUS | 22 | 5.10 | 5.10 | 58.33 | 58.02 | 1:56.35 |
| 13 | Matthew Antoine | USA | 11 | 5.16 | 5.17 | 58.64 | 57.91 | 1:56.55 |
| 14 | Marcus Wyatt | GBR | 19 | 5.07 | 5.11 | 59.03 | 57.69 | 1:56.72 |
| 15 | Kevin Boyer | CAN | 18 | 5.08 | 5.07 | 58.83 | 58.11 | 1:56.94 |
| 16 | Rhys Thornbury | NZL | 20 | 5.28 | 5.17 | 58.98 | 58.07 | 1:57.05 |
| 17 | Matthias Guggenberger | AUT | 10 | 5.14 | 5.23 | 58.49 | 58.75 | 1:57.24 |
| 18 | Dominic Parsons | GBR | 17 | 5.23 | 5.20 | 59.12 | 58.38 | 1:57.50 |
| 19 | Nathan Crumpton | USA | 1 | 5.24 | 5.17 | 58.98 | 58.66 | 1:57.64 |
| 20 | Ronald Auderset | SUI | 4 | 4.96 | 5.00 | 58.78 | 59.08 | 1:57.86 |
| 21 | Riet Graf | SUI | 2 | 5.35 | | 59.59 | | |
| 22 | Greg West | USA | 21 | 5.27 | | 59.81 | | |
| 23 | Wenqiang Geng | CHN | 24 | 5.32 | | 59.95 | | |
| 24 | Katsuyuki Miyajima | JPN | 26 | 5.38 | | 60.11 | | |
| 25 | Manuel Schwärzer | ITA | 3 | 5.45 | | 60.19 | | |
| 26 | Ander Mirambell | ESP | 23 | 5.43 | | 60.22 | | |
| 27 | Alex Hanssen | NOR | 27 | 5.08 | | 60.68 | | |