From Altenberg, GER
(Jan. 5, 2018) Germany dominated the start to the sixth round of the IBSF World Cup, sweeping the podium in Altenberg.
Led by World Cup leader Jacuqline Lölling, the German women had a combined six seemingly flawless runs on their way to the medal sweep. Lölling set the quick time of the event in the first heat, and while she wasn't the fastest in the second run she was plenty quick enough to hold onto the lead after two runs.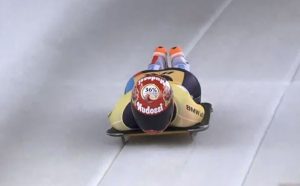 Tina Hermann finished with a silver medal, while Anna Fernstädt scored her second career IBSF World Cup medal with a bronze.
Latvian Lelde Priedulena finished fourth, ahead of Elena Nikitina and Canada's Jane Channell who rounded out the top six.
Elisabeth Vathje finished as the second Canadian sled, while Mimi Rahneva had trouble on her first run, finishing 22nd.
It was a disastrous start to the year for the United States, who put only one woman into the second heat. Annie O'Shea finished 18th, while Savannah Graybill and Kendall Wesenberg finished 21st and 23rd, respectively.
Results:
| | | | | | | | | |
| --- | --- | --- | --- | --- | --- | --- | --- | --- |
| Pos | Name | Nation | Bib | Start 1 | Start 2 | Run 1 | Run 2 | Total |
| 1 | Jacqueline Lölling | GER | 8 | 5.91 | 5.95 | 58.50 | 59.24 | 1:57.74 |
| 2 | Tina Hermann | GER | 12 | 5.76 | 5.76 | 58.68 | 59.19 | 1:57.87 |
| 3 | Anna Fernstädt | GER | 13 | 5.99 | 5.93 | 58.90 | 59.27 | 1:58.17 |
| 4 | Lelde Priedulena | LAT | 14 | 5.63 | 5.64 | 59.36 | 59.11 | 1:58.47 |
| 5 | Elena Nikitina | RUS | 7 | 5.40 | 5.40 | 58.79 | 59.71 | 1:58.50 |
| 6 | Jane Channell | CAN | 4 | 5.52 | 5.51 | 59.43 | 59.64 | 1:59.07 |
| 7 | Kimberley Bos | NED | 16 | 5.65 | 5.68 | 59.58 | 59.50 | 1:59.08 |
| 8 | Laura Deas | GBR | 9 | 5.54 | 5.54 | 59.37 | 59.72 | 1:59.09 |
| 9 | Elisabeth Vathje | CAN | 6 | 5.56 | 5.58 | 58.95 | 60.18 | 1:59.13 |
| 10 | Marina Gilardoni | SUI | 18 | 5.60 | 5.60 | 59.68 | 59.62 | 1:59.30 |
| 11 | Maria Orlova | RUS | 19 | 5.68 | 5.68 | 60.04 | 59.49 | 1:59.53 |
| 12 | Kim Meylemans | BEL | 11 | 5.73 | 5.67 | 59.81 | 59.99 | 1:59.80 |
| 13 | Renata Khuzina | RUS | 3 | 5.78 | 5.76 | 59.49 | 60.48 | 1:59.97 |
| 14 | Joska le Conte | NED | 22 | 5.74 | 5.75 | 60.50 | 59.71 | 2:00.21 |
| 15 | Maya Pedersen | NOR | 1 | 5.99 | 5.88 | 60.47 | 60.05 | 2:00.52 |
| 16 | Takako Oguchi | JPN | 2 | 5.74 | 5.73 | 60.46 | 60.23 | 2:00.69 |
| 17 | Jaclyn Narracott | AUS | 20 | 5.79 | 5.80 | 60.41 | 60.34 | 2:00.75 |
| 18 | Annie O'Shea | USA | 23 | 5.68 | 5.70 | 60.59 | 60.17 | 2:00.76 |
| 19 | Lizzy Yarnold | GBR | 15 | 5.73 | 5.75 | 60.42 | 60.54 | 2:00.96 |
| 20 | Janine Flock | AUT | 5 | 5.70 | 5.73 | 59.39 | 62.54 | 2:01.93 |
| 21 | Savannah Graybill | USA | 21 | 5.95 | | 60.64 | | |
| 22 | Mirela Rahneva | CAN | 10 | 5.64 | | 60.72 | | |
| 23 | Kendall Wesenberg | USA | 17 | 5.83 | | 61.27 | | |
| 24 | Nozomi Komuro | JPN | 24 | 5.81 | | 62.83 | | |