From Altenberg, GER
(Jan. 7, 2018) One day after having a bronze medal taken away because the cowl on his two-man sled was 3mm too narrow, German Nico Walther was back and as hungry as ever for a medal in four-man on his home track in Altenberg.
The German didn't disappoint.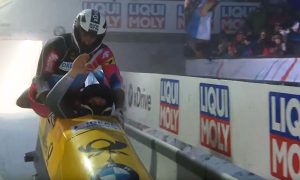 Walther had the fastest run of the race in the first heat, giving him enough padding on a deteriorating track to hold onto the lead after a second run that was still second-quickest of the heat to win gold.
Francesco Friedrich finished second after coming into the second heat in fourth place. The German cleaned up small mistakes in the first heat to move up the rankings to take silver, just ahead of Latvian Oskars Kibermanis, who finished in third.
Justin Kripps finished off a great Altenberg weekend with a four place finish, moving up from seventh in the first heat. Johannes Lochner finished fifth to put all three German sleds in the top five.
Codie Bascue finished ninth as the lone American sled. Canadian Chris Spring finished 13th, while teammate Nick Poloniato crashed in his second heat and finished 20th.
British slider Lamin Deen finished tied with Simone Bertazzo for 10th, while Bradley Hall finished 15th.
Results:
| | | | | | | | | |
| --- | --- | --- | --- | --- | --- | --- | --- | --- |
| Pos | Names | Nation | Bib | Start 1 | Start 2 | Run 1 | Run 2 | Total |
| 1 | Walther / Kuske / Poser / Franke | GER | 8 | 5.14 | 5.16 | 54.17 | 54.62 | 1:48.79 |
| 2 | Friedrich / Bauer / Grothkopp / Margis | GER | 15 | 5.08 | 5.08 | 54.33 | 54.51 | 1:48.84 |
| 3 | Kibermanis / Jansons / Miknis / Dambis | LAT | 6 | 5.18 | 5.15 | 54.30 | 54.73 | 1:49.03 |
| 4 | Kripps / Kopacz / Lumsden / Smith | CAN | 7 | 5.07 | 5.08 | 54.52 | 54.62 | 1:49.14 |
| 5 | Lochner / Bluhm / Weber / Rasp | GER | 12 | 5.09 | 5.12 | 54.51 | 54.64 | 1:49.15 |
| 6 | Kasjanov / Khuzin / Kondratenko / Pushkarev | RUS | 10 | 5.22 | 5.22 | 54.41 | 54.88 | 1:49.29 |
| 7 | Melbardis / Dreiskens / Lusis / Strenga | LAT | 9 | 5.27 | 5.23 | 54.60 | 54.77 | 1:49.37 |
| 8 | Andrianov / Selikhov / Mordasov / Zaitsev | RUS | 3 | 5.23 | 5.23 | 54.27 | 55.11 | 1:49.38 |
| 9 | Bascue / Weber / Valdes / McGuffie | USA | 13 | 5.16 | 5.18 | 54.68 | 54.84 | 1:49.52 |
| 10 | Deen / Gleeson / Matthews / Cackett | GBR | 14 | 5.19 | 5.19 | 55.02 | 54.69 | 1:49.71 |
| 10 | Bertazzo / Comel / Variola / Bilotti | ITA | 2 | 5.32 | 5.31 | 54.77 | 54.94 | 1:49.71 |
| 12 | Maier / Laussegger / Walch / Sammer | AUT | 17 | 5.21 | 5.22 | 54.90 | 54.87 | 1:49.77 |
| 13 | Spring / Stones / Kirkpatrick / Wright | CAN | 11 | 5.19 | 5.17 | 54.82 | 55.02 | 1:49.84 |
| 14 | Treichl / Glück / Rangl / Bassey | AUT | 22 | 5.25 | 5.25 | 55.07 | 54.89 | 1:49.96 |
| 15 | Hall / Simons / Olubi / Fearon | GBR | 18 | 5.12 | 5.16 | 55.06 | 54.95 | 1:50.01 |
| 16 | Vrba / Stoklaska / Suchy / Egydy | CZE | 4 | 5.26 | 5.22 | 54.90 | 55.16 | 1:50.06 |
| 17 | Dvorak / Kopriva / Sindelar / Nosek | CZE | 1 | 5.17 | 5.18 | 54.95 | 55.20 | 1:50.15 |
| 18 | Luty / Zdebiak / Miedzik / Kossakowski | POL | 5 | 5.28 | 5.26 | 54.81 | 55.36 | 1:50.17 |
| 19 | Stulnev / Lylov / Malykh / Koshelev | RUS | 21 | 5.25 | 5.28 | 55.39 | 54.86 | 1:50.25 |
| 20 | Poloniato / Giguere / Plug / Coakwell | CAN | 19 | 5.18 | 5.22 | 55.24 | 56.93 | 1:52.17 |
| 21 | Costerg / Ricard / Castell / Hauterville | FRA | 20 | 5.21 | | 55.41 | | |
| 22 | Baumgartner / Fontana / Ughi / Costa | ITA | 23 | 5.38 | | 55.61 | | |
| 23 | Peter / Baumann / Friedli / Amrhein | SUI | 16 | 5.20 | | 56.75 | | |