From Königssee, GER
(Jan. 7, 2018) After a day of two German sweeps, coming into the second heat of men's luge it seemed like a foregone conclusion that Felix Loch had the gold medal wrapped up for Germany. Loch had over a .2 advantage over Austrian Wolfgang Kindl on a track that seemingly nobody knows better than the German champion.
However, as the saying goes, "that's why we play the game".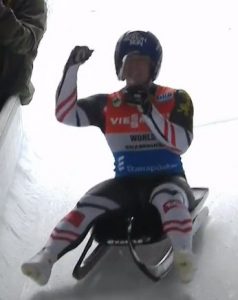 Loch seemed to be cruising to victory on his home ice when a small mistake in the "bendaway" led to a hard hit for the German, scrubbing off most of his speed and any chance of a victory. Loch's downtime was only 26th quickest, and enough to not only drop him out of the lead but out of the top ten as well.
Wolfgang Kindl, who had the second and third-quickest runs of the race, was the beneficiary of Loch's mistake. The Austrian won gold, just ahead of teammate Armin Frauscher, who took silver.
German Johannes Ludwig took bronze.
Ludwig's teammate, Andi Langenhan, finished fourth after overcoming a tenth-quickest first run. Roman Repilov finished fifth, ahead of Tucker West of the United States in sixth.
German Ralf Palik had a similar incident to Loch's in the first heat, finishing his first run in 25th. On his second run he was the quickest of the heat to move up to 12th overall.
Chris Mazdzer finished 16th for the United States, while Taylor Morris finished 29th. For Canada, Mitchel Malyk led the way with a 21st place showing, with teammate Samuel Edney finishing 23rd.
Results:
| | | | | | | | | |
| --- | --- | --- | --- | --- | --- | --- | --- | --- |
| Pos | Name | Nation | Bib | Start 1 | Start 2 | Run 1 | Run 2 | Total |
| 1 | Wolfgang Kindl | AUT | 27 | 3.349 | 3.337 | 49.440 | 49.595 | 1:39.035 |
| 2 | Armin Frauscher | AUT | 15 | 3.311 | 3.301 | 49.458 | 49.606 | 1:39.064 |
| 3 | Johannes Ludwig | GER | 29 | 3.317 | 3.332 | 49.515 | 49.639 | 1:39.154 |
| 4 | Andi Langenhan | GER | 32 | 3.301 | 3.319 | 49.675 | 49.526 | 1:39.201 |
| 5 | Roman Repilov | RUS | 26 | 3.291 | 3.290 | 49.584 | 49.646 | 1:39.230 |
| 6 | Tucker West | USA | 21 | 3.284 | 3.270 | 49.566 | 49.701 | 1:39.267 |
| 7 | Dominik Fischnaler | ITA | 22 | 3.304 | 3.337 | 49.520 | 49.754 | 1:39.274 |
| 8 | Reinhard Egger | AUT | 30 | 3.327 | 3.330 | 49.691 | 49.596 | 1:39.287 |
| 9 | David Gleirscher | AUT | 24 | 3.313 | 3.299 | 49.733 | 49.625 | 1:39.358 |
| 9 | Nico Gleirscher | AUT | 14 | 3.330 | 3.304 | 49.675 | 49.683 | 1:39.358 |
| 11 | Felix Loch | GER | 31 | 3.337 | 3.304 | 49.212 | 50.191 | 1:39.403 |
| 12 | Ralf Palik | GER | 28 | 3.358 | 3.316 | 49.977 | 49.427 | 1:39.404 |
| 13 | Inars Kivlenieks | LAT | 16 | 3.294 | 3.287 | 49.649 | 49.775 | 1:39.424 |
| 14 | Chrisian Paffe | GER | 13 | 3.335 | 3.333 | 49.741 | 49.750 | 1:39.491 |
| 15 | Jozef Ninis | SVK | 8 | 3.368 | 3.367 | 49.686 | 49.884 | 1:39.570 |
| 16 | Semen Pavlichenko | RUS | 18 | 3.285 | 3.313 | 49.450 | 50.123 | 1:39.573 |
| 16 | Chris Mazdzer | USA | 17 | 3.310 | 3.308 | 49.704 | 49.869 | 1:39.573 |
| 18 | Maksim Aravin | RUS | 5 | 3.368 | 3.373 | 49.844 | 49.911 | 1:39.755 |
| 19 | Theo Gruber | ITA | 2 | 3.399 | 3.386 | 49.975 | 49.889 | 1:39.864 |
| 20 | Stepan Fedorov | RUS | 23 | 3.327 | 3.312 | 49.964 | 49.917 | 1:39.881 |
| 21 | Mitchel Malyk | CAN | 20 | 3.358 | 3.378 | 49.951 | 50.006 | 1:39.957 |
| 22 | Arturs Darznieks | LAT | 3 | 3.343 | 3.339 | 50.127 | 49.857 | 1:39.984 |
| 23 | Samuel Edney | CAN | 19 | 3.380 | 3.376 | 49.845 | 50.156 | 1:40.001 |
| 24 | Emanuel Rieder | ITA | 4 | 3.319 | 3.333 | 49.855 | 50.206 | 1:40.061 |
| 25 | Ondrej Hyman | CZE | 7 | 3.386 | 3.372 | 50.097 | 50.058 | 1:40.155 |
| 26 | Kevin Fischnaller | ITA | 9 | 3.329 | 3.342 | 50.444 | 49.903 | 1:40.347 |
| 27 | Alexander Ferlazzo | AUS | 1 | 3.349 | 3.336 | 49.974 | 50.395 | 1:40.369 |
| 28 | Mateusz Sochowicz | POL | 11 | 3.361 | 3.355 | 50.283 | 50.151 | 1:40.434 |
| 29 | Taylor Morris | USA | 12 | 3.397 | 3.399 | 50.310 | 50.224 | 1:40.534 |
| 30 | Maciej Kurowski | POL | 6 | 3.379 | 3.388 | 50.288 | 50.248 | 1:40.536 |
| 31 | Kristers Aparjods | LAT | 25 | 3.325 | 3.360 | 49.786 | 58.863 | 1:48.649 |
| DNF | Reid Watts | CAN | 10 | 3.378 | 3.392 | 50.026 | DNF | |