From Altenberg, GER
(Jan. 13, 2018) Sophia Griebel won her second race in as many events, once again besting Lelde Priedulena in the process.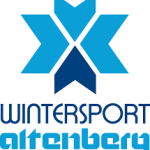 Griebel carried a .32 advantage over Priedulena into the second heat. On her second run, Priedulena picked up her pace by a tenth of a second. Griebel answered the call, finishing her second run .49 faster than her first run and cruising to a 1.03 second victory over the Latvian.
Priedulena held onto second, while Janine Becker finished third. Maria Orlova, Hannah Neise, and Lanette Prediger rounded out the top six.
By finishing just a few places behind Janine Becker, Lanette Prediger won the women's Intercontinental Cup title by 58 points over Becker. Madi Charney finished third.
Annie O'Shea finished seventh for the fourth time in six races to lead the way for the United States. Megan Henry finished eighth and Gracie Clapp-Taylor 11th to round out a solid day for the Americans.
Madi Charney finished tenth and Jaclyn LaBerge 14th for Canada, while Great Britain's Kimberley Murray finished 13th.
Results:
| | | | | | | | |
| --- | --- | --- | --- | --- | --- | --- | --- |
| Pos | Name | Nation | Start 1 | Start 2 | Run 1 | Run 2 | Total |
| 1 | Sophia Griebel | GER | 5.71 | 5.68 | 58.76 | 58.27 | 1:57.03 |
| 2 | Lelde Priedulena | LAT | 5.67 | 5.65 | 59.08 | 58.98 | 1:58.06 |
| 3 | Janine Becker | GER | 6.11 | 6.03 | 59.20 | 59.15 | 1:58.35 |
| 4 | Maria Orlova | RUS | 5.69 | 5.63 | 59.29 | 59.53 | 1:58.82 |
| 5 | Hannah Neise | GER | 6.10 | 6.08 | 59.40 | 59.76 | 1:59.16 |
| 6 | Lanette Prediger | CAN | 6.12 | 6.08 | 60.11 | 59.65 | 1:59.76 |
| 7 | Annie O'Shea | USA | 5.75 | 5.77 | 60.08 | 59.95 | 2:00.03 |
| 8 | Megan Henry | USA | 5.70 | 5.63 | 60.25 | 60.02 | 2:00.27 |
| 9 | Olga Potylitsina | RUS | 6.08 | 6.03 | 60.24 | 60.20 | 2:00.44 |
| 10 | Madison Charney | CAN | 5.90 | 5.85 | 60.64 | 60.50 | 2:01.14 |
| 11 | Gracie Clapp-Taylor | USA | 5.94 | 5.97 | 60.83 | 60.49 | 2:01.32 |
| 12 | Valentina Margaglio | ITA | 5.75 | 5.76 | 60.76 | 60.71 | 2:01.47 |
| 13 | Kimberley Murray | GBR | 5.76 | 5.75 | 61.32 | 60.46 | 2:01.78 |
| 14 | Jaclyn LaBerge | CAN | 5.99 | 6.03 | 60.87 | 61.33 | 2:02.20 |
| 15 | Alena Frolova | RUS | 5.80 | 5.86 | 61.44 | 61.41 | 2:02.85 |
| 16 | Danxia Yang | CHN | 5.71 | 5.68 | 62.15 | 61.26 | 2:03.41 |
| 17 | Johanna Balassa | AUT | 6.17 | 6.19 | 61.78 | 61.79 | 2:03.57 |
| 18 | Elise Nilseng Barben | NOR | 6.68 | 6.60 | 62.82 | 62.83 | 2:05.65 |
| 19 | Marta Orlowska | POL | 6.06 | 6.08 | 65.73 | 61.66 | 2:07.39 |