From Lillehammer, NOR
(Jan. 20, 2018) For the bulk of the women's luge season, it's been all Germany at the top of the podium.
Aside from Emily Sweeney's Sprint World Cup win in Winterberg, Germany has owned the top of the podium. That includes four sweeps of the podium for the German women.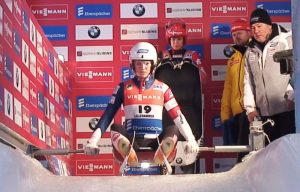 Going into her second heat, American Summer Britcher looked to be the second American to break up the German dominance this season. She found herself .006 behind Natalie Geisenberger, and needing a perfect run to try to overtake the World Cup leader.
Britcher's second run was about as perfect as she could have asked for, and it put the pressure on Geisenberger.
The German, not one to crack under pressure, had a run that was the second-fastest of the day, but it wasn't enough to stay ahead of Britcher, with Summer Britcher winning her first gold medal of the season, .033 ahead of Geisenberger in second place.
Germany swept positions two through four, with Geisenberger's silver and Julia Taubitz winning bronze. Tatjana Hüfner finished fourth, ahead of Russian Viktoriia Demchenko and Raluca Stramaturaru of Romania.
Erin Hamlin finished ninth in her penultimate World Cup race of her career, with Emily Sweeney in 14th place to round out the American effort.
Alex Gough led the way for Canada, just missing the top ten with an 11th place run. Teammates Kimberley McRae and Brooke Apshkrum finished 17th and 20th, respectively.
Results:
| | | | | | | | | |
| --- | --- | --- | --- | --- | --- | --- | --- | --- |
| Pos | Name | Nation | Bib | Start 1 | Start 2 | Run 1 | Run 2 | Total |
| 1 | Summer Britcher | USA | 19 | 2.344 | 2.377 | 47.672 | 47.594 | 1:35.266 |
| 2 | Natalie Geisenberger | GER | 21 | 2.373 | 2.363 | 47.666 | 47.633 | 1:35.299 |
| 3 | Julia Taubitz | GER | 12 | 2.365 | 2.357 | 47.726 | 47.803 | 1:35.529 |
| 4 | Tatjana Hüfner | GER | 24 | 2.367 | 2.350 | 47.788 | 47.766 | 1:35.544 |
| 5 | Viktoriia Demchenko | RUS | 13 | 2.364 | 2.369 | 47.774 | 47.785 | 1:35.559 |
| 6 | Raluca Stramaturaru | ROU | 11 | 2.384 | 2.384 | 47.712 | 47.931 | 1:35.643 |
| 7 | Tatyana Ivanova | RUS | 22 | 2.344 | 2.347 | 47.700 | 47.983 | 1:35.683 |
| 8 | Martina Kocher | SUI | 17 | 2.370 | 2.373 | 47.821 | 47.923 | 1:35.744 |
| 9 | Erin Hamlin | USA | 14 | 2.365 | 2.396 | 47.816 | 47.940 | 1:35.756 |
| 10 | Kendija Aparjods | LAT | 10 | 2.393 | 2.389 | 47.895 | 47.938 | 1:35.833 |
| 11 | Alex Gough | CAN | 23 | 2.344 | 2.349 | 47.890 | 47.952 | 1:35.842 |
| 12 | Sandra Robatscher | ITA | 15 | 2.362 | 2.355 | 47.936 | 47.925 | 1:35.861 |
| 13 | Ulla Zirne | LAT | 5 | 2.427 | 2.420 | 48.062 | 47.874 | 1:35.936 |
| 14 | Emily Sweeney | USA | 3 | 2.388 | 2.386 | 48.096 | 47.856 | 1:35.952 |
| 15 | Eliza Cauce | LAT | 6 | 2.370 | 2.385 | 48.069 | 47.892 | 1:35.961 |
| 16 | Andrea Vötter | ITA | 16 | 2.393 | 2.391 | 47.919 | 48.107 | 1:36.026 |
| 17 | Kimberley McRae | CAN | 18 | 2.366 | 2.374 | 47.996 | 48.073 | 1:36.069 |
| 18 | Birgit Platzer | AUT | 4 | 2.407 | 2.410 | 48.082 | 48.031 | 1:36.113 |
| 19 | Miriam Kastlunger | AUT | 8 | 2.395 | 2.392 | 48.135 | 48.082 | 1:36.217 |
| 20 | Brooke Apshkrum | CAN | 2 | 2.390 | 2.381 | 48.283 | 48.281 | 1:36.564 |
| 21 | Vilde Tangnes | NOR | 1 | 2.407 | 2.409 | 48.456 | 48.189 | 1:36.645 |
| 22 | Madeleine Egle | AUT | 7 | 2.425 | 2.410 | 48.137 | 53.586 | 1:41.723 |
| DNF | Dajana Eitberger | GER | 20 | 2.353 | 2.358 | 47.748 | DNF | |
| DSQ | Ekaterina Katnikova | RUS | 9 | 2.375 | | 48.096 | DSQ | |