From Königssee, GER
(Jan. 20, 2018) Francesco Friedrich has struggled to find a sled he's happy with all season long. Having driven over three sleds over the season, he may have finallyfound the right one in Königssee.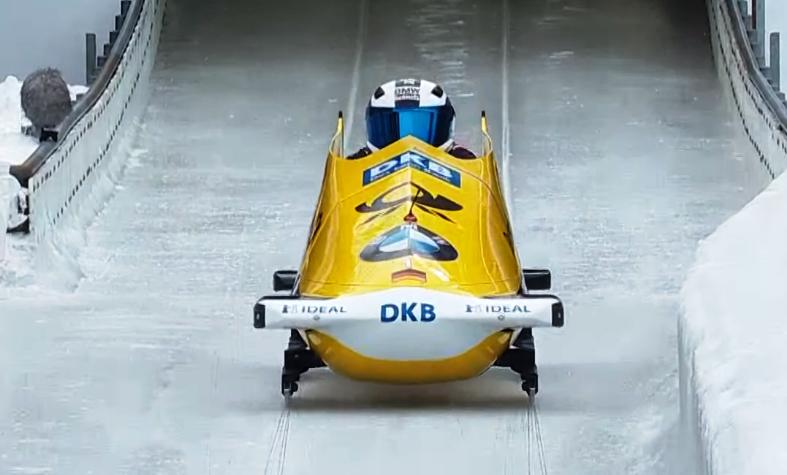 Friedrich was the fastest in both heats, pulling away in the second run by .28 to win by .4 of a second over teammate Johannes Lochner and .44 ahead of bronze medalist Justin Kripps.
Nico Walther struggled to find speed on his second run and dropped from third to fourth and out of the medals, while Latvian teammates Oskars Melbardis and Oskars Kibermanis rounded out the top six.
Justin Kripps only needed a 19th place finish to win the two-man World Cup title. He cruised to that year-long victory with his third place finish on the day, and never finished outside of the top four over the course of the 2017/2018 season.
Friedrich finished second on the season, with Chris Spring finishing third in the two-man standings.
It was a tough day in Königssee for the Americans, with Justin Olsen finishing 19th to lead the way. Codie Bascue struggled to find his form in the two-man sled and finished 23rd.
Nick Poloniato helped put two Canadian sleds in the top ten with his tenth place finish, while Chris Spring's 17th place run was enough to get him a third place finish in the year-long standings.
Bradley Hall finished tied for 14th in the lone British sled.
Results:
| | | | | | | | | |
| --- | --- | --- | --- | --- | --- | --- | --- | --- |
| Pos | Names | Nation | Bib | Start 1 | Start 2 | Run 1 | Run 2 | Total |
| 1 | Friedrich / Margis | GER | 12 | 4.83 | 4.83 | 49.57 | 49.40 | 1:38.97 |
| 2 | Lochner / Weber | GER | 6 | 4.88 | 4.86 | 49.69 | 49.68 | 1:39.37 |
| 3 | Kripps / Kopacz | CAN | 14 | 4.83 | 4.80 | 49.85 | 49.56 | 1:39.41 |
| 4 | Walther / Kuske | GER | 11 | 4.93 | 4.93 | 49.83 | 49.78 | 1:39.61 |
| 5 | Melbardis / Dreiskens | LAT | 8 | 4.93 | 4.93 | 49.89 | 49.81 | 1:39.70 |
| 6 | Kibermanis / Miknis | LAT | 7 | 4.85 | 4.84 | 49.89 | 49.88 | 1:39.77 |
| 7 | Maier / Sammer | AUT | 18 | 4.89 | 4.89 | 50.12 | 49.81 | 1:39.93 |
| 8 | Zalims / Dambis | LAT | 3 | 4.93 | 4.93 | 49.95 | 50.08 | 1:40.03 |
| 9 | Bracher / Kuonen | SUI | 20 | 4.90 | 4.91 | 50.08 | 50.00 | 1:40.08 |
| 10 | Poloniato / Wright | CAN | 15 | 4.88 | 4.87 | 50.22 | 49.97 | 1:40.19 |
| 11 | de Bruin / Franjic | NED | 23 | 4.99 | 4.97 | 50.21 | 49.99 | 1:40.20 |
| 12 | Treichl / Walch | AUT | 5 | 4.86 | 4.89 | 50.05 | 50.17 | 1:40.22 |
| 13 | Heinrich / Boutherin | FRA | 4 | 4.98 | 4.98 | 50.18 | 50.08 | 1:40.26 |
| 14 | Peter / Friedli | SUI | 9 | 4.96 | 4.97 | 50.12 | 50.16 | 1:40.28 |
| 14 | Hall / Blanchet | GBR | 2 | 4.96 | 4.96 | 50.05 | 50.23 | 1:40.28 |
| 16 | Stulnev / Malykh | RUS | 19 | 5.02 | 5.03 | 50.13 | 50.16 | 1:40.29 |
| 17 | Spring / Stones | CAN | 10 | 4.95 | 4.96 | 50.27 | 50.05 | 1:40.32 |
| 18 | Dvorak / Nosek | CZE | 21 | 4.90 | 4.92 | 50.24 | 50.12 | 1:40.36 |
| 19 | Olsen / Weinstock | USA | 17 | 4.87 | 4.86 | 50.39 | 50.27 | 1:40.66 |
| 20 | Vrba / Havlin | CZE | 1 | 5.00 | 4.97 | 50.36 | 50.41 | 1:40.77 |
| 21 | Andrianov / Mordasov | RUS | 22 | 5.02 | | 50.47 | | |
| 21 | Kasjanov / Selikhov | RUS | 13 | 5.06 | | 50.47 | | |
| 23 | Bascue / McGuffie | USA | 16 | 4.97 | | 50.50 | | |