From Königssee, GER
(Jan. 21, 2018) It's been an up and down year for Nico Walther. He's rarely finished outside of the top five, but a disqualification in St. Moritz due to weight has left as the third German sled going into the Olympic Games.
Despite that, Walther's momentum will be top notch heading into the Olympics.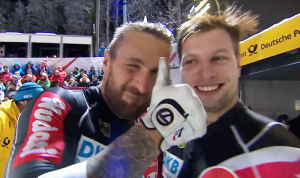 Walther was the quickest in both heats in Königssee on his way to a gold medal in the final IBSF World Cup race of the season. The German's team also had the fastest start in the first heat and second-quickest in the second heat (behind only Justin Kripps).
The gold medal was the third four-man gold of the season for Walther, and second in as many races that he received credit for.
Behind Walther, both Oskars Melbardis and Benjamin Maier moved up into the silver medal position, tying for the spot .36 behind Walther. Melbardis moved up from fifth, while Maier moved up from a tie for third with Francesco Friedrich.
Just out of the medals was Johannes Lochner, who came into his second run in second place, but struggled to find the pace that he had in the first run. Oskars Kibermanis and Francesco Friedrich rounded out the top six in the race.
Lochner came into the event comfortably in the lead for the four-man title. He finished with the Crystal Globe on the strength of four gold medals and no finishes outside of the top five. Teammates Friedrich and Walther finished in second and third in the four-man standings, with Canadian Justin Kripps just 1 point out of the top three.
In the combined two and four-man points, Kripps wound up the overall winner, ahead of Friedrich and Lochner.
Back in the race, Justin Olsen led the way for the United States in ninth place, while teammate Codie Bascue finished just outside of the top ten in 12th place.
Christopher Spring was the big mover of the race, moving up from 13th to 8th, one spot behind Kripps in 7th. Nick Poloniato finished 18th to round out the Canadian effort.
It seemed as though Great Britain was taking it a bit easy at the start. Neither British squad seemed to have the speed at the top that they normally carry. Lamin Deen finished 19th as the top British pilot, a few spots ahead of Bradley Hall in 22nd.
Results: 
| | | | | | | | | |
| --- | --- | --- | --- | --- | --- | --- | --- | --- |
| Pos | Names | Nation | Bib | Start 1 | Start 2 | Run 1 | Run 2 | Total |
| 1 | Walther / Kuske / Rödiger / Franke | GER | 9 | 4.80 | 4.82 | 48.51 | 48.70 | 1:37.21 |
| 2 | Melbardis / Dreiskens / Vilkaste / Strenga | LAT | 7 | 4.86 | 4.83 | 48.84 | 48.73 | 1:37.57 |
| 2 | Maier / Walch / Sammer / Moldovan | AUT | 16 | 4.84 | 4.85 | 48.83 | 48.74 | 1:37.57 |
| 4 | Lochner / Weber / Bluhm / Rasp | GER | 12 | 4.83 | 4.85 | 48.68 | 48.94 | 1:37.62 |
| 5 | Kibermanis / Jansons / Lusis / Miknis | LAT | 6 | 4.86 | 4.84 | 48.89 | 48.82 | 1:37.71 |
| 6 | Frierich / Bauer / Grothkopp / Margis | GER | 13 | 4.87 | 4.84 | 48.83 | 48.94 | 1:37.77 |
| 7 | Kripps / Kopacz / Lumsden / Smith | CAN | 11 | 4.82 | 4.81 | 48.93 | 49.00 | 1:37.93 |
| 8 | Spring / Stones / Kirkparick / Wright | CAN | 8 | 4.87 | 4.87 | 49.10 | 48.88 | 1:37.98 |
| 9 | Olsen / Weber / Valdes / C. Fogt | USA | 23 | 4.82 | 4.82 | 49.05 | 48.98 | 1:38.03 |
| 10 | Stulnev / Antukh / Malykh / Kshelev | RUS | 22 | 4.90 | 4.90 | 49.02 | 49.06 | 1:38.08 |
| 11 | Treichl / Glück / Rangl / Bassey | AUT | 2 | 4.90 | 4.91 | 49.04 | 49.05 | 1:38.09 |
| 12 | Bascue / Weinstock / Langton / McGuffie | USA | 15 | 4.84 | 4.82 | 49.07 | 49.12 | 1:38.19 |
| 13 | Peter / Baumann / Friedli / Kuonen | SUI | 18 | 4.92 | 4.88 | 49.14 | 49.09 | 1:38.23 |
| 14 | Kasjanov / Zaitsev / Kondratenko / Pushkarev | RUS | 14 | 4.91 | 4.90 | 49.09 | 49.18 | 1:38.27 |
| 15 | Andrianov / Khuzin / Selikhov / Mordasov | RUS | 21 | 4.90 | 4.88 | 49.23 | 49.07 | 1:38.30 |
| 16 | de Bruin / Veenker / van der Zijde / Franjic | NED | 5 | 4.90 | 4.88 | 49.27 | 49.11 | 1:38.38 |
| 17 | Bracher / Ferrari / Meier / Badraun | SUI | 3 | 4.95 | 4.96 | 49.18 | 49.23 | 1:38.41 |
| 18 | Poloniato / Brown / Nemet / Coakwell | CAN | 20 | 4.96 | 4.92 | 49.48 | 49.20 | 1:38.68 |
| 19 | Deen / Simons / Blachnet / Matthews | GBR | 10 | 4.97 | 4.93 | 49.55 | 49.23 | 1:38.78 |
| 20 | Dvorak / Kopriva / Sindelar / Nosek | CZE | 25 | 4.94 | 4.95 | 49.57 | 49.26 | 1:38.83 |
| 21 | Costerg / Ricard / Castell / Pujar | FRA | 19 | 5.06 | | 49.59 | | |
| 22 | Hall / Gleeson / Brown / Simpson | GBR | 17 | 4.99 | | 49.67 | | |
| 23 | Grigore / Craciun / Radu / Bartha | ROU | 1 | 5.02 | | 49.83 | | |
| 24 | Constantin / Vlad / Puiu / Iusco | ROU | 4 | 5.51 | | 51.61 | | |
| DSQ | Vrba / Egydy / Suchy / Stoklaska | CZE | 24 | 5.03 | | 49.57 | | |