Feb. 9, 2018 – So there was a time during the opening ceremonies (or maybe the closing ceremonies?) of the 2014 Sochi Olympics where I was chatting with radio legend Paul Varga, and I said something along the lines of "You know, one day I'm going to go to the Olympics to cover everything from there." I figured it was a bit of a stretch for a bit, but if I did enough work with this little website and showed that I was serious about covering these sports that perhaps one day I could sit track-side somewhere and write about the sports I love.
I honestly didn't think it would be here at PyeongChang 2018. But here I am.
The process to get here was long, I submitted my information to the USOC in the fall of 2016, and heard back on October 31st. Now, for those who know me pretty well, you know that October 2016 was a pretty brutal month: My little buddy Deacon had to be put down, and then a week later I broke my face playing softball. So at the very least, the very last day of October was pretty awesome.
Over the course of the next year and four months there's been a ton of forms to be filled out, information to be sent, deposits to be paid and flights to be booked. And for someone who's not been to an event of this magnitude, it's a whole lot to take in, and a lot to wrap your head around.
So fast forward to February 6, 2018: Go time. I said goodbye to Lauren, Tiki dog, Speedy the turtle and the greatest city in the world (Durham, NC), and hopped on a plane for Atlanta. After a brief few hours in Atlanta, it was onto a 14 1/2 hour flight from ATL to ICN. Previous to this, my longest flight was RDU to Las Vegas. So I was in pretty uncharted territory as far as my personal experience goes.
The flight wasn't awful. When I say "wasn't awful", I mean that in a "as bad as I figured a 14+ hour flight could be" kind of way. No turbulence, the guy in the middle seat was relatively skinny and slept most of the way, and we got to Incheon in one piece. Really, the only gripe was the fact we got there a smidge early, and someone was in our gate.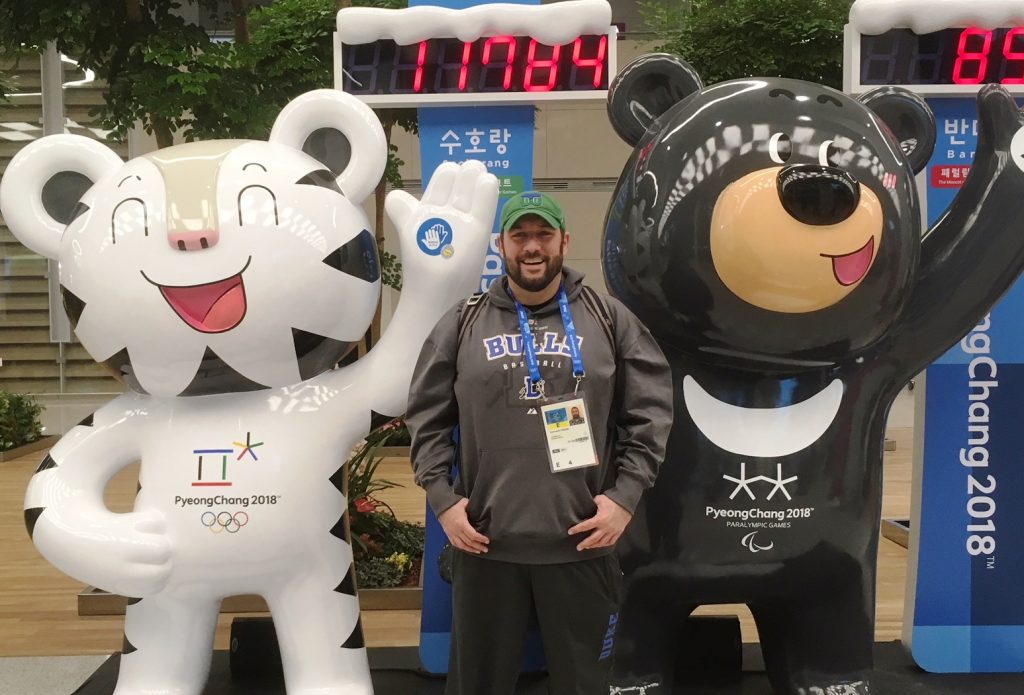 Once landed, there was a little bit of Olympic processing, and a bunch of figuring out where to go. The good news is that the PyeongChang 2018 organizers had a small army of help out there to flag down anyone with an Olympic credential to make sure they knew where they were going. To be honest, this was one of my larger concerns: Getting to the airport and having not the slightest idea where to go. Problem averted.
A quick two hour KTX train ride later (they gave you two seats, one for you and one for your bag) and I was all settled into a rather "quaint" room. I'm sharing a three bedroom apartment with a great photographer named Jeff Cable (www.jeffcable.com) and right now nobody else. We'll see how that pans out going forward.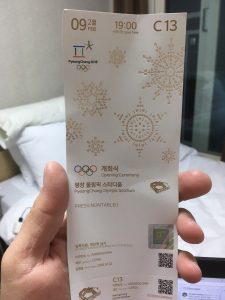 That brings us to Thursday. Things kicked off pretty awesome: Had a nice breakfast, chatted with WRAL's Kathryn Brown for a bit, and hopped on a shuttle bus up to the Main Press Center. The MPC is huge, and takes up three buildings. It's where many of the teams hold larger press conferences, and it takes up three buildings. While there, I grabbed my opening ceremonies ticket and went on my way. Right about here is where the wheels fell off on my otherwise fantastic trip thus far.
The information I was given to get to the sliding center was, for lack of a better term, "wrong". I ended up on a bus just kind of riding around the Olympic venues for an hour, which was cool to experience, but also didn't really help with me getting to the sliding center. So, with any luck, I'll get there on Saturday. Thankfully, Shelley Rudman and Linda Davis both hit me up and are already pros of handling the whole shuttle situation. Come to find out, the folks at the help desk were REALLY wrong. But, now we know.
Today is the opening ceremonies, and I have a ticket. So no matter what, this trip is already a success. Every event after this is just gravy. You'll see a host of sliding sport athletes carrying their nation's flag (including Lizzy Yarnold and Erin Hamlin). More importantly, you're going to see a lot of athletes fulfill an Olympic dream, which is  pretty fantastic.
So, here goes nothing. I'm at the Olympics, and it's pretty awesome.