From Pyeongchang, KOR
Feb. 15, 2018 – Germany won their second gold medal in as many attempts in the luge team relay competition, beating out a feisty Canadian squad in the process.
The team of women's Olympic gold medalist Natalie Geisenberger, men's bronze medalist Johannes Ludwig and the gold medal doubles team of Tobias Wendl & Tobias Arlt was perfect at every turn on their way to their second gold medal in as many events held in the Olympics, and they had to be to keep ahead of a Canadian squad who seemingly could do no wrong.
Alex Gough, Sam Edney, and the team of Tristan Walker & Justin Snith put down three very quick and solid runs. Both Gough and Edney kept the team just ahead of the Americans squad who'd come down just before them, then Walker & Snith nailed their run to seal a medal for, Canada.
Austria, the next to last team down failed to match the pace of the Canadians, but were able to do just enough to stay ahead of the United States to take bronze.
The United States needed to be close to perfect to score a medal in a packed field, couldn't quite pull it off and finished fourth. Italy finished fifth, just .002 behind the Americans, while Latvia finished sixth.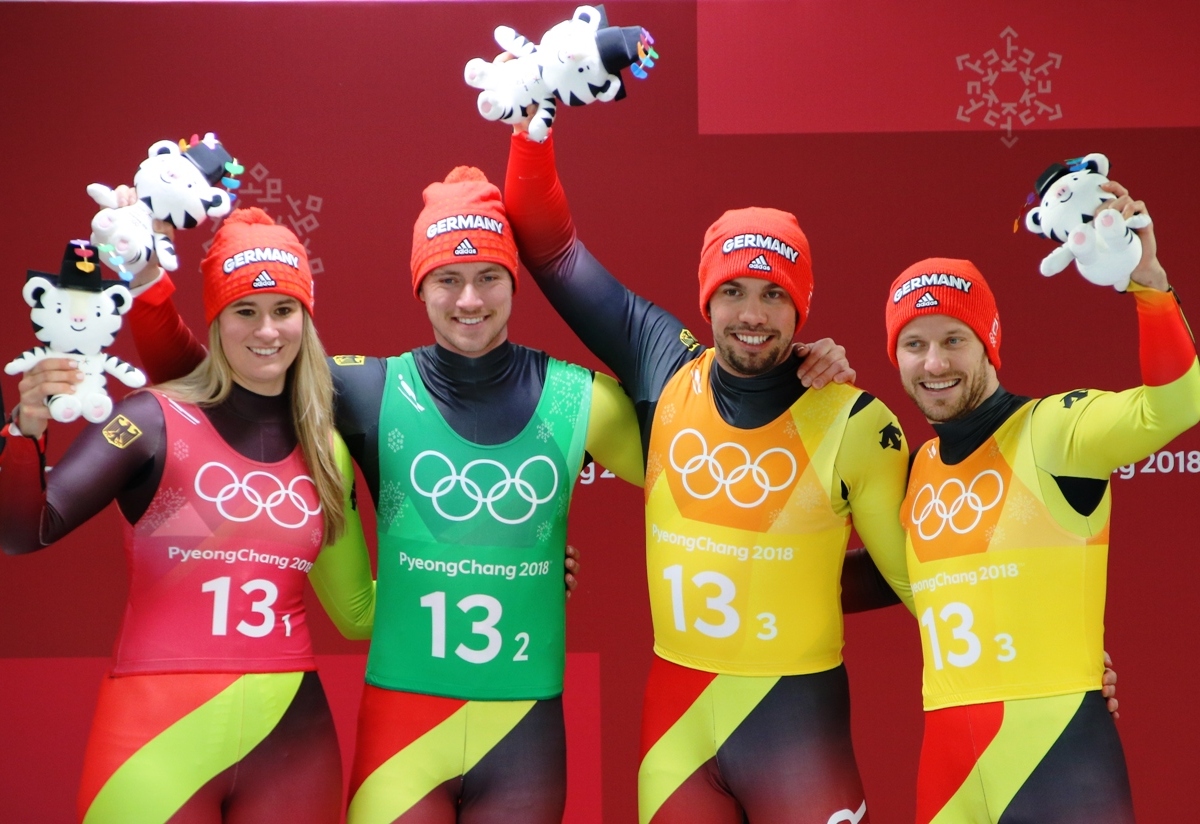 Results:
| | | | | | | |
| --- | --- | --- | --- | --- | --- | --- |
| Pos | Names | Nation | Bib | Women | Men | Total |
| 1 | Geisenberger / Ludwig / Wendl & Arlt | GER | 13 | 46.870 | 1:35.692 | 2:24.517 |
| 2 | Gough / Edney / Walker & Snith | CAN | 11 | 47.099 | 1:35.919 | 2:24.872 |
| 3 | Egle / Gleirscher / Penz & Fischler | AUT | 12 | 47.122 | 1:35.880 | 2:24.998 |
| 4 | Britcher / Mazdzer / Mortensen & Terdiman | USA | 10 | 47.266 | 1:35.926 | 2:25.091 |
| 5 | Vötter / D. Fischnaller / Nagler & Malleier | ITA | 9 | 47.078 | 1:35.905 | 2:25.093 |
| 6 | Zirne / Aparjods / Sics & Sics | LAT | 8 | 47.369 | 1:36.260 | 2:25.315 |
| 7 | Baturina / Repilov / Denisev & Antonov | OAR | 7 | 47.523 | 1:36.138 | 2:25.349 |
| 8 | Kuls-Kusyk / Kurowski / Chmielewski & Kowalewski | POL | 5 | 47.711 | 1:36.845 | 2:26.413 |
| 9 | Frisch / Lim / Park & Cho | KOR | 6 | 47.211 | 1:37.065 | 2:26.543 |
| 10 | Stramaturaru / Cretu / Atodiresei & Musei | ROU | 4 | 47.097 | 1:36.706 | 2:26.844 |
| 11 | Simonakova / Ninis / Solcansky & Stuchlak | SVK | 2 | 48.032 | 1:37.358 | 2:26.993 |
| 12 | Noskova / Hyman / Broz & Broz | CZE | 3 | 48.238 | 1:37.416 | 2:27.061 |
| 13 | Shkhumova / Dukach / Obolonchyk & Zakharkiv | UKR | 1 | 51.503 | 1:40.638 | 2:31.003 |