From Pyeongchang, KOR
Feb. 16, 2016 – Yun Sungbin, the 2017/2018 World Cup champion, dominated the men's skeleton event on home ice to win his first Olympic gold medal.
Yun was the quickest in all four heats by a substantial margin to win the four-heat event by a combined 1.63 seconds over a stacked field of competitors. On his fourth run, he saved the best for last, re-setting a track record with a run of 50.02.
The margin of victory of 1.63 seconds was the largest in an sliding sport discipline in the Olympics in 48 years.
Despite all of the expectations on Yun, he didn't particularly feel much pressure to win.
"There's no reason to feel any pressure. It's my home track, so I can feel like I'm at home. The medals are my goal, but I don't think I felt much pressure to win," Yun said.
Coming into the final runs, there was a tight battle for third, with Latvian Martins Dukurs leading the way, just .07 ahead of Nikita Tregubov, with British slider Dom Parsons wedged in between.
Tregubov came first, and set the second-fastest run of the heat to put the pressure on Parsons and Dukurs. Parsons kept it close but fell behind Tregubov by just .02, and seemingly fell out of the medals.
Then came Martins Dukurs, winner of more men's skeleton World Championships than anyone but without an Olympic gold medal. Knowing he needed a career run, Dukurs "went for it",  but made a crucial error through the 9-10-11 combination to set him back. He was unable to clean up the rest of his run and fell behind both Tregubov and Parsons to fourth, giving Tregubov a s ilver medal, and Great Britain their first men's skeleton medal since John Crammond in 1948 (St. Moritz) with Dom Parsons.
Tregubov knew he had to stay relaxed going into his last run. "I tried to remain calm and not be overwhelmed with emotions before my final run," Tregubov said of his silver medal run. Tregubov finished sixth in the 2014 Olympics.
Meanwhile for Dom Parsons, the emotions were very low then very high over the course of about two minutes.
"I was pretty gutted after that run," Parsons said. "I thought I'd thrown it away with some mistakes I'd made. Then Martins is one of the last guys you expect to make a mistake and drop down spots. I couldn't believe it, I saw a "3" next to his name and turned to Nikita and said "Did that just happen?!" Nikita's English isn't very good so we didn't undertsand what each other was saying but both knew we were medalists. We were both over the moon!"
Dukurs settled for fourth, just ahead of brother Tomass Dukurs while Korean Kim Jisoo rounded out the top six with a career-best sixth place finish.
Matt Antoine struggled to get his rhythm on the Pyeongchang track all throughout training, but hit on something just before the first heat of the Games.  He moved up after the third run to 9th before falling back to 11th. Teammate John Daly, who on social media just before the race stated that the final run of the Olympics would be his last, finished 16th.
Daly was happy with how his Olympics had gone.
"I got to walk off the track for four runs, hold my head high, wave to my family and it was a moment I thought I'd never get back," Daly said of his race. "That's enough for me, it's not a medal, but that's the moment I was looking for and that was my medal."
For the most part, the Canadian men had a rough time in Pyeongchang. Kevin Boyer did put down a great third run to move him up the order, eventually finishing 17th.  Dave Greszczyszyn just barely missed the fourth heat, finishing 21st, while Barrett Martineau rounded out the Canadian effort in 24th.
For Kevin Boyer his third run made the Olympics for him.
"That's how I drew it up! I had a great Curve 2, I could feel the speed. I got through 9 through 12 and just held on. Anytime I look back I'll remember that third run for sure."
Finishing 14th was New Zealand's Rhys Thornbury, who came into the second day in contention for a top seven. On his final run, however, he popped the groove at the very start, and plummeted down the leader board.
"I'm real happy with how I competed. Had the fourth run not happened I would have been sitting in seventh, which would be my best World Cup finish ever. I feel really good about how I've been training. Unfortunately it didn't turn out the way I wanted to, but I'm proud of the good runs I had for sure."
Jerry Rice finished a career-best tenth to round out the British effort, while Aussie John Farrow finished 19th.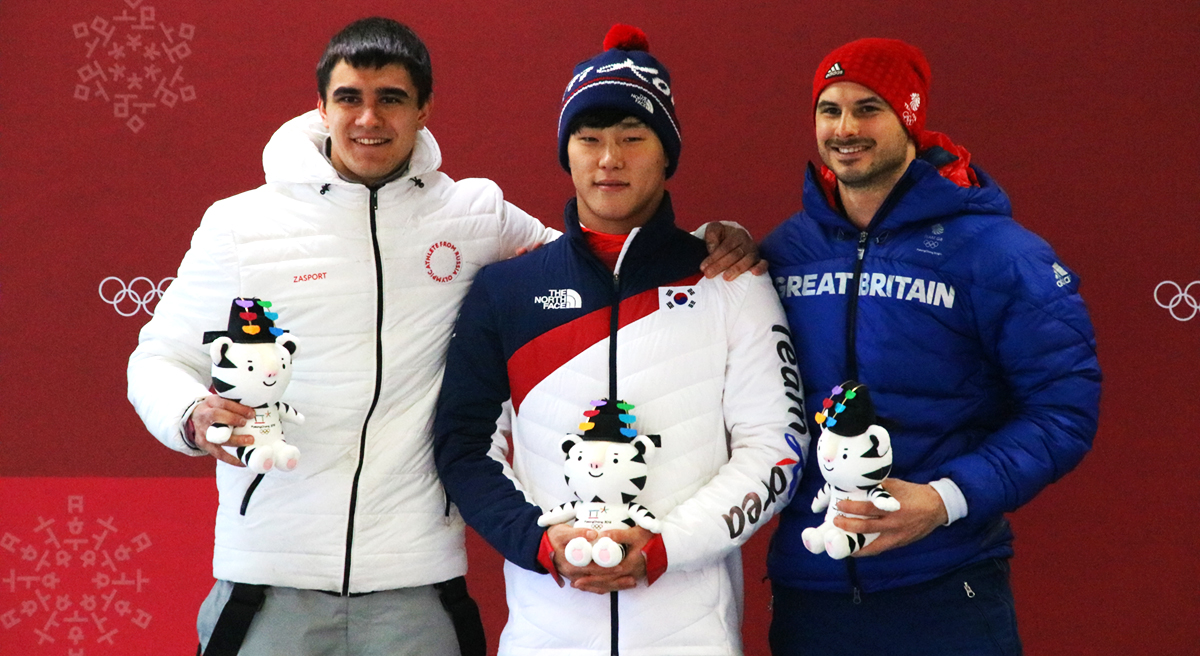 Results: 
cl
| | | | | | | | | |
| --- | --- | --- | --- | --- | --- | --- | --- | --- |
| Pos | Name | Nation | Bib | Run 1 | Run 2 | Run 3 | Run 4 | Total |
| 1 | Sungbin Yun | KOR | 6 | 50.28 | 50.07 | 50.18 | 50.02 | 3:20.55 |
| 2 | Nikita Tregubov | OAR | 10 | 50.59 | 50.50 | 50.53 | 50.56 | 3:22.18 |
| 3 | Dom Parsons | GBR | 16 | 50.85 | 50.41 | 50.33 | 50.61 | 3:22.20 |
| 4 | Martins Dukurs | LAT | 9 | 50.85 | 50.38 | 50.32 | 50.76 | 3:22.31 |
| 5 | Tomass Dukurs | LAT | 8 | 50.88 | 50.58 | 50.65 | 50.63 | 3:22.74 |
| 6 | Jisoo Kim | KOR | 23 | 50.80 | 50.86 | 50.51 | 50.81 | 3:22.98 |
| 7 | Axel Jungk | GER | 7 | 50.77 | 51.01 | 50.83 | 50.99 | 3:23.60 |
| 8 | Christopher Grotheer | GER | 11 | 51.05 | 51.06 | 51.01 | 50.93 | 3:24.05 |
| 9 | Alexander Gassner | GER | 12 | 51.05 | 51.08 | 51.04 | 50.93 | 3:24.10 |
| 10 | Jerry Rice | GBR | 21 | 51.06 | 51.15 | 51.04 | 50.99 | 3:24.24 |
| 11 | Matthew Antoine | USA | 13 | 51.16 | 50.98 | 50.91 | 51.34 | 3:24.39 |
| 12 | Vladyslav Heraskevych | UKR | 26 | 51.26 | 51.16 | 51.21 | 50.84 | 3:24.47 |
| 13 | Wenqiang Geng | CHN | 24 | 51.51 | 50.87 | 51.18 | 51.09 | 3:24.65 |
| 14 | Rhys Thornbury | NZL | 20 | 50.90 | 51.03 | 50.65 | 52.14 | 3:24.72 |
| 15 | Vladislav Marchenkov | OAR | 17 | 51.27 | 51.49 | 51.05 | 51.37 | 3:25.18 |
| 16 | John Daly | USA | 18 | 51.23 | 51.15 | 51.33 | 51.64 | 3:25.35 |
| 17 | Kevin Boyer | CAN | 19 | 51.46 | 51.24 | 51.14 | 51.56 | 3:25.40 |
| 18 | Matthias Guggenberger | AUT | 14 | 51.38 | 51.29 | 51.81 | 51.25 | 3:25.73 |
| 19 | John Farrow | AUS | 27 | 51.64 | 51.31 | 51.40 | 51.53 | 3:25.88 |
| 20 | Alex Hanssen | NOR | 3 | 51.44 | 51.51 | 51.37 | 51.57 | 3:25.89 |
| 21 | Dave Greszczyszyn | CAN | 15 | 51.73 | 51.31 | 51.57 | | 2:34.61 |
| 22 | Hiroatsu Takahashi | JPN | 25 | 52.00 | 51.50 | 51.19 | | 2:34.69 |
| 23 | Ander Mirambell | ESP | 4 | 51.64 | 52.06 | 51.59 | | 2:35.29 |
| 24 | Barrett Martineau | CAN | 22 | 51.94 | 51.76 | 51.70 | | 2:35.40 |
| 25 | Dorin Velicu | ROU | 2 | 51.91 | 51.51 | 52.02 | | 2:35.44 |
| 26 | Katsuyuki Miyajima | JPN | 28 | 51.63 | 52.15 | 51.80 | | 2:35.58 |
| 27 | Joseph Luke Cecchini | ITA | 29 | 51.88 | 51.80 | 51.96 | | 2:35.64 |
| 28 | AJ Edelman | ISR | 30 | 52.48 | 52.43 | 52.35 | | 2:37.26 |
| 29 | Anthony Watson | JAM | 1 | 53.13 | 54.04 | 53.35 | | 2:40.52 |
| 30 | Akwasi Frimpong | GHA | 5 | 53.97 | 54.46 | 53.69 | | 2:42.12 |