From Whistler, CAN
(Dec. 1, 2018) – There was a surprise on the women's luge podium in Whistler. Natalie Geisenberger won, which was relatively expected. She stayed perfect on the season with a gold medal in both the World Cup and Sprint World Cup races in Igls prior to her win in Whistler.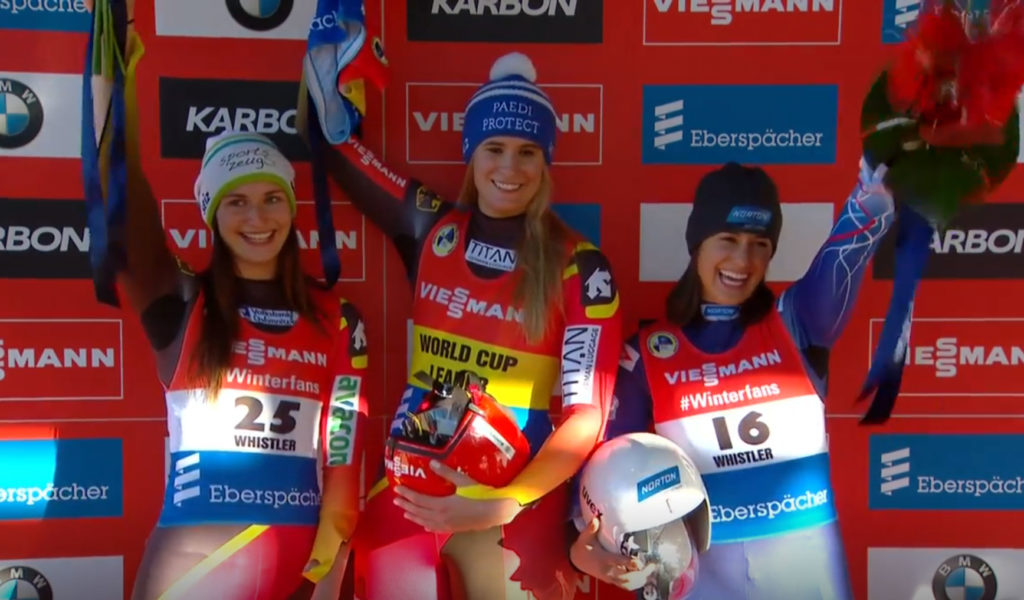 The bigger news was who finished in third place, with the United States' Emily Sweeney winning bronze in her first race back after injury in PyeongChang.
Sweeney showed she was in Whistler to play after finishing the first heat in third place. On her second run she was just as quick, setting a time that would guarantee her a medal with two women to come. Julia Taubitz and Geisenberger both held their positions for silver and gold, respectively, but Sweeney's run was a huge boost for the United States as the first medal for USA Luge in the 2018/2019 season.
Much like in the men's race a day earlier, the track record fell and fell hard. The last time the FIL World Cup visited Whistler was December of 2016, and that's when Alex Gough set the record time of 38.796. In the first heat of the 2018 event there were ten women to go faster than that, with Geisenberger's 38.510 leading the way. The track record eventually fell again, this time down to a 38.394, making Geisenberger the fastest woman in Whistler in both heats.
Tatjana Hüfner and Eliza Cauce tied for fourth, while Tatyana Ivanova fnished sixth.
It was a tough race for the rest of the Americans in Whistler, with no one other than Sweeney able to piece two quick runs together. Raychel Germaine finished 15th, one spot ahead of Summer Britcher in 16th after coming into the first heat in 26th. Brittney Arndt rounded out the American effort in 26th.
Growing pains showed for the young Canadian program. Kyla Graham was the top finisher for Canada in 18th, one spot ahead of teammate Makena Hodgson in 19th. Carolyn Maxwell and Brooke Apskhrum finished in 21st and 24th, respectively.
Results:
| | | | | | | | | |
| --- | --- | --- | --- | --- | --- | --- | --- | --- |
| Pos | Name | Nation | Bib | Start 1 | Start 2 | Run 1 | Run 2 | Total |
| 1 | Natalie Geisenberger | GER | 27 | 3.378 | 3.370 | 38.510 | 38.394 | 1:16.904 |
| 2 | Julia Taubitz | GER | 25 | 3.412 | 3.411 | 38.601 | 38.594 | 1:17.195 |
| 3 | Emily Sweeney | USA | 16 | 3.418 | 3.416 | 38.616 | 38.705 | 1:17.321 |
| 4 | Tatjana Hüfner | GER | 24 | 3.402 | 3.387 | 38.712 | 38.641 | 1:17.353 |
| 4 | Eliza Cauce | LAT | 20 | 3.390 | 3.388 | 38.698 | 38.655 | 1:17.353 |
| 6 | Tatyana Ivanova | RUS | 23 | 3.374 | 3.369 | 38.748 | 38.645 | 1:17.393 |
| 7 | Kendija Aparjode | LAT | 28 | 3.407 | 3.406 | 38.709 | 38.696 | 1:17.405 |
| 8 | Dajana Eitberger | GER | 19 | 3.402 | 3.405 | 38.709 | 38.750 | 1:17.459 |
| 9 | Ekaterina Baturina | RUS | 11 | 3.388 | 3.385 | 38.746 | 38.724 | 1:17.470 |
| 10 | Andrea Vötter | ITA | 22 | 3.427 | 3.405 | 38.776 | 38.742 | 1:17.518 |
| 11 | Raluca Stramaturaru | ROU | 17 | 3.395 | 3.405 | 38.821 | 38.743 | 1:17.564 |
| 12 | Madeleine Egle | AUT | 15 | 3.401 | 3.380 | 38.823 | 38.766 | 1:17.589 |
| 13 | Sandra Robatscher | ITA | 18 | 3.429 | 3.414 | 38.878 | 38.770 | 1:17.648 |
| 14 | Ekaterina Katnikova | RUS | 3 | 3.417 | 3.413 | 38.890 | 38.788 | 1:17.678 |
| 15 | Raychel Germaine | USA | 2 | 3.447 | 3.411 | 38.930 | 38.820 | 1:17.750 |
| 16 | Summer Britcher | USA | 26 | 3.463 | 3.405 | 39.060 | 38.713 | 1:17.773 |
| 17 | Ulla Zirne | LAT | 12 | 3.443 | 3.441 | 38.940 | 38.882 | 1:17.822 |
| 18 | Kyla Graham | CAN | 14 | 3.409 | 3.418 | 38.947 | 38.882 | 1:17.829 |
| 19 | Makena Hodgson | CAN | 4 | 3.449 | 3.431 | 38.902 | 38.953 | 1:17.855 |
| 20 | Natalie Maag | SUI | 8 | 3.432 | 3.415 | 38.993 | 38.946 | 1:17.939 |
| 21 | Carolyn Maxwell | CAN | 9 | 3.399 | 3.402 | 38.986 | 38.957 | 1:17.943 |
| 22 | Birgit Platzer | AUT | 1 | 3.443 | 3.445 | 38.964 | 39.029 | 1:17.993 |
| 23 | Aileen Frisch | KOR | 5 | 3.422 | 3.422 | 39.135 | 38.875 | 1:18.010 |
| 24 | Brooke Apshkrum | CAN | 6 | 3.454 | 3.461 | 38.955 | 39.140 | 1:18.095 |
| 25 | Vernoica Ravenna | ARG | 10 | 3.454 | 3.442 | 39.071 | 39.045 | 1:18.116 |
| 26 | Brittney Arndt | USA | 13 | 3.419 | 3.425 | 39.289 | 38.832 | 1:18.121 |
| 27 | Viktoriia Demchenko | RUS | 21 | 3.452 | 3.403 | 39.425 | 38.734 | 1:18.159 |
| 28 | Natalia Wojtusciszyn | POL | 7 | 3.460 | 3.461 | 39.390 | 39.257 | 1:18.647 |