From Sigulda, LAT
(Dec. 7, 2018) – Olympic gold medalist Mariama Jamanka opened the season as she closed last season, with a gold medal.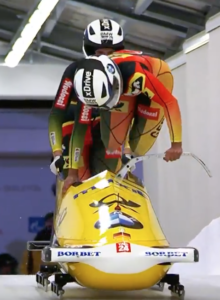 Jamanka and brakewoman Annika Drazek set the start record at the top of the Latvian track and the track record at the bottom on their way to a dominating win in the opening round of the IBSF World Cup. Jamanka was only slightly rivaled by silver medalist Nadezhda Sergeeva in the first heat before pulling away to a .61 advantage by the end of the second run to win her first career IBSF World Cup gold medal.
Sergeeva finished with a World Cup career-best silver medal, ahead of Anna Köhler who tied her career-best with a bronze medal.
Russian rookie Lubov Chernykh finished fourth, ahead of American Brittany Reinbolt and Belgian An Vannieuwenhuyse, who rounded out the top six.
Teams generally struggled on the Latvian track that hadn't been used in World Cup action for over a decade. Martina Fontanive crashed every day in practice and did not start, while World Cup veteran Stephanie Schneider crashed in the first heat, eventually finishing 13 seconds off the pace.
Olympic silver medalist Elana Meyers Taylor had set a new start record on her first run and sat third, just .02 out of second going into the second run. After her run she was disqualified due to weight.
Results:
| | | | | | | | | |
| --- | --- | --- | --- | --- | --- | --- | --- | --- |
| Pos | Names | Nation | Bib | Start 1 | Start 2 | Run 1 | Run 2 | Total |
| 1 | Jamanka / Drazek | GER | 3 | 5.34 | 5.30 | 51.28 | 51.40 | 1:42.68 |
| 2 | Sergeeva / Belomestnykh | RUS | 1 | 5.40 | 5.43 | 51.56 | 51.73 | 1:43.29 |
| 3 | Köhler / Gericke | GER | 2 | 5.52 | 5.51 | 51.80 | 51.70 | 1:43.50 |
| 4 | Chernykh / Egoshenko | RUS | 10 | 5.53 | 5.51 | 51.87 | 51.72 | 1:43.59 |
| 5 | Reinbolt / Gibbs | USA | 9 | 5.49 | 5.45 | 52.07 | 52.00 | 1:44.07 |
| 6 | Vannieuwenhuyse / Aerts | BEL | 7 | 5.65 | 5.63 | 52.13 | 52.01 | 1:44.14 |
| 7 | Beierl / Kleiser | AUT | 4 | 5.70 | 5.66 | 52.53 | 52.22 | 1:44.75 |
| 8 | Schneider / Zimmer | GER | 8 | 5.43 | 5.41 | 63.31 | 52.15 | 1:55.46 |
| DNS | Fontanive / Strebel | SUI | 6 | | | DNS | | DNS |
| DSQ | Meyers Taylor / Hoffmann | USA | 5 | 5.31 | | 51.58 | | DSQ |