From Calgary, CAN
(Dec. 7, 2018) – After a two race losing streak, Germany came out on top in doubles luge, with Tobias Wendl & Tobias Arlt racing their way to the top of the podium in Calgary.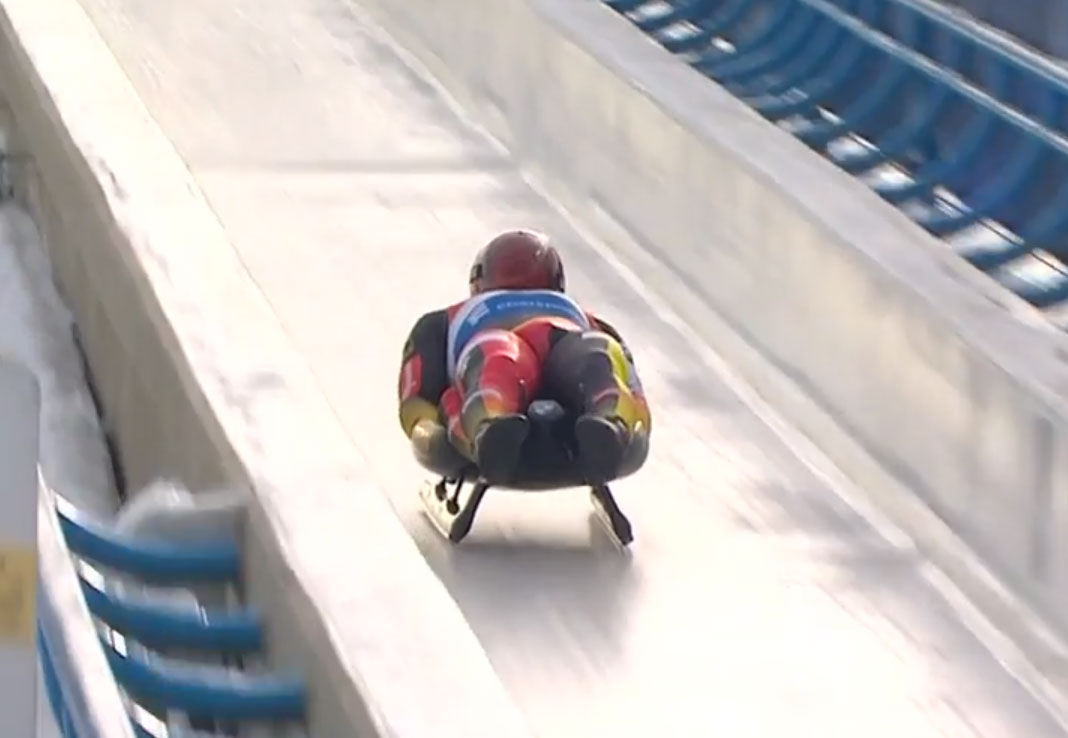 Wendl & Arlt were the fifth quickest at the start in the first heat, and the quickest at every single split after that on Friday on their way to their first win of the 2018/2019 FIL World Cup season.
Wendl & Arlt's teammates Toni Eggert & Sascha Benecken finished second, just under a tenth of a second back with two consistent runs. World Cup leaders Thomas Steu & Lorenz Koller finished third.
The Russian duo of Vsevolod Kashkin and Konstantin Korshunov finished a career-best fourth, hanging on to the position after struggling to find consistency in their second run. Chris Mazdzer and Jayson Terdiman continued to find their rhythm together with a fifth place finish, ahead of Kristens Putins & Imants Marcinkevics in sixth.
The Canadian team of Tristan Walker & Justin Snith saw a chance for a doubles medal in Canada slide away after a mistake late in their first run and had to settle for ninth.
Results:
| | | | | | | | | |
| --- | --- | --- | --- | --- | --- | --- | --- | --- |
| Pos | Names | Nation | Bib | Start 1 | Start 2 | Run 1 | Run 2 | Total |
| 1 | Wendl / Arlt | GER | 14 | 1.120 | 1.090 | 43.769 | 43.720 | 1:27.489 |
| 2 | Eggert / Benecken | GER | 13 | 1.102 | 1.111 | 43.785 | 43.795 | 1:27.580 |
| 3 | Steu / Koller | AUT | 11 | 1.113 | 1.121 | 43.828 | 43.933 | 1:27.761 |
| 4 | Kashkin / Korshunov | RUS | 5 | 1.132 | 1.130 | 43.836 | 44.063 | 1:27.899 |
| 5 | Mazdzer / Terdiman | USA | 10 | 1.212 | 1.158 | 43.984 | 43.946 | 1:27.930 |
| 6 | Putins / Marcinkevics | LAT | 7 | 1.130 | 1.119 | 43.940 | 43.996 | 1:27.936 |
| 7 | Sics / Sics | LAT | 16 | 1.115 | 1.132 | 44.032 | 43.906 | 1:27.938 |
| 8 | Yuzhakov / Prokhorov | RUS | 9 | 1.128 | 1.124 | 44.059 | 44.017 | 1:28.076 |
| 9 | Walker / Snith | CAN | 6 | 1.134 | 1.116 | 44.489 | 43.949 | 1:28.438 |
| 10 | Chmielewski / Kowalewski | POL | 8 | 1.122 | 1.126 | 44.209 | 44.368 | 1:28.577 |
| 11 | Geueke / Gamm | GER | 15 | 1.136 | 1.150 | 44.626 | 44.975 | 1:28.601 |
| 12 | Rieder / Rastner | ITA | 12 | 1.110 | 1.103 | 44.243 | 44.675 | 1:28.918 |
| 13 | Gitlan / Craciun | ROU | 4 | 1.148 | 1.195 | 44.497 | 44.510 | 1:29.007 |
| 14 | Park / Kang | KOR | 3 | 1.189 | 1.186 | 44.518 | 44.587 | 1:29.105 |
| 15 | Vejdelek / Pekny | CZE | 1 | 1.167 | 1.180 | 44.917 | 45.511 | 1:30.428 |
| 16 | Stakhiv / Lysetskyy | UKR | 2 | 1.187 | 1.172 | 45.871 | 45.719 | 1:31.590 |