From Calgary, CAN
(Dec. 7, 2018) – Wolfgang Kindl won his second straight World Cup event, cruising to victory in Calgary.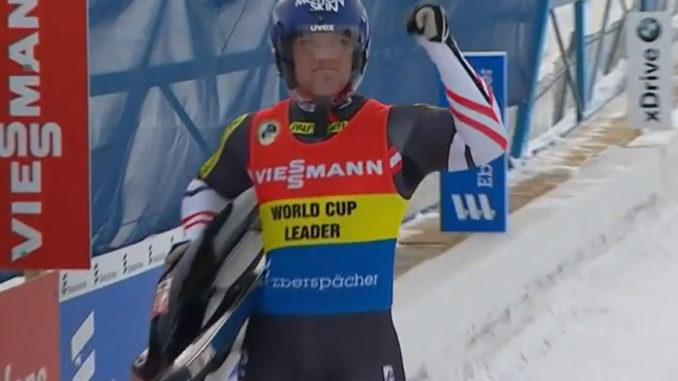 The Austrian found speed at the bottom of the 1988 Olympic track where seemingly no one else could to jump into the lead after the first heat and then watched as other contenders couldn't keep up.
Roman Repilov may have had a shot at a gold medal, but a mistake at the top of his first run left him third going into the second heat. On that second run Repilov still couldn't match Kindl's speed, with the Russian settling for second.
David Gleirscher finished third, jumping up from fifth after one heat. The 2018 Olympic champion never was in contention for gold, but two consistent runs gave him his first medal of the 2018/2019 FIL season.
Finishing fourth was Felix Loch, who moved up from 13th after the first run. Loch had a mistake at the start of his first heat, leaving him 13th. Loch rallied with a second heat fastest run to leave him in the leader's box until Gleirscher unseated him.
Rounding out the top six was Kevin Fischnaller and Johannes Ludwig.
Tucker West led the charge for the United States with an eighth place finish, jumping up from tenth after the first heat. Jonny Gustafson finished 21st and Chris Mazdzer 24th after struggling to put down two consistent runs.
Like in the doubles event, Canada failed to medal on home ice in men's luge. Reid Watts led the way in 15th, with teammates Colton Clarke and Matthew Riddle 22nd and 23rd, respectively.
Results:
| | | | | | | | | |
| --- | --- | --- | --- | --- | --- | --- | --- | --- |
| Pos | Name | Nation | Bib | Start 1 | Start 2 | Run 1 | Run 2 | Total |
| 1 | Wolfgang Kindl | AUT | 29 | 4.847 | 4.841 | 44.644 | 44.605 | 1:29.249 |
| 2 | Roman Repilov | RUS | 22 | 4.807 | 4.795 | 44.670 | 44.645 | 1:29.315 |
| 3 | David Gleirscher | AUT | 30 | 4.808 | 4.802 | 44.699 | 44.671 | 1:29.370 |
| 4 | Felix Loch | GER | 32 | 4.848 | 4.828 | 44.878 | 44.521 | 1:29.399 |
| 5 | Kevin Fischnaller | ITA | 18 | 4.817 | 4.821 | 44.687 | 44.744 | 1:29.431 |
| 6 | Johannes Ludwig | GER | 26 | 4.808 | 4.812 | 44.797 | 44.726 | 1:29.523 |
| 7 | Sebastian Bley | GER | 12 | 4.798 | 4.799 | 44.669 | 44.910 | 1:29.579 |
| 8 | Tucker West | USA | 23 | 4.813 | 4.807 | 44.824 | 44.774 | 1:29.498 |
| 9 | Maksim Aravin | RUS | 17 | 4.845 | 4.852 | 44.738 | 44.864 | 1:29.602 |
| 10 | Jonas Müller | AUT | 16 | 4.817 | 4.813 | 44.784 | 44.864 | 1:29.648 |
| 11 | Dominik Fischnaller | ITA | 28 | 4.815 | 4.809 | 44.846 | 44.831 | 1:29.677 |
| 12 | Reinhard Egger | AUT | 31 | 4.819 | 4.825 | 44.979 | 44.867 | 1:29.846 |
| 13 | Semen Pavlichenko | RUS | 27 | 4.798 | 4.842 | 44.829 | 45.041 | 1:29.870 |
| 14 | Chris Eißler | GER | 21 | 4.821 | 4.810 | 44.977 | 44.962 | 1:29.939 |
| 15 | Reid Watts | CAN | 14 | 4.812 | 4.821 | 44.932 | 45.020 | 1:29.952 |
| 16 | Max Langenhan | GER | 11 | 4.815 | 4.815 | 44.899 | 45.058 | 1:29.957 |
| 17 | Armin Frauscher | AUT | 3 | 4.816 | 4.814 | 44.932 | 45.048 | 1:29.980 |
| 18 | Stepan Fedorov | RUS | 25 | 4.822 | 4.818 | 45.082 | 44.968 | 1:30.050 |
| 19 | Kristers Aparjods | LAT | 14 | 4.848 | 4.842 | 45.200 | 44.877 | 1:30.077 |
| 20 | Riks Rozitis | LAT | 2 | 4.856 | 4.871 | 44.894 | 45.263 | 1:30.157 |
| 21 | Jonathan Gustafson | USA | 10 | 4.805 | 4.799 | 45.304 | 45.035 | 1:30.339 |
| 22 | Colton Clarke | CAN | 6 | 4.848 | 4.863 | 45.185 | 45.158 | 1:30.343 |
| 23 | Matthew Riddle | CAN | 7 | 4.872 | 4.881 | 45.151 | 45.236 | 1:30.387 |
| 24 | Chris Mazdzer | USA | 20 | 4.827 | 4.809 | 44.772 | 45.661 | 1:30.433 |
| 25 | Maciej Kurowski | POL | 9 | 4.838 | 4.854 | 45.189 | 45.308 | 1:30.497 |
| 26 | Jozef Ninis | SVK | 19 | 4.853 | 4.839 | 45.330 | 45.230 | 1:30.560 |
| 27 | Andriy Mandziy | UKR | 4 | 4.829 | 4.830 | 45.224 | 45.343 | 1:30.567 |
| 28 | Anton Dukach | UKR | 5 | 4.823 | 4.822 | 45.261 | 45.394 | 1:30.655 |
| 29 | Mateusz Sochowicz | POL | 15 | 4.846 | 4.829 | 45.647 | 45.022 | 1:30.669 |
| 30 | Thodor Turea | ROU | 1 | 4.831 | 4.819 | 45.276 | 45.638 | 1:30.914 |
| 31 | Aleksandr Gorbatcevich | RUS | 8 | 4.798 | 4.809 | 46.177 | 44.970 | 1:31.147 |
| DSQ | Inars Kivlenieks | LAT | 24 | | | DSQ | | |