From Sigulda, LAT
(Dec. 8, 2018) – It was a tight race everywhere but at the top of the timing sheet in Sigulda, where Frnacesco Friedrich dominated to win the opening round of the IBSF World Cup 2-man season.
Friedrich broke both the start record and track record in the first heat on his way to a .42 second win over Oskar Kibermanis on Kibermanis's home ice, and at no point in the German's two runs did the result look the least bit in doubt.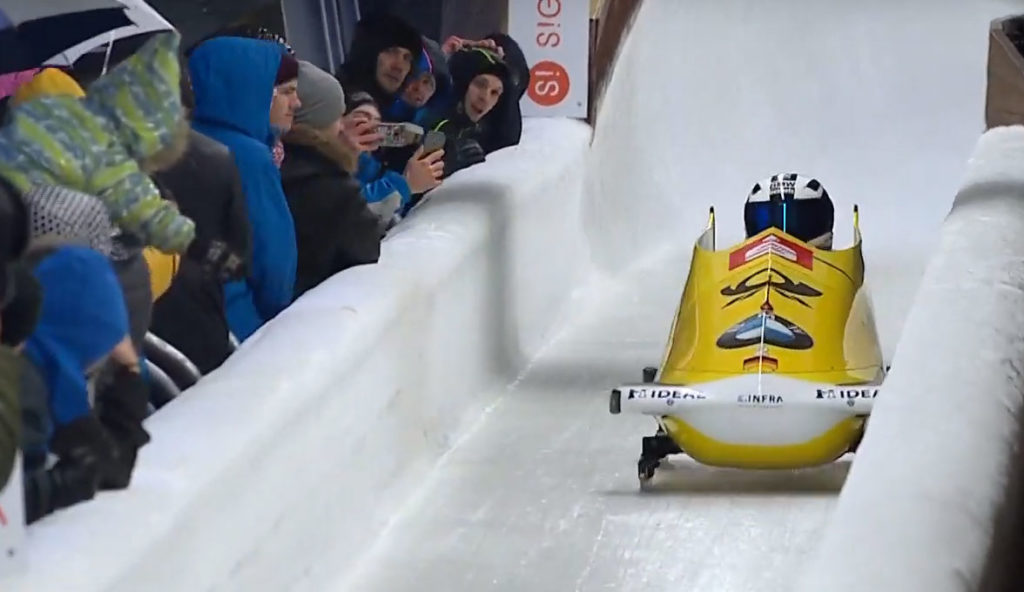 Kibermanis moved up from third to second on his second run to secure silver, beating out Benjamin Maier in the process. Maier had two clean runs save for one long skid between Curve 15 and the finish kreisel that dropped the Austrian back to bronze.
Domink Dvorak of the Czech Republic finished with his first career World Cup top five with a fourth place finish. His previous best was a sixth place finish in Igls during the 2016/2017 season.
Maxim Andrianov finished fifth, just .01 ahead of Nico Walther in sixth, and .02 ahead of a tie for seventh between World Cup rookies Ralfs Berzins and Christoph Hafer.
One small skid in Curve 13 was the difference between fifth and ninth place for the United States' Codie Bascue. Bascue's correction in the curve likely scrubbed off a bit of speed, and it was the difference between his 1:41.03 combined downtime and the 1:41.00 needed for fifth.
Bascue's teammate Justin Olsen finished 17th in his first look at the Latvian track.
Results: 
| | | | | | | | | |
| --- | --- | --- | --- | --- | --- | --- | --- | --- |
| Pos | Names | Nation | Bib | Start 1 | Start 2 | Run 1 | Run 2 | Total |
| 1 | Friedrich / Schüller | GER | 10 | 4.82 | 4.83 | 49.86 | 50.11 | 1:39.97 |
| 2 | Kibermanis / Miknis | LAT | 9 | 4.87 | 4.89 | 50.14 | 50.25 | 1:40.39 |
| 3 | Maier / Sammer | AUT | 7 | 4.94 | 4.96 | 50.11 | 50.54 | 1:40.65 |
| 4 | Dvorak / Nosek | CZE | 6 | 4.93 | 4.92 | 50.32 | 50.57 | 1:40.89 |
| 5 | Andiranov / Malykh | RUS | 1 | 5.05 | 5.04 | 50.33 | 50.67 | 1:41.00 |
| 6 | Walther / Krenz | GER | 11 | 4.94 | 4.97 | 50.29 | 50.72 | 1:41.01 |
| 7 | Berzins / Springis | LAT | 15 | 4.98 | 4.98 | 50.56 | 50.46 | 1:41.02 |
| 7 | Hafer / Ammour | GER | 4 | 5.01 | 5.06 | 50.42 | 50.60 | 1:41.02 |
| 9 | Bascue / Abdul-Saboor | USA | 5 | 4.91 | 4.93 | 50.34 | 50.69 | 1:41.03 |
| 10 | Treichl / Glück | AUT | 3 | 5.04 | 5.02 | 50.51 | 50.58 | 1:41.09 |
| 11 | Luty / Tylkowski | POL | 8 | 5.00 | 4.99 | 50.47 | 50.65 | 1:41.12 |
| 12 | Bredikhin / Samitov | RUS | 2 | 5.06 | 5.09 | 50.46 | 50.77 | 1:41.23 |
| 13 | Kasjanov / Pushkarev | RUS | 12 | 5.09 | 5.12 | 50.73 | 50.87 | 1:41.60 |
| 14 | Won / Jun | KOR | 16 | 5.00 | 5.02 | 50.67 | 51.20 | 1:41.87 |
| 15 | Meyerhans / Nikpalj | SUI | 18 | 5.17 | 5.18 | 51.12 | 50.91 | 1:42.03 |
| 16 | de Bruin / Franjic | NED | 14 | 5.03 | 5.03 | 50.61 | 51.58 | 1:42.19 |
| 17 | Olsen / Allison | USA | 13 | 5.05 | 5.03 | 51.03 | 51.41 | 1:42.44 |
| 18 | Vogt / Gyger | SUI | 17 | 5.14 | 5.18 | 52.97 | 51.03 | 1:44.00 |