From Sigulda, LAT
(Dec. 9, 2018) – Elena Nikitina won the World Cup women's skeleton in Sigulda on the strength of a start record in the first heat.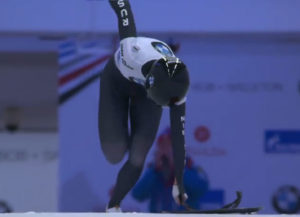 The Russian broke the start record and track record in the first heat to put space between her and the field. Despite her second run not being the quickest of the heat, Nikitina had plenty of time in the bank to cruise to victory.
Elisabeth Maier of Canada won silver, moving up from third after the first heat ahead of eventual bronze medalist Tina Hermann of Germany. Maier had the fast time in the second heat to move up the scoreboard into the silver medal position, finishing .18 ahead of Hermann.
Canada's Jane Channell finished just out of the medals in fourth with two nearly identical runs, with Germans Jacqueline Lölling and Sophia Griebel rounding out the top six.
Great Britain's two Olympic medalists were both out for the season opener in Sigulda, with Lizzy Yarnold having retired and Laura Deas sitting out due to injury. That gave Madelaine Smith and Kimberley Murray the opportunity to start the World Cup season for Great Britain. Smith led the way with a top ten finish in tenth, while Murray finished 13th.
Kendall Wesenberg was the top finishing American in 11th. Wesenberg had a small crash off Curve 15 in the first heat, but set a quick second run to move up from 15th. Teammate Savannah Graybill finished 14th.
Mimi Rahneva finished 12th to round out the Canadian effort, while Swiss slider Marina Gilardoni sat out the second heat after a hard crash in the first run.
Results:
| | | | | | | | | |
| --- | --- | --- | --- | --- | --- | --- | --- | --- |
| Pos | Name | Nation | Bib | Start 1 | Start 2 | Run 1 | Run 2 | Total |
| 1 | Elena Nikitina | RUS | 8 | 4.95 | 4.97 | 52.51 | 52.61 | 1:45.12 |
| 2 | Elisabeth Maier | CAN | 13 | 5.16 | 5.12 | 52.83 | 52.59 | 1:45.42 |
| 3 | Tina Hermann | GER | 6 | 5.30 | 5.24 | 52.77 | 52.83 | 1:45.60 |
| 4 | Jane Channell | CAN | 5 | 5.11 | 5.06 | 52.85 | 52.84 | 1:45.69 |
| 5 | Jacqueline Lölling | GER | 11 | 5.47 | 5.37 | 53.19 | 52.73 | 1:45.92 |
| 6 | Sophia Griebel | GER | 1 | 5.26 | 5.21 | 53.59 | 52.70 | 1:46.29 |
| 7 | Yulia Kanakina | RUS | 4 | 5.07 | 5.06 | 53.10 | 53.20 | 1:46.30 |
| 8 | Renata Khuzina | RUS | 15 | 5.17 | 5.19 | 53.48 | 53.33 | 1:46.81 |
| 9 | Kimberley Bos | NED | 10 | 5.17 | 5.18 | 53.81 | 53.16 | 1:46.97 |
| 10 | Madelaine Smith | GBR | 14 | 5.29 | 5.25 | 53.59 | 53.45 | 1:47.04 |
| 11 | Kendall Wesenberg | USA | 7 | 5.38 | 5.34 | 54.14 | 53.07 | 1:47.21 |
| 12 | Marela Rahneva | CAN | 12 | 5.04 | 5.08 | 53.16 | 54.14 | 1:47.30 |
| 13 | Kimberley Murray | GBR | 3 | 5.26 | 5.24 | 53.72 | 53.62 | 1:47.34 |
| 14 | Savannah Graybill | USA | 16 | 5.39 | 5.43 | 54.10 | 53.55 | 1:47.65 |
| 15 | Sophia Jeong | KOR | 2 | 5.21 | 5.17 | 53.48 | 55.11 | 1:48.59 |
| DNS | Marina Gilardoni | SUI | 9 | 5.31 | | 55.34 | DNS | |