From Sigulda, LAT
(Dec. 9, 2018) – The race for 2-man gold in the second race of the weekend was much tighter than a day prior ,with only .07 separating the top three after one run.
Francesco Friedrich took a .02 second lead into the second run ahead of Oskars Kibermanis and a .07 lead over teammate Christoph Hafer. On that second run Kibermanis put the pressure on Friedrich with a run significantly faster than anyone else before him. Friedrich answered the call, with his second run .04 quicker than Kibermanis to secure his second gold in as many days.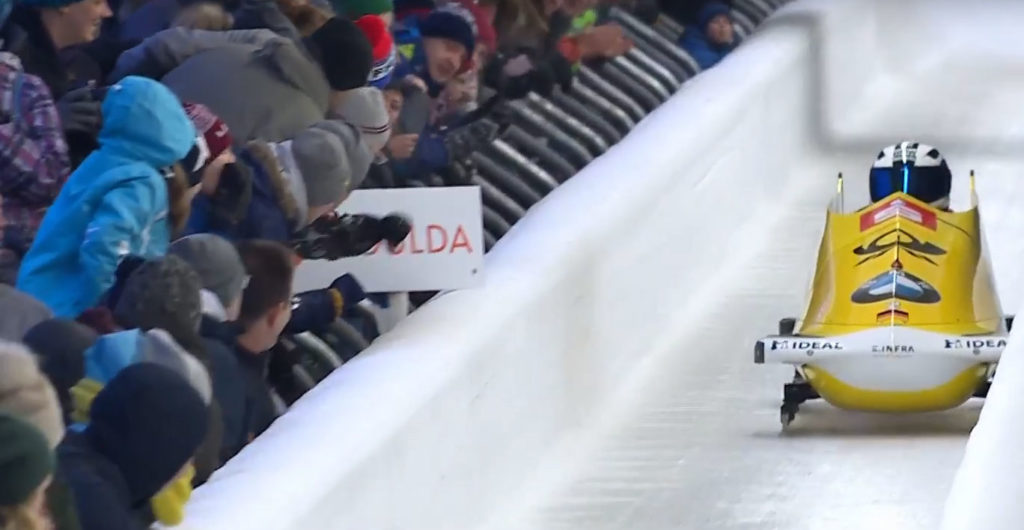 Kibermanis won silver in front of his home crowd, while Hafer took his first World Cup medal with a bronze.
Nico Walther helped put all three German sleds in the top four with a fourth place finish, ahead of Russian Maxim Andrianov and Czech Dominik Dvorak, who finished fifth and sixth, respectively.
Sigulda was not kind to the United States over the course of the race weekend. A day after a ninth place run, Codie Bascue once again led the United States, this time with a 14th place run. Teammate Justin Olsen finished 16th in his second ever race on the Latvian track.
Results:
| | | | | | | | | |
| --- | --- | --- | --- | --- | --- | --- | --- | --- |
| Pos | Names | Nation | Bib | Start 1 | Start 2 | Run 1 | Run 2 | Total |
| 1 | Friedrich / Grothkopp | GER | 7 | 4.91 | 4.89 | 50.00 | 50.25 | 1:40.25 |
| 2 | Kibermanis / Miknis | LAT | 4 | 4.90 | 4.88 | 50.02 | 50.29 | 1:40.31 |
| 3 | Hafer / Schneider | GER | 5 | 5.02 | 5.03 | 50.07 | 50.43 | 1:40.50 |
| 4 | Walther / Krenz | GER | 8 | 4.98 | 4.97 | 50.17 | 50.40 | 1:40.57 |
| 5 | Andrianov / Malykh | RUS | 6 | 5.09 | 5.08 | 50.32 | 50.43 | 1:40.75 |
| 6 | Dvorak / Nosek | CZE | 10 | 4.92 | 4.93 | 50.28 | 50.48 | 1:40.76 |
| 7 | Berzins / Dambis | LAT | 12 | 4.97 | 4.98 | 50.30 | 50.48 | 1:40.78 |
| 8 | Bredikhin / Samitov | RUS | 2 | 5.03 | 5.04 | 50.16 | 50.64 | 1:40.80 |
| 9 | Maier / Sammer | AUT | 13 | 5.01 | 4.97 | 50.37 | 50.46 | 1:40.83 |
| 10 | Treichl / Glück | AUT | 11 | 5.05 | 5.06 | 50.49 | 50.49 | 1:40.98 |
| 11 | Luty / Tylkowski | POL | 14 | 5.02 | 5.02 | 50.45 | 50.56 | 1:41.01 |
| 12 | Won / Kim | KOR | 16 | 5.10 | 5.05 | 50.57 | 50.47 | 1:41.04 |
| 13 | Kasjanov / Pushkarev | RUS | 15 | 5.11 | 5.12 | 50.58 | 50.61 | 1:41.19 |
| 14 | Bascue / Abdul-Saboor | USA | 9 | 4.93 | 4.96 | 50.35 | 50.85 | 1:41.20 |
| 15 | Meyerhans / Beierl | SUI | 17 | 5.14 | 5.14 | 50.69 | 50.64 | 1:41.33 |
| 16 | Olsen / Adams | USA | 1 | 4.97 | 5.00 | 50.96 | 51.13 | 1:42.09 |
| 17 | Vogt / Knuser | SUI | 18 | 5.08 | 5.12 | 51.40 | 51.11 | 1:42.51 |
| DNS | de Bruin / Veenker | NED | 3 | 5.06 | | 54.24 | DNS | |