From Sigulda, LAT
(Jan. 12, 2019) – For the fourth consecutive race and fifth time overall this season, Toni Eggert & Sascha Benecken won gold in the FIL World Cup.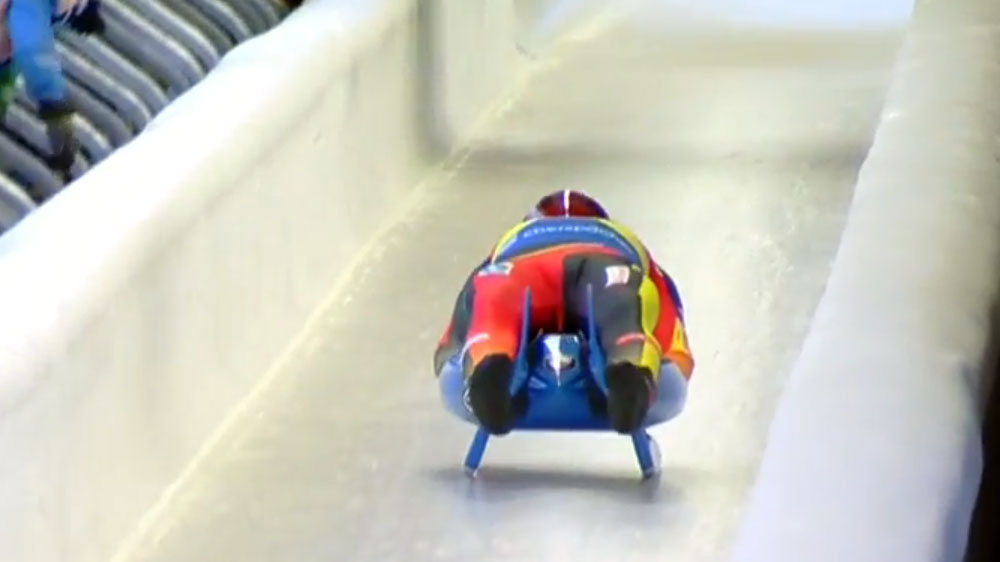 The Germans were the quickest in both heats to win by .379 over Latvians Oskars Gudramovics & Peteris Kalnins.
Eggert & Benecken have failed to medal only once during the 2018/2019 season (Igls Sprint race), and have opened up over a full race advantage over the rest of the field in the World Cup.
Latvia finished second and third, with Gudramovics & Kalnins being joined on the podium by Andris & Juris Sics.
Tobias Wendl & Tobias Arlt finished fourth, ahead of Italians Ludwig Rieder & Patrick Rastner and Emanuel Rieder & Simon Kainzwaldner.
The American duo of Chris Mazdzer and Jayson Terdiman finished 11th.
Results:
| | | | | | | | | |
| --- | --- | --- | --- | --- | --- | --- | --- | --- |
| Pos | Names | Nation | Bib | Start 1 | Start 2 | Run 1 | Run 2 | Total |
| 1 | Eggert / Benecken | GER | 12 | 1.558 | 1.545 | 42.049 | 42.060 | 1:24.119 |
| 2 | Gudramovics / Kalnins | LAT | 7 | 1.603 | 1.583 | 42.220 | 42.278 | 1:24.498 |
| 3 | Sics / Sics | LAT | 15 | 1.558 | 1.583 | 42.284 | 42.304 | 1:24.588 |
| 4 | Wendl / Arlt | GER | 16 | 1.546 | 1.537 | 42.369 | 42.414 | 1:24.783 |
| 5 | Rieder / Rastner | ITA | 11 | 1.590 | 1.551 | 42.405 | 42.383 | 1:24.788 |
| 6 | Rieder / Kainzwaldner | ITA | 6 | 1.570 | 1.593 | 42.505 | 42.425 | 1:24.930 |
| 7 | Yuzhakov / Prokhorov | RUS | 9 | 1.581 | 1.602 | 42.598 | 42.400 | 1:24.998 |
| 8 | Nagler / Malleier | ITA | 5 | 1.601 | 1.600 | 42.574 | 42.439 | 1:25.013 |
| 9 | Denisev / Antonov | RUS | 4 | 1.568 | 1.653 | 42.569 | 42.507 | 1:25.076 |
| 10 | Steu / Koller | AUT | 18 | 1.553 | 1.539 | 42.611 | 42.468 | 1:25.079 |
| 11 | Mazdzer / Terdiman | USA | 13 | 1.677 | 1.671 | 42.640 | 42.530 | 1:25.170 |
| 12 | Putins / Marcinkevics | LAT | 14 | 1.581 | 1.617 | 42.798 | 42.467 | 1:25.265 |
| 13 | Kashkin / Korshunov | RUS | 10 | 1.586 | 1.626 | 42.776 | 42.564 | 1:25.340 |
| 14 | Geueke / Gamm | GER | 17 | 1.591 | 1.567 | 43.037 | 42.545 | 1:25.582 |
| 15 | Chmielewski / Kowalewski | POL | 8 | 1.566 | 1.548 | 43.337 | 42.801 | 1:26.138 |
| 16 | Park / Kang | KOR | 3 | 1.573 | 1.597 | 42.937 | 43.278 | 1:26.215 |
| 17 | Stakhiv / Lysetskyy | UKR | 2 | 1.630 | 1.627 | 43.792 | 43.369 | 1:27.161 |
| 18 | Vejdelek / Pekny | CZE | 1 | 1.753 | 1.769 | 44.402 | 44.566 | 1:2.968 |