From Königssee, GER
(Jan. 12, 2019) – Mariama Jamanka won her third race in four attempts, cruising to victory in Königssee.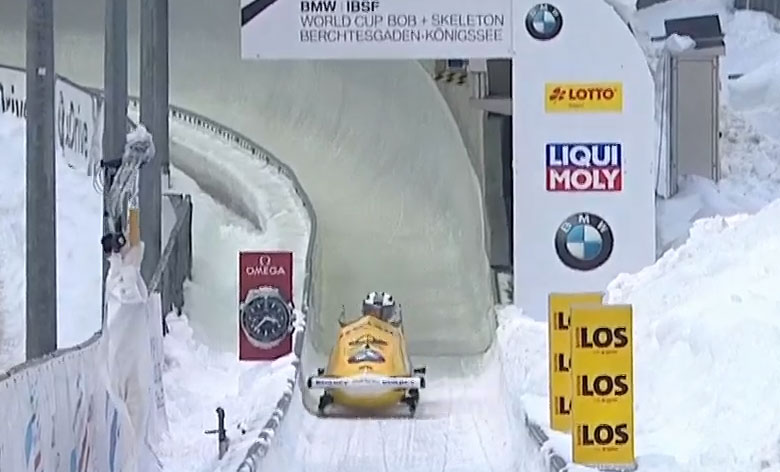 The Olympic champion was the quickest in both heats with matching 50.85 down times on her way to a .36 victory over Elana Meyers Taylor of the United States.
The win was Jamanka's third in four races this season.
Meyers Taylor, with Lake Kwaza on the brakes, set the fast start time of the race as part of a second run that helped the American move up from third to second for her third medal in as many races.
German Stephanie Schneider finished third, well ahead of Kati Beierl in fourth. Beierl moved up from sixth to fourth to finish just ahead of Andreea Grecu. Grecu's fifth place finish was a career-best. Mica McNeill finished with her second top six in as many races.
The race in Königssee doubled as the European Championships. Jamanka took gold in that as well, with Schneider winning the silver medal and Beierl bronze.
Alysia Rissling led the way for the Canadians in 9th. Christine de Bruin, who won a silver medal just a week ago, finished one spot back in tenth.
Brittany Reinbolt finished 14th to finish out the American effort.
At the halfway point of the IBSF World Cup season, Jamanka has a commanding point lead over German teammates Stephanie Schneider and Anna Köhler. Meyers Taylor sits seventh after not scoring points in the first race due to a small weight infraction led to a disqualification.
Results:
| | | | | | | | | |
| --- | --- | --- | --- | --- | --- | --- | --- | --- |
| Pos | Names | Nation | Bib | Start 1 | Start 2 | Run 1 | Run 2 | Total |
| 1 | Jamanka / Drazek | GER | 7 | 5.21 | 5.19 | 50.85 | 50.85 | 1:41.70 |
| 2 | Meyers Taylor / Kwaza | USA | 11 | 5.22 | 5.19 | 51.18 | 50.88 | 1:42.06 |
| 3 | Schneider / Strack | GER | 5 | 5.23 | 5.21 | 51.17 | 51.02 | 1:42.19 |
| 4 | Beierl / Onasanya | AUT | 6 | 5.31 | 5.31 | 51.43 | 51.26 | 1:42.69 |
| 5 | Grecu / Vlad | ROU | 1 | 5.35 | 5.33 | 51.33 | 51.38 | 1:42.71 |
| 6 | McNeill / Douglas | GBR | 9 | 5.37 | 5.37 | 51.34 | 51.43 | 1:42.77 |
| 7 | Köhler / Gericke | GER | 8 | 5.36 | 5.37 | 51.43 | 51.44 | 1:42.87 |
| 8 | Vannieuwenhuyse / Aerts | BEL | 13 | 5.45 | 5.40 | 51.74 | 51.22 | 1:42.96 |
| 9 | Rissling / Bujnowski | CAN | 2 | 5.29 | 5.30 | 51.57 | 51.49 | 1:43.06 |
| 10 | de Bruin / McCue | CAN | 14 | 5.46 | 5.39 | 51.83 | 51.35 | 1:43.18 |
| 10 | Fontanive / Strebel | SUI | 3 | 5.35 | 5.32 | 51.66 | 51.52 | 1:43.18 |
| 12 | Sergeeva / Parfenova | RUS | 10 | 5.38 | 5.34 | 51.79 | 51.50 | 1:43.29 |
| 13 | Chernykh / Shokshueva | RUS | 4 | 5.37 | 5.40 | 51.96 | 51.70 | 1:43.66 |
| 14 | Reinbolt / Gibbs | USA | 12 | 5.38 | 5.34 | 51.83 | 51.96 | 1:43.79 |