From Altenberg, GER
(Feb. 2, 2019) – The sport of luge prides itself on being timed to a thousandth of a second. In a snowy race in Altenberg, every thousandth counted.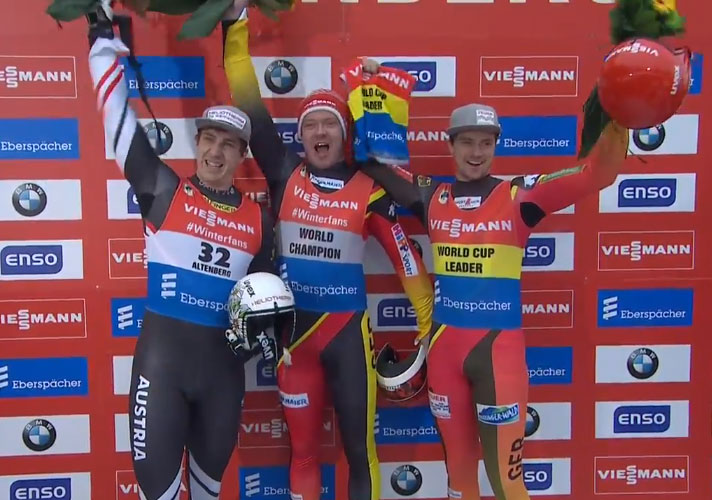 After one heat of racing, Reinhard Egger led Felix Loch and Johannes Ludwig by less than a tenth of a second, meaning all three would have to have a nearly flawless run to win gold.
Ludwig struggled on the bottom half of his run, opening the door for both Loch and Egger. On Loch's second run he was as quick as one could be in the heavy snow. Egger answered, and through the Kreisel curve was tied with Loch. At the finish line, though, it was a .004 victory for Loch over Egger, with Ludwig sitting third.
The was was the second straight singles gold medal for Loch, who won the FIL World Championship a week prior in Winterberg.
David Gleirscher finished fourth, ahead of Semen Pavlichenko and Roman Repilov, who rounded out the top six.
Jonny Gustafson finished 16th to lead the United States. Tucker West had trouble at the start and finished his first heat in 29th. With the field being cut to 20 sleds after the first heat due to snow, he was unable to move up on the second run.
Olympic bronze medalist Chris Mazdzer sat out his second consecutive race as he works to recover from a neck injury. He slid earlier in the day in the doubles and finished ninth with Jayson Terdiman.
Reid Watts finished 17th for Canada.
Results:
| | | | | | | | | |
| --- | --- | --- | --- | --- | --- | --- | --- | --- |
| Pos | Name | Nation | Bib | Start 1 | Start 2 | Run 1 | Run 2 | Total |
| 1 | Felix Loch | GER | 29 | 7.107 | 7.119 | 54.329 | 54.340 | 1:48.669 |
| 2 | Reinhard Egger | AUT | 32 | 7.133 | 7.140 | 54.272 | 54.401 | 1:48.673 |
| 3 | Johannes Ludwig | GER | 31 | 7.071 | 7.097 | 54.354 | 54.426 | 1:48.780 |
| 4 | David Gleirscher | AUT | 28 | 7.157 | 7.164 | 54.515 | 54.437 | 1:48.952 |
| 5 | Semen Pavlichenko | RUS | 25 | 7.086 | 7.084 | 54.579 | 54.454 | 1:49.033 |
| 6 | Roman Repilov | RUS | 27 | 7.086 | 7.093 | 54.599 | 54.477 | 1:49.076 |
| 7 | Kristers Aparjods | LAT | 16 | 7.129 | 7.116 | 54.517 | 54.618 | 1:49.135 |
| 8 | Chris Eißler | GER | 20 | 7.123 | 7.138 | 54.592 | 54.635 | 1:49.227 |
| 9 | Wolfgang Kindl | AUT | 17 | 7.168 | 7.207 | 54.596 | 54.646 | 1:49.242 |
| 10 | Dominik Fischnaller | ITA | 30 | 7.102 | 7.119 | 54.702 | 54.671 | 1:49.373 |
| 11 | Kevin Fischnaller | ITA | 18 | 7.141 | 7.189 | 54.621 | 54.832 | 1:49.453 |
| 12 | Armin Frauscher | AUT | 6 | 7.140 | 7.148 | 54.823 | 54.654 | 1:49.477 |
| 13 | Inars Kivlenieks | LAT | 23 | 7.131 | 7.163 | 54.792 | 54.730 | 1:49.522 |
| 14 | Sebastian Bley | GER | 22 | 7.162 | 7.174 | 54.772 | 54.777 | 1:49.549 |
| 15 | Jozef Ninis | SVK | 24 | 7.278 | 7.266 | 55.193 | 54.750 | 1:49.943 |
| 16 | Jonathan Gustafson | USA | 12 | 7.149 | 7.172 | 55.126 | 54.859 | 1:49.985 |
| 17 | Reid Watts | CAN | 11 | 7.177 | 7.184 | 54.955 | 55.051 | 1:50.006 |
| 18 | Riks Rozitis | LAT | 9 | 7.296 | 7.284 | 55.061 | 54.959 | 1:50.020 |
| 19 | Stepan Fedorov | RUS | 13 | 7.174 | 7.183 | 55.226 | 54.861 | 1:50.087 |
| 20 | Arturs Darznieks | LAT | 8 | 7.196 | 7.222 | 55.076 | 55.318 | 1:50.394 |
| 21 | Valentin Cretu | ROU | 15 | 7.145 | | 55.233 | | |
| 22 | Aleksandr Gorbatcevich | RUS | 19 | 7.149 | | 55.237 | | |
| 23 | Matuesz Sochowicz | POL | 5 | 7.193 | | 55.343 | | |
| 24 | Macij Kurowski | POL | 10 | 7.251 | | 55.356 | | |
| 25 | Andriy Mandziy | UKR | 7 | 7.152 | | 55.404 | | |
| 26 | Maksim Aravin | RUS | 14 | 7.257 | | 55.600 | | |
| 27 | Jonas Müller | AUT | 26 | 7.097 | | 55.863 | | |
| 28 | Anton Dukach | UKR | 4 | 7.165 | | 55.983 | | |
| 29 | Tucker West | USA | 21 | 7.594 | | 56.117 | | |
| 30 | Svante Kohala | SWE | 3 | 7.294 | | 56.400 | | |
| 31 | Michael Lejsek | CZE | 2 | 7.422 | | 56.572 | | |
| DNF | Theodor Turea | ROU | 1 | 7.207 | | DNF | | |