From Latzfons, ITA
(Jan. 2, 2019) – Patrick Pigneter & Florian Clara won their third FIL World Championship of the decade, cruising to victory in Latzfons.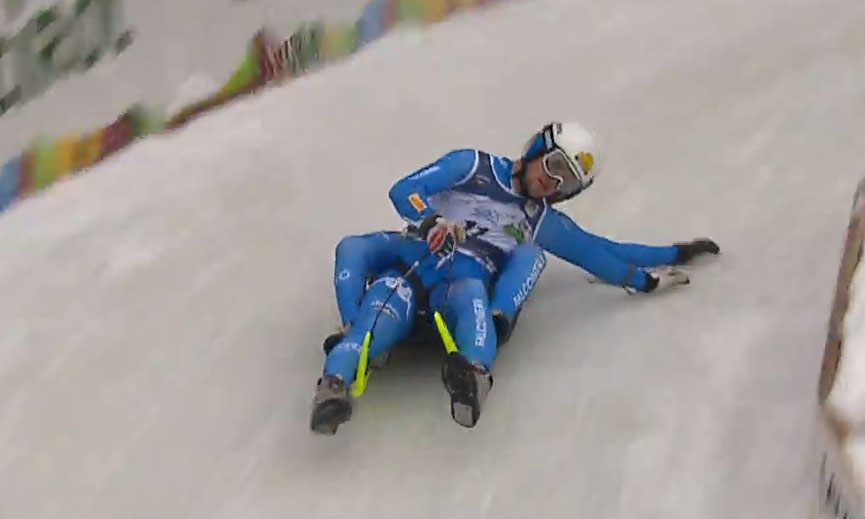 The Italian duo were the quickest at every split in both heats on their way to a 1.3 second victory over Russians Pavel Porshnev & Ivan Lazarev.
Porshnev & Lazarev edged out Patrick & Matthias Lambacher by .04. Lambacher & Lambacher came into the second run in second, but could only muster the fourth quickest run of the second heat to drop behind Porshnev & Lazarev.
The Lambachers held on for third, ahead of 2017 World Champions Rupert Brüggler & Tobias Angerer in fourth. The Russian teams of Stanislav Kovshik & Ilia Tarasov and Aleksandr Egorov & Petr Popov finished fifth and sixth, respectively.
Results:
| | | | | | | | | |
| --- | --- | --- | --- | --- | --- | --- | --- | --- |
| Pos | Names | Nation | Bib | Start 1 | Start 2 | Run 1 | Run 2 | Total |
| 1 | Pigneter / Clara | ITA | 11 | 11.63 | 11.64 | 1:06.66 | 1:06.56 | 2:13.22 |
| 2 | Porshnev / Lazarev | RUS | 8 | 11.82 | 11.72 | 1:07.29 | 1:07.23 | 2:14.52 |
| 3 | Lambacher / Lambacher | ITA | 6 | 11.72 | 11.80 | 1:07.22 | 1:07.34 | 2:14.56 |
| 4 | Brüggler / Angerer | AUT | 12 | 11.74 | 11.73 | 1:07.79 | 1:07.29 | 2:15.08 |
| 5 | Kovshik / Tarasov | RUS | 7 | 11.96 | 11.78 | 1:08.46 | 1:08.03 | 2:16.49 |
| 6 | Egorov / Popov | RUS | 9 | 12.19 | 12.02 | 1:08.27 | 1:08.80 | 2:17.07 |
| 7 | Achenrainer / Brugger | AUT | 4 | 11.78 | 11.92 | 1:08.95 | 1:09.33 | 2:18.28 |
| 8 | Lenko / Hirniak | UKR | 2 | 12.12 | 12.31 | 1:10.67 | 1:11.46 | 2:22.13 |
| 9 | Jedrzejko / Adamski | POL | 3 | 12.42 | 12.37 | 1:12.18 | 1:11.43 | 2:23.61 |
| 10 | Schiller / Dietz | GER | 1 | 12.50 | 12.43 | 1:11.98 | 1:12.09 | 2:24.07 |
| 11 | Morosan / Ciubotaru | ROU | 5 | 13.65 | 13.52 | 1:19.31 | 1:19.11 | 2:38.42 |