From Oberhof, GER
(Feb. 10, 2019) – Natalie Geisenberger won her fifth World Cup gold medal of the season and a European Championship to go with her World Championship a few weeks back.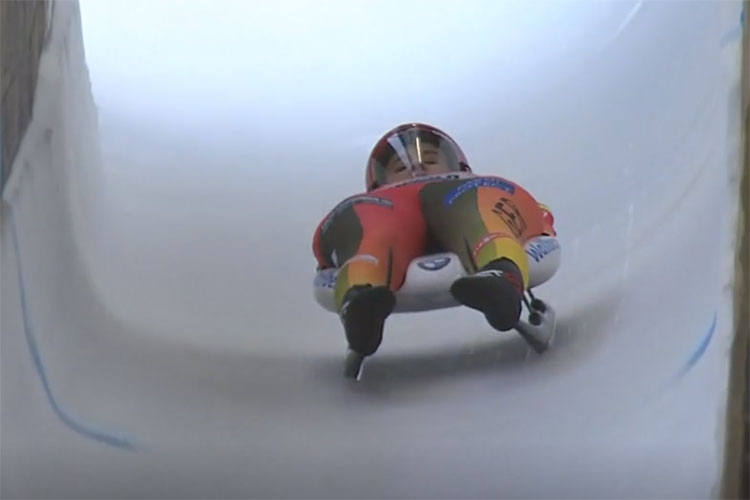 Geisenberger was the quickest in both heats on her way to a .223 second victory over teammates Tatjana Hüfner and Dajana Eitberger.
The win was Geisenberger's third non-Sprint World Cup gold medal to go with sprint wins in Igls and Lake Placid.
Hüfner moved up from third to second in the second heat, while Dajana Eitberger held onto a bronze medal, edging out Italian Andrea Vötter for the position.
The German sweep of the podium was the fourth of the season.
Vötter finished fourth, marking the fifth time this season the Italian has finished in the top five without a medal. Julia Taubitz finished fifth to put all four German women in the top five, while Summer Britcher jumped up into the top six from seventh after the first heat.
With one race weekend to go in the FIL World Cup season, Geisenberger has a commanding 176 point lead over teammate Julia Taubitz and short of Geisenberger crashing in Sochi she will win the World Cup title. Taubitz is 150 points ahead of American Summer Britcher, who in turn is just 40 points ahead of Tatyana Ivanova going into Ivanova's home track.
Canadian Trinity Ellis finished 21st in her second World Cup start of the season, while British sliders Danielle Scott and Elsa Desmond finished 26th and 27th respectively.
Results:
| | | | | | | | | |
| --- | --- | --- | --- | --- | --- | --- | --- | --- |
| Pos | Name | Nation | Bib | Start 1 | Start 2 | Run 1 | Run 2 | Total |
| 1 | Natalie Geisenberger | GER | 27 | 6.823 | 6.782 | 41.365 | 41.445 | 1:22.810 |
| 2 | Tatjana Hüfner | GER | 20 | 6.765 | 6.765 | 41.462 | 41.571 | 1:23.033 |
| 3 | Dajana Eitberger | GER | 18 | 6.834 | 6.818 | 41.455 | 41.672 | 1:23.127 |
| 4 | Andrea Vötter | ITA | 25 | 6.822 | 6.779 | 41.651 | 41.519 | 1:23.170 |
| 5 | Julia Taubitz | GER | 26 | 6.850 | 6.849 | 41.706 | 41.480 | 1:23.186 |
| 6 | Summer Britcher | USA | 24 | 6.865 | 6.823 | 41.668 | 41.604 | 1:23.272 |
| 7 | Tatyana Ivanova | RUS | 22 | 6.806 | 6.841 | 41.665 | 41.702 | 1:23.367 |
| 8 | Ekaterina Baturina | RUS | 16 | 6.923 | 6.843 | 41.804 | 41.584 | 1:23.388 |
| 9 | Natalie Maag | SUI | 14 | 6.895 | 6.864 | 41.688 | 41.708 | 1:23.396 |
| 10 | Ulla Zirne | LAT | 21 | 6.909 | 6.929 | 41.717 | 41.695 | 1:23.412 |
| 11 | Madeleine Egle | AUT | 17 | 6.800 | 6.780 | 41.897 | 41.519 | 1:23.416 |
| 12 | Eliza Cauce | LAT | 23 | 6.875 | 6.901 | 41.649 | 41.771 | 1:23.420 |
| 13 | Viktoriia Demchenko | RUS | 13 | 6.893 | 6.938 | 41.707 | 41.730 | 1:23.437 |
| 14 | Raluca Stramaturaru | ROU | 12 | 6.941 | 6.951 | 41.820 | 41.643 | 1:23.463 |
| 15 | Sandra Robatscher | ITA | 28 | 6.843 | 6.859 | 41.726 | 41.793 | 1:23.519 |
| 16 | Kendija Aparjode | LAT | 19 | 6.937 | 6.888 | 41.785 | 41.738 | 1:23.523 |
| 17 | Ekaterina Katnikova | RUS | 15 | 6.901 | 6.874 | 42.142 | 41.647 | 1:23.789 |
| 18 | Ewa Kuls-Kusyk | POL | 10 | 6.956 | 6.938 | 41.996 | 42.008 | 1:24.004 |
| 19 | Katarina Simonakova | SVK | 9 | 6.958 | 6.924 | 42.212 | 41.981 | 1:24.193 |
| 20 | Olena Stetskiv | UKR | 11 | 6.921 | 6.925 | 41.917 | 42.546 | 1:24.463 |
| 21 | Trinity Ellis | CAN | 7 | 6.972 | 6.953 | 42.292 | 42.245 | 1:24.537 |
| 22 | Veronica Ravenna | ARG | 6 | 7.065 | 7.017 | 42.481 | 42.329 | 1:24.810 |
| 23 | Mihaela-Carmen Manolescu | ROU | 5 | 7.010 | 7.017 | 42.531 | 42.395 | 1:24.926 |
| 24 | Daria Obratov | NED | 3 | 7.015 | 7.044 | 43.236 | 42.826 | 1:26.062 |
| 25 | Dania Obratov | NED | 2 | 7.200 | 7.211 | 43.211 | 43.112 | 1:26.323 |
| 26 | Danielle Scott | GBR | 4 | 7.074 | 7.040 | 45.036 | 42.795 | 1:27.831 |
| 27 | Elsa Desmond | GBR | 1 | 7.130 | 7.145 | 42.911 | 45.681 | 1:28.592 |
| DNF | Klaudia Domaradzka | POL | 8 | 6.982 | | DNF | | |