From Oberhof, GER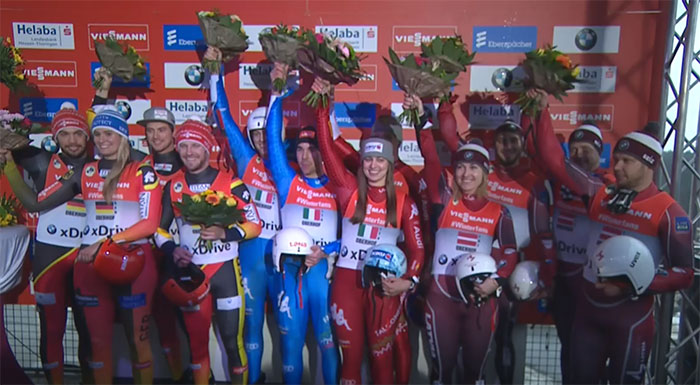 (Feb. 10, 2019) – Italy beat out Germany on home ice to win their first Sprint World Cup race of the season.
The team of Andrea Vötter, Dominik Fischnaller and the doubles team of Nagler & Malleier out-slid the German team of Natalie Geisenberger, Johannes Ludwig, and Wendl & Arlt at almost every turn. Geisenberger finished her leg of the relay a tenth of a second ahead of Vötter. After that, however, neither Ludwig or Wendl & Arlt could keep pace with their Italian counterparts, at the end of the German run the Italians found themselves victorious.
Finishing third was a strong Latvian squad, who finished well ahead of Austria in fourth. Russia finished fifth, and the United States finished sixth, only .002 out of the top five.
American Chris Mazdzer will be heading back to the United States, skipping the season finale in Sochi, so with no doubles representation in Russia the race in Oberhof is the last for the United States in the 2018/2019 season.
Canada finished just behind the United States in seventh.
Results:
| | | | | | | |
| --- | --- | --- | --- | --- | --- | --- |
| Pos | Names | Nation | Bib | Women | Men | Total |
| 1 | Vötter / D. Fischnaller / Nagler & Malleier | ITA | 2 | 46.219 | 1:34.335 | 2:22.827 |
| 2 | Geisenberger / Ludwig / Wendl & Arlt | GER | 9 | 46.112 | 1:34.501 | 2:22.943 |
| 3 | Cauce / Kivlenieks / Sics & Sics | LAT | 7 | 46.537 | 1:34.805 | 2:23.256 |
| 4 | Egle / D. Gleirscher / Steu & Koller | AUT | 5 | 46.520 | 1:34.651 | 2:23.628 |
| 5 | Ivanova / Pavlichenko / Denisev & Antonov | RUS | 8 | 46.581 | 1:34.844 | 2:23.664 |
| 6 | Britcher / West / Mazdzer & Terdiman | USA | 6 | 46.398 | 1:34.863 | 2:23.666 |
| 7 | Ellis / Watts / Walker & Snith | CAN | 4 | 47.194 | 1:35.654 | 2:24.420 |
| 8 | Kuls-Kusyk / Sochowicz / Chmielewski & Kowalewski | POL | 1 | 47.429 | 1:35.852 | 2:24.703 |
| 9 | Stetskiv / Dukach / Stakhiv & Lysetskyy | UKR | 3 | 46.959 | 1:35.467 | 2:25.264 |