From Lake Placid, USA
(Feb. 16, 2019) – Alexander Tretiakov won his third race of the season, edging out Martins Dukurs and Sungbin Yun for gold.
The Russian was the fastest in both heats, saving his best start for the final run of the day. Tying Dukurs with a 4.78 start, Tretiakov looked to be falling back to Dukurs. Tretiakov found speed at the bottom of the track where few had and came back to win his third gold medal of the season.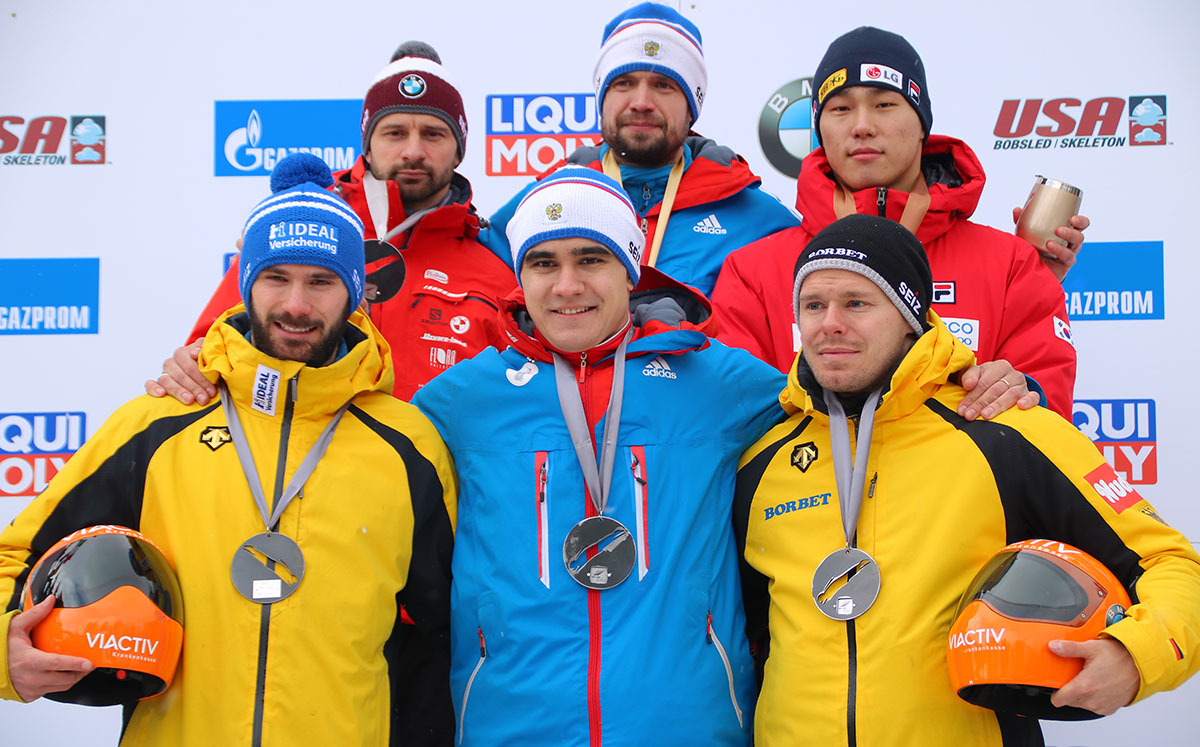 Dukurs finished second, holding back Yun by .11. Nikita Tregubov, Axel Jungk, and Christopher Grotheer rounded out the top six.
The United States had high hopes coming into their only home race of the year, and all three American men found themselves in the top ten at the end of the race. Greg West led the way in eighth place, just ahead of teammates Kyle Brown and Austin Florian who finished in ninth and tenth, respectively.
Dave Greszczyszyn was the top finishing Canadian with a 15th place run. Kevin Boyer finished in 18th, moving up from 20th in the first heat, while Kyle Murray just missed the second heat in 23rd.
Prior to today's race, Marcus Wyatt said that he really enjoyed sliding in Lake Placid, and felt like he fit the track well. He finished with a seventh place showing, moving up from tenth in the first heat to just miss out on a top six. Craig Thompson finished 16th, just ahead of Jerry Rice in 17th.
With two races to go in Calgary, Tretiakov holds a 24 point lead over Sungbin Yun. Nikita Tregubov, Martins Dukurs, and Axel Jungk are all battling for third, well behind Tretiakov and Yun.
Results:
| | | | | | | | | |
| --- | --- | --- | --- | --- | --- | --- | --- | --- |
| Pos | Name | Nation | Bib | Start 1 | Start 2 | Run 1 | Run 2 | Total |
| 1 | Alexander Tretiakov | RUS | 9 | 4.81 | 4.78 | 53.47 | 53.72 | 1:47.19 |
| 2 | Martins Dukurs | LAT | 12 | 4.80 | 4.78 | 53.58 | 53.75 | 1:47.33 |
| 3 | Sungbin Yun | KOR | 6 | 4.85 | 4.70 | 53.71 | 53.73 | 1:47.44 |
| 4 | Nikita Tregubov | RUS | 11 | 4.91 | 4.89 | 53.79 | 53.96 | 1:47.75 |
| 5 | Axel Jungk | GER | 10 | 4.93 | 4.85 | 53.93 | 53.90 | 1:47.83 |
| 6 | Christopher Grotheer | GER | 18 | 4.94 | 4.95 | 53.88 | 54.18 | 1:48.06 |
| 7 | Marcus Wyatt | GBR | 7 | 4.91 | 4.85 | 54.22 | 54.11 | 1:48.33 |
| 8 | Greg West | USA | 2 | 5.03 | 5.01 | 54.11 | 54.33 | 1:48.44 |
| 9 | Kyle Brown | USA | 17 | 4.95 | 4.96 | 54.05 | 54.45 | 1:48.50 |
| 10 | Austin Florian | USA | 20 | 4.87 | 4.89 | 54.12 | 54.40 | 1:48.52 |
| 11 | Felix Keisinger | GER | 4 | 4.80 | 4.81 | 54.23 | 54.51 | 1:48.74 |
| 12 | Vladslav Heraskevych | UKR | 8 | 5.16 | 5.16 | 54.58 | 54.40 | 1:48.98 |
| 13 | Wengang Yan | CHN | 21 | 5.04 | 4.93 | 54.46 | 54.55 | 1:49.01 |
| 14 | Vladislav Marhcenkov | RUS | 14 | 5.06 | 5.07 | 54.40 | 54.79 | 1:49.19 |
| 15 | David Greszczyszyn | CAN | 16 | 5.04 | 5.01 | 54.49 | 54.80 | 1:49.29 |
| 16 | Craig Thompson | GBR | 15 | 4.82 | 4.84 | 54.56 | 54.80 | 1:49.36 |
| 17 | Jerry Rice | GBR | 5 | 4.88 | 4.88 | 54.89 | 55.01 | 1:49.90 |
| 18 | Kevin Boyer | CAN | 19 | 5.04 | 5.01 | 55.04 | 54.96 | 1:50.00 |
| 19 | Joseph Luke Cecchini | ITA | 23 | 5.13 | 5.13 | 55.00 | 55.15 | 1:50.15 |
| 20 | Ander Mirambell | ESP | 3 | 5.32 | 5.28 | 54.97 | 55.38 | 1:50.35 |
| 21 | Nicholas Timmings | AUS | 22 | 5.04 | | 55.18 | | |
| 22 | Alexander Hanssen | NOR | 1 | 4.96 | | 55.26 | | |
| 23 | Kyle Murray | CAN | 25 | 4.97 | | 55.33 | | |
| 24 | Florian Auer | AUT | 13 | 5.10 | | 55.43 | | |