From Lake Placid, USA
(Feb. 16, 2019) – Justin Kripps has found himself on and around the IBSF World Cup 4-man podium many times, but until Lake Placid he'd never made it to the top. That all changed in a crazy race to wind up the Lake Placid stop on tour.
The Canadian sat in fourth going into the second heat, behind Monaco's Rudy Rinaldi, Russia's Maxim Andrianov, and Latvia's Oskars Kibermanis. Needing a nearly flawless run, the Canadian team picked up .05 on their start time and put down what looked to be a very clean and quick run.
One by one the teams ahead of Kripps' squad faltered, with first heat's leader Rudy Rinaldi's run ending in disaster as the Monegasque pilot crashed out of Curve 8 to finish the race.
All of the mayhem left Kripps atop the leader board to win his first ever gold medal in the IBSF World Cup 4-man discipline.
The win gives Kripps plenty of confidence going into the World Cup finale and World Championships, both on his home ice in Canada.
"This is huge for us. We haven't had as much success in the 4-man as we have in the 2-man," Kripps said of his win. "It's pretty awesome to take my first gold medal in 4-man heading into the home stretch in Canada."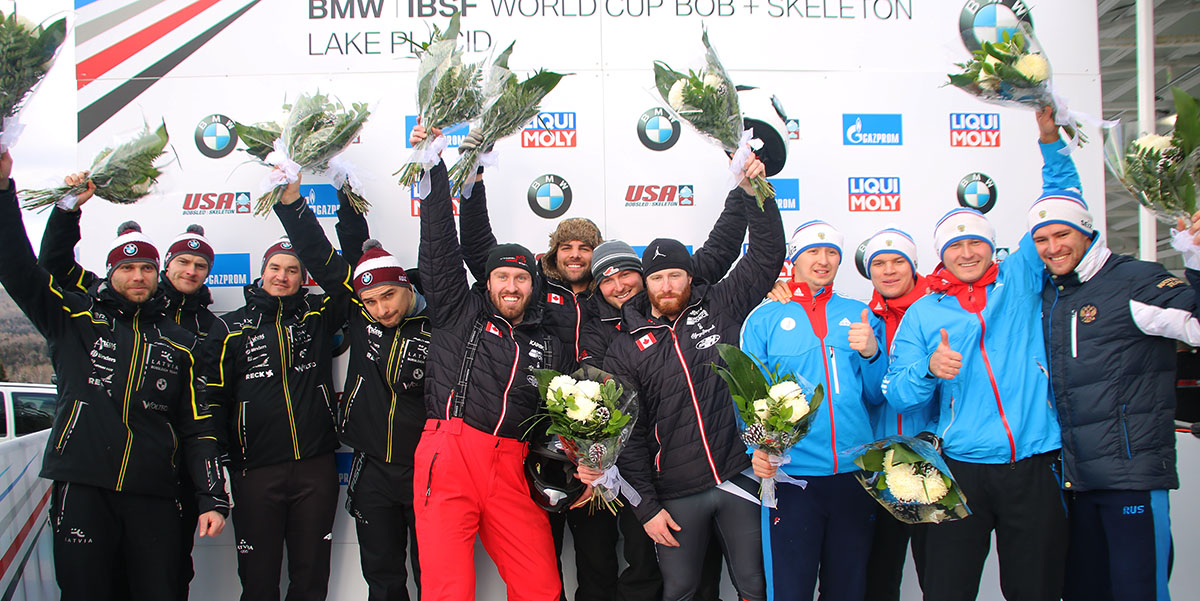 "I try to race my own race and not really think about the other teams and get as much out of myself and the boys at the start," Kripps said. "I didn't want to do anything fancy. I've tried to do fancy things in the past and it's always messed me up, so I just wanted to keep it straight and smooth."
Kibermanis finished second on the strength of two third-quickest runs, edging out Russian Maxim Andrianov, who fell from second to fourth in the second heat.
World Cup point leader Francesco Friedrich finished fourth, ahead of Nico Walther and Yunjong Won.
Friedrich's finish behind Kibermanis closes up the World Cup standings with one race to go. While Friedrich has a commanding 78 point lead, Kibermanis still could steal the championship if Friedrich has trouble.
It was a mixed bag kind of day for the Americans. Hunter Church led the way for the United States with an eighth place run in just his second World Cup start. Meanwhile Codie Bascue struggled on his second run, falling from fifth after one run all the way back to 11th, one place ahead of teammate Geoff Gadbois.
Chris Spring helped put two Canadian sleds in the top ten with a tenth place run, while Nick Poloniato finished 18th.
Lamin Deen finished 13th in the lone British sled.
Results:
| | | | | | | | | |
| --- | --- | --- | --- | --- | --- | --- | --- | --- |
| Pos | Names | Nation | Bib | Start 1 | Start 2 | Run 1 | Run 2 | Total |
| 1 | Kripps / Sommer / Stones / Coakwell | CAN | 7 | 5.08 | 5.03 | 54.79 | 54.75 | 1:49.54 |
| 2 | Kibermanis / Miknis / Vilkaste / Strenga | LAT | 11 | 5.07 | 5.02 | 54.78 | 54.83 | 1:49.61 |
| 3 | Andrianov / Zaytsev / Kondratenko / Samitov | RUS | 6 | 5.12 | 5.08 | 54.77 | 54.90 | 1:49.67 |
| 4 | Friedrich / Grothkopp / Schüller / Margis | GER | 12 | 5.07 | 5.00 | 54.89 | 54.81 | 1:49.70 |
| 5 | Walther / Krenz / Rödiger / Franke | GER | 5 | 5.14 | 5.10 | 54.93 | 55.00 | 1:49.93 |
| 6 | Won / Kim / Lee / Oh | KOR | 13 | 5.16 | 5.17 | 55.01 | 54.99 | 1:50.00 |
| 7 | Lochner / Bauer / Frytz / Rasp | GER | 8 | 5.05 | 5.04 | 55.06 | 55.07 | 1:50.13 |
| 8 | Church / Allison / Kinney / Wilcox | USA | 16 | 5.18 | 5.16 | 55.15 | 55.09 | 1:50.24 |
| 9 | Bredikhin / Lylov / Malykh / Koshelev | RUS | 9 | 5.17 | 5.14 | 55.19 | 55.17 | 1:50.36 |
| 10 | Spring / Janke / Goncalves Silva / Wright | CAN | 15 | 5.20 | 5.20 | 54.95 | 55.42 | 1:50.37 |
| 11 | Bascue / Williamson / Reed / Lynch | USA | 18 | 5.06 | 5.11 | 54.88 | 55.50 | 1:50.38 |
| 12 | Gadbois / McConnell / Adams / Horn | USA | 1 | 5.13 | 5.12 | 55.19 | 55.26 | 1:50.45 |
| 13 | Deen / Letts / Olubi / Gilling | GBR | 17 | 5.14 | 5.14 | 55.15 | 55.32 | 1:50.47 |
| 14 | Suk / Lee / Kim / Bae | KOR | 2 | 5.22 | 5.22 | 55.08 | 55.40 | 1:50.48 |
| 15 | Dvorak / Suchy / Sindelar / Nosek | CZE | 10 | 5.12 | 5.12 | 55.34 | 55.40 | 1:50.74 |
| 16 | Popov / Tarasov / Gnezdilov / Mytcyk | RUS | 3 | 5.24 | 5.23 | 55.30 | 55.46 | 1:50.76 |
| 17 | de Bruin / Dumas / Veenker / Franjic | NED | 14 | 5.31 | 5.21 | 55.48 | 55.29 | 1:50.77 |
| 18 | Poloniato / Kostelnik / Auclair / Norton | CAN | 20 | 5.26 | 5.25 | 55.50 | 55.50 | 1:51.00 |
| 19 | Rinaldi / Vain / Demarthon / Borges Mendonaca | MON | 4 | 5.17 | 5.12 | 54.67 | 57.18 | 1:51.85 |
| 19 | Vogt / Knuser / Gyger / Michel | SUI | 19 | 5.22 | 5.25 | 55.51 | 56.34 | 1:51.85 |